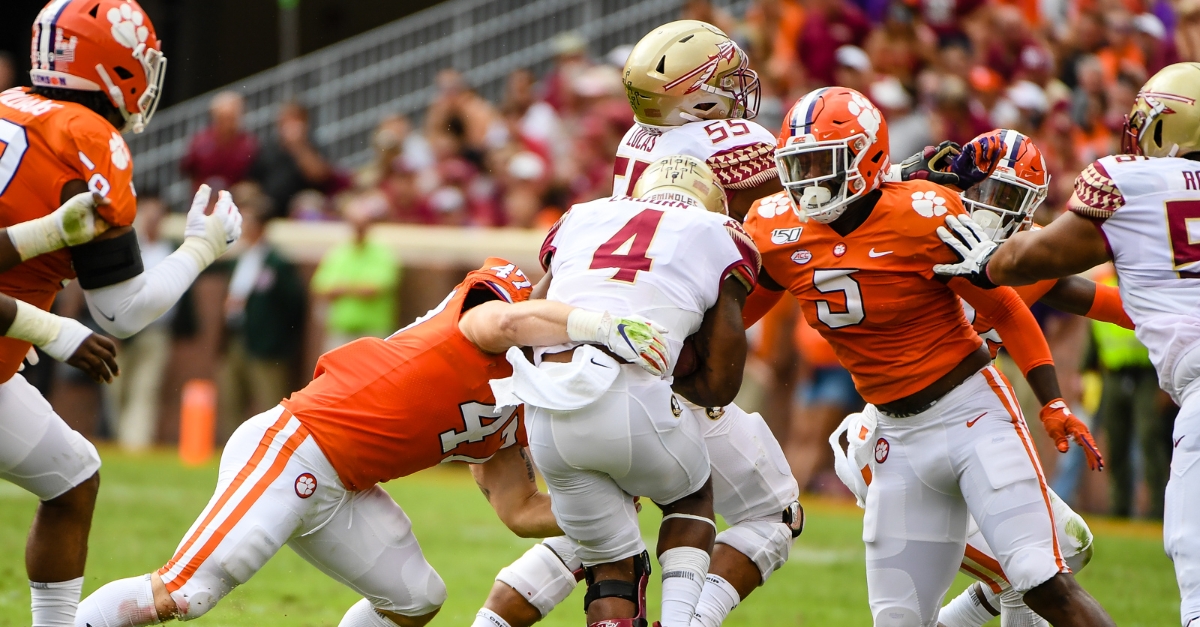 | | |
| --- | --- |
| Clemson drops spot in new AP Poll | |
---
| | | |
| --- | --- | --- |
| Sunday, October 13, 2019, 2:14 PM | | |
A weekend with two upsets in the top-10 shifted Clemson's spot in the latest Associated Press Top 25.
Previous-No. 3 Georgia lost to South Carolina at home and former-No. 7 Florida dropped a game at previous No. 5 LSU, which propelled LSU three spots to No. 2 (1,449 points), followed by Clemson (1,427), Ohio State (1,404) and Oklahoma (1,333). Alabama stayed in the top spot (1,503), which it has held since Clemson's close call with UNC.
Alabama has 30 first-place votes, compared to 12 for LSU, 11 for Clemson and nine for Ohio State.
The ACC's other two representatives dropped out of the poll in Virginia and Wake Forest. No Clemson regular-season opponents are currently-ranked.
AP Poll - 10/13
RANK TEAM PV RANK CONFERENCE POINTS
1 Alabama (6-0) 1 SEC 1,503
2 LSU (6-0) 5 SEC 1,449
3 Clemson (6-0) 2 ACC 1,427
4 Ohio State (6-0) 3 Big Ten 1,404
5 Oklahoma (6-0) 6 Big 12 1,333
6 Wisconsin (6-0) 8 Big Ten 1,245
7 Penn State (6-0) 10 Big Ten 1,129
8 Notre Dame (5-1) 9 IA Independents 1,042
9 Florida (6-1) 7 SEC 1,041
10 Georgia (5-1) 3 SEC 995
11 Auburn (5-1) 12 SEC 985
12 Oregon (5-1) 13 Pac-12 906
13 Utah (5-1) 15 Pac-12 729
14 Boise State (6-0) 14 Mountain West 716
15 Texas (4-2) 11 Big 12 672
16 Michigan (5-1) 16 Big Ten 648
17 Arizona State (5-1) 18 Pac-12 524
18 Baylor (6-0) 22 Big 12 470
19 SMU (6-0) 21 American Athletic 398
20 Minnesota (6-0) Big Ten 330
21 Cincinnati (5-1) 25 American Athletic 308
22 Missouri (5-1) SEC 233
23 Iowa (4-2) 17 Big Ten 210
24 Appalachian State (5-0) Sun Belt 148
25 Washington (5-2) Pac-12 107
Others receiving votes:
Tulane 55, Iowa State 36, Temple 31, Wake Forest 25, California 20, Virginia 8, Memphis 6, USC 4, South Carolina 4, Texas A&M 3, UCF 3, San Diego State 2, Louisiana Tech 1
Clemson and Bama are both 6-0. Bama has an edge in points margin/game (34-27), Clemson has an edge in yards margin (243-201).

Bama sked (Duke, NM St, SoCar, SoMiss, Ole Miss, A&M - zero ranked)
Clem sked (GT, A&M, Cuse, Clt, UNC, FSU - zero ranked)

Why is Bama 1? https://t.co/NiBPUG2oB2

— THE™? David Hale (@ADavidHaleJoint) October 13, 2019