| | |
| --- | --- |
| Clemson among toughest tickets in college football | |
---
| | | |
| --- | --- | --- |
| Thursday, August 24, 2017, 4:30 PM | | |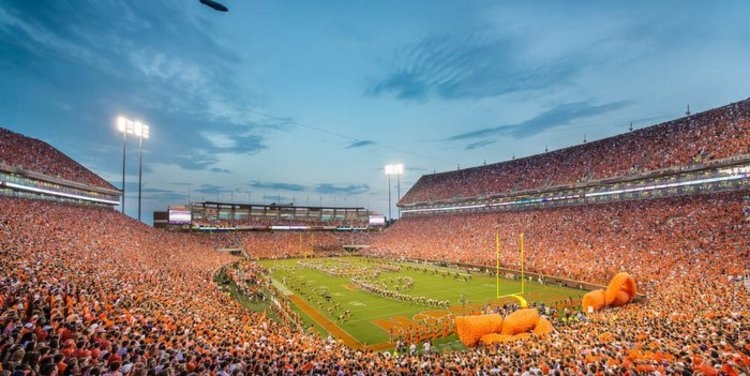 A ticket to see the defending national champions can be pricey, but it's not the toughest ticket in college football this season.
Clemson football holds the fourth-largest median ticket price for home games ($136), according to a news release Thursday from Vivid Seats. Ohio State is the priciest ($200), followed by Notre Dame ($196) and Alabama ($163).
ACC opponent Virginia Tech hosting Clemson Sept. 30 cracks the top-10 at No. 5 (Virginia Tech, $127). Per Vivid Seats, tickets go up 96 percent when Clemson is the visitor, which trails only Alabama (212 percent), Notre Dame (154), Ohio State (128), Georgia (119) and LSU (107).
The study also found that the ACC has the cheapest median price for conference games ($71), but thanks to some ambitious non-conference scheduling, out of conference games cost more than any other Power 5 league ($80).
Median price conference games
1. SEC – $121
2. Big Ten – $100
3. Big 12 – $81
4. Pac-12 – $77
5. ACC – $71
Median price non-conference games
1. ACC – $80
2. Big Ten – $76
3. Pac-12 – $61
4. Big 12 – $52
5. SEC – $45
Top-10 home teams by median ticket price
1. Ohio State – $200
2. Notre Dame – $196
3. Alabama – $163
4. Clemson – $136
5. Virginia Tech – $127
6. Boston College – $125
7. Florida – $124
8. UCLA – $120
9. Michigan – $115
10. Penn State – $111
Biggest visitor draws by median ticket prices
1. Alabama – $212
2. Notre Dame – $154
3. Ohio State – $128
4. Georgia – $119
5. LSU – $109
6. Clemson – $96
7. North Carolina – $82
8. Auburn – $75
9. Texas A&M – $72
10. Oklahoma – $70
(All figures per Vivid Seats' College Football Pricing Preview)