| | |
| --- | --- |
| Clemson-Auburn postgame notes | |
---
| | |
| --- | --- |
| Saturday, September 9, 2017, 11:32 PM | |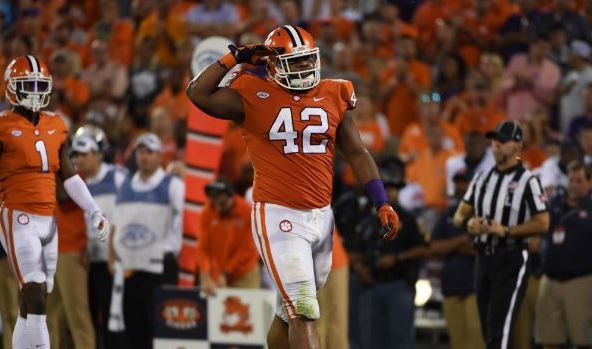 CLEMSON TEAM NOTES
*Dabo Swinney became Clemson's career leader in wins over teams ranked in the top 25 of at least one of the major polls with tonight's win over No. 13 Auburn. It was Swinney's 21st win over a top 25 team. Danny Ford, who will be inducted into the College Football Hall of Fame in December, had 20 between 1978-89.
*Auburn joined Pittsburgh as the only teams to score on their first drive against Clemson in Clemson's last 18 games.
*The 11 sacks this evening by a Clemson defense tied for the second most in a game in school history. The Tigers had 12 against Furman in 1996 and 11 against Utah State in 2004. The 72 lost yards on sacks tonight were the second most in school history. Utah State lost 84 yards on Clemson sacks in that 2004 game.
*Clemson defeated Auburn for the fourth straight time after losing to Auburn in 14 consecutive matchups prior to that. It is the first time since 1900-06 that Clemson has beaten an SEC team four consecutive times other than South Carolina. Clemson beat Georgia six consecutive games during the 1900-06 era.
*Dabo Swinney now has 12 non-conference wins over SEC teams since he became Clemson head coach in 2008. That is the most in the nation over the last 10 seasons.
*Clemson is now 10-1 in its last 11 games against ranked teams. The Tigers are on a six-game winning streak against ranked teams, the longest streak in Clemson history. The Tigers will get another opportunity against a top 25 team next week when the Tigers face Louisville.
*The last time Clemson allowed just nine points over its first two games was the year 2000, a 38-0 win over The Citadel and a 62-9 win over Missouri. Those games were also on September 2 and September 9, respectively.
*Clemson has not allowed a touchdown in either of the first two games in wins over Kent State (56-3) and Auburn (14-6). It is the first time Clemson has now allowed a touchdown in each of its first two games since at least 1964.
*Clemson downed Auburn 14-6 tonight. It is the fewest points in a Clemson victory since a 14-13 win over NC State in 2010.
*Clemson won its 33rd game out of its last 35, dating back to 2014.
*Clemson won its 24th home game of its last 25 and the 41st of its last 44 games.
*Clemson won its 10th game in a row in September.
*Clemson won the 11th game of its last 12 when facing off against a ranked opponent.
*With the win over Auburn, Clemson has won six straight ranked matchups for the first time in school history.
*Clemson won its 47th consecutive game when holding a team to under 23 points, which dates back to 2010.
*Clemson has given up just 80 yards passing in two games. Opponents are averaging less than three yards per attempt.
CLEMSON INDIVIDUAL
*Redshirt graduate linebacker Dorian O'Daniel collected a career-high 14 tackles.
*Austin Bryant tied the Clemson single game sack record this evening with four against Auburn. He is the third Clemson player to have four sacks in a game. Keith Adams had four against Duke in 1999 and Andre Branch had four against Virginia Tech in 2011.
*Junior defensive end Christian Wilkins collected a career-high two sacks.
*Hunter Renfrow has had at least nine receptions in a game twice in his career and both have come against teams from the state of Alabama. He had 10-92 against Alabama in the National Championship game last year and 9-62 this evening against Auburn.
*Redshirt sophomore safety Tanner Muse collected a career-high six tackles.
*Junior quarterback Kelly Bryant collected a career-high 19 carries.