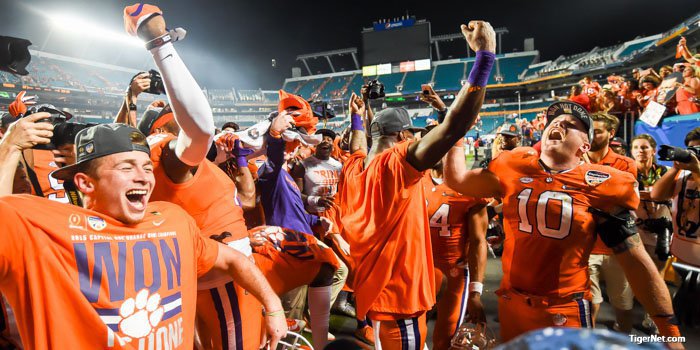 | | |
| --- | --- |
| Capital One Orange Bowl changes scheduled game date | |
---
| | | |
| --- | --- | --- |
| Monday, May 13, 2019, 12:58 PM | | |
Miami Lakes, Fla. (www.orangebowl.org) – The Orange Bowl Committee (OBC) announced today that the 86th annual Capital One Orange Bowl will be played at Hard Rock Stadium in Miami Gardens, FL on Monday, December 30, in an exclusive primetime window on ESPN. Kickoff time will be 8 p.m. The game was originally scheduled to be played Wednesday, January 1 during the early afternoon.
"The Capital One Orange Bowl was presented with a unique opportunity by our partners, including ESPN, Capital One, the ACC, Big Ten, SEC, Notre Dame, the Miami Dolphins and the CFP, to play this year's game on Monday, December 30 in primetime," said José C. Romano, president and chair of the Orange Bowl Committee. "With other bowl games planned for the early afternoon window on January 1, this move enables our game to stand alone as the only bowl game staged on Monday night, when fans are used to viewing football games. We are confident this traditional start time will be a positive for both the out of town and local fans who attend our game, as well as the television viewers across the country."
"In close collaboration with our partners, including the CFP, ESPN and OBC, we agree this shift provides college football fans the best opportunity to attend and watch the Capital One Orange Bowl game in primetime," said Roger Ferguson, Managing Vice President Advertising, Sponsorships and Media for Capital One.
"The ACC and Capital One Orange Bowl continue to have an extremely strong and beneficial partnership," said ACC Commissioner John Swofford. "We are pleased this year's game will be played in primetime on December 30, which allows college football fans and South Florida supporters to experience all the excitement this game has to offer."
The first of the college bowl games to be played at night, the Orange Bowl has either started or finished at night each year beginning with the January 1, 1965 game. Last year, the Capital One Orange Bowl hosted a Playoff Semifinal with No. 1 Alabama defeating No. 4 Oklahoma in primetime.
This year and in five of the next seven years, the Capital One Orange Bowl will feature a highly ranked team from the Atlantic Coast Conference (the champion, if not selected for the College Football Playoff) against the highest ranked available non-champion from the Big Ten, Southeastern Conference or Notre Dame. In the other two years (2021-22 and 2024-25), the Capital One Orange Bowl will host a College Football Playoff semifinal.
For those interested in purchasing tickets for the 86th Capital One Orange Bowl, log on to the Orange Bowl Website at http://www.orangebowl.org/deposit/ or call the Orange Bowl ticket office at 305-341-4701.
Major bowls and playoffs schedule 2019-20
Cotton Bowl - Dec. 28 (1 p.m. ET)
Semifinals on Dec. 28: Peach Bowl, Fiesta Bowl
Orange Bowl - Dec. 30 (8 p.m. ET)
Rose Bowl - Jan. 1 (4 p.m. ET)
Sugar Bowl - Jan. 1 (8:30 p.m. ET)
Championship (New Orleans) - Jan. 13
The CFP championship game will be played Monday, Jan. 13. That's 15 days after the semifinals. 15!

— Ralph D. Russo (@ralphDrussoAP) May 13, 2019