| | |
| --- | --- |
| Inside the commitment: Ray Ray McCloud | |
---
| | |
| --- | --- |
| Monday, July 28, 2014 11:25 PM | |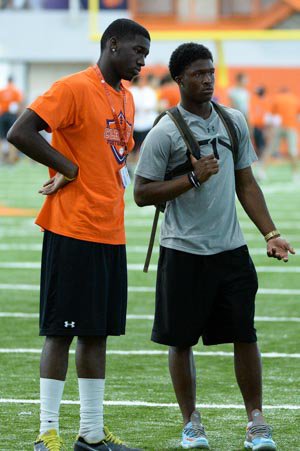 The Clemson coaching staff picked up a huge commitment from Tampa (FL) Sickles 4-star prospect Ray Ray McCloud
Ray Ray McCloud
Wide Receiver
5-10, 170
Tampa, FL
ESPN:


View Full Profile III Monday evening, and despite the fact that several national recruiting pundits had been saying that McCloud might be headed to Florida his dad says otherwise.
Speculation surrounding McCloud's decision came to a head last week when the McCloud family visited Florida for Friday Night Lights, and the prevailing thought was that his last visit occurring in Gainesville was a good thing for the Gators.
Not so fast, according to Ray McCloud, Jr., who said that he tempered his son's enthusiasm and made him take extra visits to ensure that Clemson was the right place for his talents.
"Ray wanted to commit like seven months ago. It was a while ago," McCloud said. "I really just wanted him to continue praying on it and going to other schools first. He really got to see everything he wanted to see from 'Bama to South Carolina, Tennessee, UCLA, USC - all of the schools that as a kid growing up he would say, 'I'm going to play for them one day.' I wanted him to have something to compare to so when he made his decision, he knew it was the right decision."
McCloud said that the visit to Florida was just to make sure, and that the family made the ultimate decision Monday.
"He wanted to go back again one last time to make sure that he made the right decision," he said. "I think he kind of knew then. In this recruiting thing, if you haven't been through it - I went through it with my nephew last year because he lived with me - they'll love a school one minute, but then they see something else they like and they start thinking, 'okay, maybe I might like this school.' I think he knew then in his heart, but he didn't really know until today.
"We did our last due diligence today, asking our final questions and he made his decision. He wanted to do it, but I didn't think he understood the seriousness of commitment. We didn't want it to be like a lot of these kids these days that commit here and then go to another school, so I wanted him to see everything first. Now I think he's locked in."
However, the relationship with the Clemson coaching staff and Tampa area recruiter Tony Elliott made the difference.
"We've been going there since his ninth grade year and it has been awesome," he said. "Coach Elliott and Coach (Jeff) Scott really built a strong relationship. Coach Elliott recruited his older cousin - Hank McCloud - at Furman. Going through that where his cousin went through it and us being really close, the trust factor was there. Meeting Dabo and spending time with him and Coach Elliott and then Coach Scott came into the mix. Faith and family was big."
Clemson's "family approach" was attractive as well.
"In our house, it's God, family, football. We've told him that all of his life," McCloud said. "That was the same thing that Coach (Dabo) Swinney said. I feel like that Clemson - as a program - was like that and was like a family. He fit perfectly."
Once the announcement was complete, the McCloud's called a jubilant Clemson coaching staff.
"We talked to Coach Swinney, Coach Elliott and Coach Jeff Scott

Jeff Scott
Asst. Coach (WR) / Recruiting Coord.
View Full Profile right after the TV thing. Coach Swinney was jumping for joy," he said. "Coach Elliott was just congratulating us and thanking us for believing in them. They know how we are. I'm a big man and I love Jesus. As a parent, I like to hear that they are going to treat my kid just like they belong to them."
McCloud then said that they are done taking visits.
"We are done. The only other thing we want to see is my nephew, so we will go support him on Saturdays, but that's it," he said.
McCloud joins a highly-ranked Clemson recruiting class that is among the top five in the nation, but his father said that the game still has to be played on the field.
"I don't get caught up in that too much because I'm a coach myself. You just have to go play football," he said. "On paper, they should be great. I've seen Deon (Cain) and Ray play together since they were little so I know what they can do together. With the young quarterback, the offensive line, the other guys that are coming in and the guys that are there now, I think they can do some great things. I'm excited to see it."
The current plan is for McCloud to enroll in January.
"He's a January guy. Right now he's a January guy, but his little brother keeps telling him that he wants him to stay home," he said. "I keep telling him not to be selfish that Ray has things that he's got to do. He and Deon are going to school together for the first time."
Click here to view McCloud pick the Tigers
I have officially committed to the Clenson University & I thank God for this opportunity. #Gotigers #allin pic.twitter.com/gt4DsMaJVZ

— LT Gutta??an™ (@RM3_legendz19xx) July 28, 2014
The newest #Clemson #Tiger, @RM3_legendz19xx! pic.twitter.com/5OE6JNT6t7

— Bright House Sports (@BHSN) July 28, 2014
Congrats to 2014 #TheOpening alumni Ray Ray McCloud (@RM3_legendz19xx) on his commitment to #Clemson. #SolidOrange pic.twitter.com/Ks0x4EbNIP

— The Opening (@TheOpening2014) July 28, 2014
GREAT DAY TO BE A CLEMSON TIGER!!! #ClemsonFamily

— Coach Jeff Scott (@coach_jeffscott) July 28, 2014
My man @Coach_TElliott is one of the best recruiters in the country!!!

— Coach Jeff Scott (@coach_jeffscott) July 28, 2014