---
| | |
| --- | --- |
| Saturday, September 6, 2014 5:36 PM | |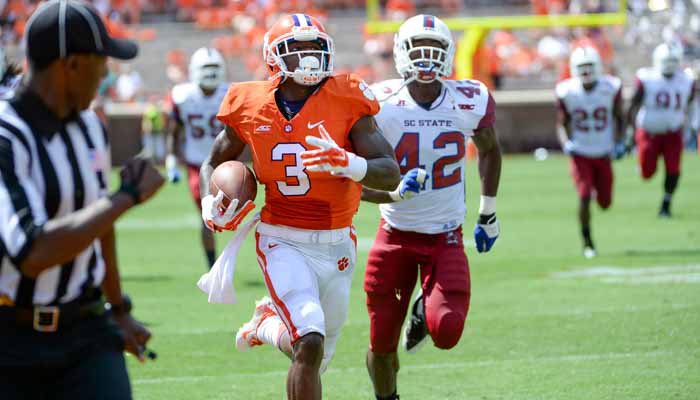 CLEMSON – Saturday was all about the freshmen.
Clemson's game plan against South Carolina featured the freshmen playmakers early and often, and the youngsters combined for 433 of Clemson's 735 total yards in a 73-7 rout of South Carolina St. Leading the way was receiver Artavis Scott

Artavis Scott
Fr. Wide Receiver
#3 5-11, 190
Oldsmar, FL
View Full Profile , who set a Clemson freshman receiving record for yards in a game, catching six passes for 164 yards and two touchdowns.
In the rushing attack, Adam Choice

Adam Choice
Fr. Running Back
#26 5-10, 211
Thomasville, GA
View Full Profile had 12 carries for 74 yards and Wayne Gallman

Wayne Gallman
RS Fr. Running Back
#9 6-1, 209
Loganville, GA
View Full Profile added 10 carries for 77 yards. Quarterback Deshaun Watson

Deshaun Watson
Fr. Quarterback
#4 6-3, 204
Gainesville, GA
View Full Profile had limited snaps considering the score, but still completed 8-of-9 passes for 154 yards and three touchdowns.
"That was obviously one of the things we wanted to do all week long was involve these guys a little bit more," offensive coordinator Chad Morris

Chad Morris
Offensive Coordinator / QBs
View Full Profile said after the game. "We saw last week that some of them were ready for the big stage. The stage wasn't too big for them. It was a great opportunity to get those guys involved, and that was the game plan going in."
Gallman said he was pleased with his effort.
"It was a lot of fun out there today. This is just the beginning of what's to come," Gallman said. "Pretty much everything was working today. If I saw it, I just wanted to hit it. The offensive line did a great job getting the blocks, so I commend them. Anything they (the coaches) want, I will do. I just think I'm an all-around back."
Gallman's first carry gained seven yards, but he escaped contact in the backfield and scooted around the left side for the first down.
"Ever since I was a kid, I was that guy that just ran," he said. "It's just my style. If I have to [make contact] I will. If I see it, I'm going to hit, but if I've got to make that contact, then I've got to."
Scott was impressive, turning one short pass into a 69-yard gain and showing glimpses that he might be the explosive playmaker the Tigers need after the departures of Sammy Watkins

Sammy Watkins
Wide Receiver (2011 - 2013)
#2 6-1, 205
Fort Myers, FL
View Full Profile and Martavis Bryant

Martavis Bryant
Wide Receiver (2011 - 2013)
#1 6-5, 200
Calhoun Falls, SC
View Full Profile .
Despite his youth, Scott said he doesn't think of himself as a freshman.
"I think I'm just a regular player anyway. Even though I'm a freshman, I'm building by watching what they do," Scott said. "As I go into a game, I don't do it as a freshman. I do it as a regular player. Every time I get the chance, I'm going to make the most out of it. Every time my name is called, I'm going to go out there and perform and do what I have to do each week."
Scott's first touchdown was a 37-yard reception early in the second quarter, and he said he had a feeling the ball would be coming his way.
"When Coach Morris called the play, I saw the safety and the busted coverage or whatever they did. As soon as I saw it, I knew the ball was coming to me," Scott said. "Cole made a great pass and I was just so concentrated on catching the ball and focused. This was what I wanted. It was exciting for me to have my first touchdown. I was blessed."
The record was just icing on the cake.
"It was big for me. I didn't know until Coach Swinney said it," he said. "It's a big accomplishment for me. I'm blessed for it. I'm just thankful. It's big but I can't let that override everything. It's practice and preparation that leads up to the game."
Watson said he thinks that all of Clemson's receivers have the ability to make plays, but that he and Scott talk about making big plays all the time.
"I think all of our receivers are game changers if they get the ball in their hands," Watson said. "Artavis is a great guy. He works hard and he's my roommate, so we always talk about making big plays."
Choice ran hard, and he said he was just happy that the coaches had the faith in him to let him play.
"It was a great first experience and I was blessed that the coaches trusted me enough to put me out there," Choice said. "I enjoyed it a lot. I'm glad they put me in. I feel like our team played well. The offensive line did a great job. I believe when we work like that, good things will happen. I'm trying to get better every day whether it's working on catching the ball or running the ball. I believe I can get better. There is no standard that I'm set at. I'm just trying to get better."
Choice then said that Clemson's young playmakers are going to be special.
"I'm excited. We've just got to keep working and preparing the way we have," he said. "I believe it will be special."
Watson agreed with Choice and said the future of Clemson's offense is bright.
"It was great to see us young guys get in there and execute the play calls," Watson said. "We are just earning trust from the coaches. Hopefully, later on down the road we'll get more playing time. We're all just going to take advantage of our opportunities and get better every day."