| | |
| --- | --- |
| Youth Day - Freshmen shine in opener | |
---
| | |
| --- | --- |
| Saturday, September 5, 2015 6:10 PM | |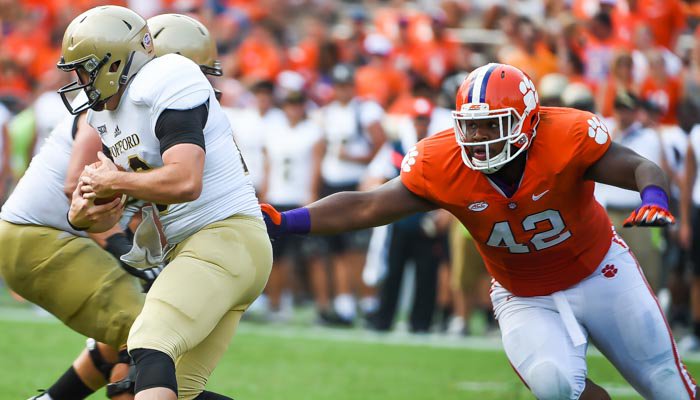 CLEMSON – The official game designation for Saturday's season opener against Wofford was Youth Day, and it was that very day on and off the field as a bevy of freshmen made their Clemson debuts.
The fun started early with wide receiver Ray-Ray McCloud

Ray-Ray McCloud
Fr. Wide Receiver
#34 5-9, 181
Land O' Lakes, FL
View Full Profile and continued most of the day as many of the 42 freshmen and redshirt freshmen saw significant snaps in the Tigers' 49-10 win over the Wofford Terriers. In all, 13 true freshmen saw snaps against Wofford, the most in a single game since 1943. Twelve true freshmen played during the entire 2011 season, and eight of those 2011 freshmen were still on NFL rosters when the day started. One of the 12 from 2011 was Charone Peake, who is still on the Clemson team.
Wide receiver Deon Cain

Deon Cain
Fr. Wide Receiver
#8 6-1, 197
Tampa, FL
View Full Profile caught three passes for 36 yards, and he said his highlight was running down the hill prior to the game.
"It was great. Running down the hill, I took my time for the first time," Cain told TigerNet after the game. "It was a little steep, but I had a great time. It was a great experience coming down that hill. The first game actually being here, I felt comfortable. I got my feet wet into the college system, and it just felt good to be out here."
Cain said once he got involved in the game action it turned into just another football game.
"The first snap I got a few butterflies, but after that first catch had landed in my hands, I was like, 'Oh yeah, it's go time.' It just rolled on after that," Cain said.
Defensive tackle Albert Huggins

Albert Huggins
Fr. Defensive Line
#67 6-3, 286
Orangeburg, SC
View Full Profile was part of a defensive effort that limited the Terrier rushing attack to a 2.7 yards per carry average, but he didn't want to dwell on Saturday's success.
"I'm just happy it happened," the understated Huggins said. "I'm glad it's over with, and it's time to move on to the next game."
McCloud was Clemson's leading receiver with eight catches for 80 yards, and he said his pre-game jitters were nothing to worry about.
"You naturally have jitters, but it's good jitters," McCloud said. "It's not that I'm nervous or scared. It's just the jitters of all of the fans. I've never played in front of that many people. The Clemson family is real. That was my first experience with it. It was that type of nervousness - playing in front of that many people. It was a great experience."
McCloud said the only time he had a bad case of nerves was prior to running down the hill.
"Actually, I told Christian [Wilkins], 'I'm going down slow. Y'all don't even stand by me because one of Y'all might trip me up.' It was great," McCloud said. "Watching all of those people, it was like, 'Wow!' It was a great experience for me."
Defensive tackle Christian Wilkins

Christian Wilkins
Fr. Defensive Tackle
#42 6-5, 299
Longmeadow, MA
View Full Profile said the experience is something he will never forget.
?
"It was great. It was a real good experience," Wilkins said. "It was good just to get out there and run around a little bit. It was a different speed of the game than high school. Guys are stronger and faster. It was good to get my feet wet for sure. The whole pre-game experience - getting in the locker room with the guys was nice and the way it felt inside the locker room. Then coming around the stadium and running down the hill was real nice. I'm really excited I get more opportunities to do that."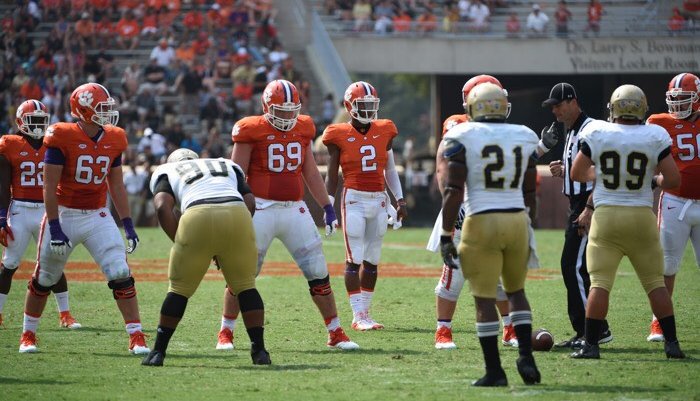 Redshirt freshman kicker Greg Huegel

Greg Huegel
Fr. Punter / Kicker
#92 5-11, 180
Blythewood, SC
View Full Profile was 6-for-6 on extra points, and he said he only had one thing on his mind when it was his turn to kick.
"Make it - that's really the only thing that was going through my mind," Huegel said. "I've done this a thousand times, so just put it through."
Left tackle Mitch Hyatt

Mitch Hyatt
Fr. Offensive Line
#75 6-6, 285
Sugar Hill, GA
View Full Profile said he didn't realize how many of his classmates were on the field until later in the game.
"It was crazier being out there. When you're in the stands you're just watching it, but when you're in the inside of it you actually get to know what's going on - who's hurt, what's going on with guys," Hyatt said. "It was kind of funny. I was so focused on playing that I didn't really realize how many guys from this class were actually playing until I was watching the game. It was really surprising to see them show out. It was awesome."
True freshmen who played
QB Kelly Bryant

Kelly Bryant
Fr. Quarterback
#2 6-4, 213
Calhoun Falls, SC
View Full Profile
TE Garrett Williams

Garrett Williams
Fr. Tight End
#44 6-4, 236
Orlando, FL
View Full Profile
WR Deon Cain
DB Van Smith

Van Smith
Fr. Defensive Back
#23 6-2, 188
Cornelius, NC
View Full Profile
WR Ray-Ray McCloud
DT Christian Wilkins
DE Austin Bryant

Austin Bryant
Fr. Defensive End
#91 6-4, 268
Pavo, GA
View Full Profile
LT Mitch Hyatt
RT Jake Fruhmorgen

Jake Fruhmorgen
Fr. Offensive Line
#63 6-5, 282
Tampa, FL
View Full Profile
LB Jalen Williams

Jalen Williams
Fr. Linebacker
#30 6-0, 224
Columbia, SC
View Full Profile
LB Judah Davis

Judah Davis
Fr. Linebacker
#36 6-2, 229
Clemson, SC
View Full Profile
LB JD Davis
DT Albert Huggins

Tags:
Ray-Ray McCloud
,
Judah Davis
,
Jalen Williams
,
Albert Huggins
,
Garrett Williams
,
Kelly Bryant
,
Mitch Hyatt
,
Austin Bryant
,
Van Smith
,
Deon Cain
,
Jake Fruhmorgen
,
Christian Wilkins
,
Greg Huegel