| | |
| --- | --- |
| Young backs and receivers, defense highlight first fall scrimmage | |
---
| | |
| --- | --- |
| Saturday, August 9, 2014 2:47 PM | |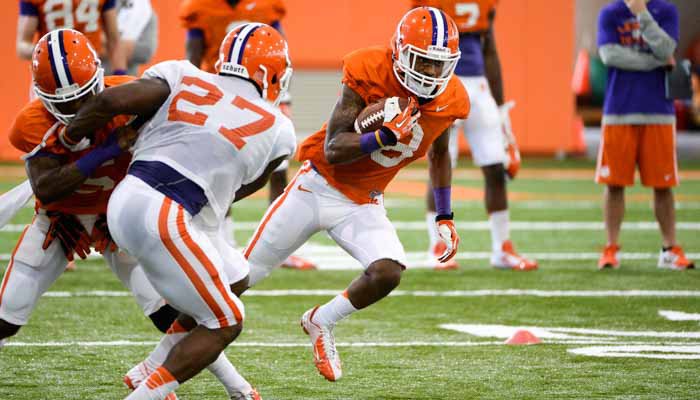 CLEMSON – Nobody really knows what to expect when a team takes the field for the first scrimmage of fall camp, but Clemson head coach Dabo Swinney

Dabo Swinney
Head Coach
View Full Profile came away encouraged with the play of his entire team.
The Tigers took the field in Death Valley for the first scrimmage of fall camp Saturday morning and Swinney said that he was excited about what he saw from both his offensive and defensive units, as well as several individual performances.
"It's just one scrimmage and you've got to start somewhere," Swinney said outside of the Clemson locker room. "I'm encouraged. There were a lot of positives on both sides. It's a difficult position when you're the head coach because you get excited about a great play that was just made on offense, then you quickly get upset because someone didn't do their job on defense. There's always that balance for me and really trying to keep a good perspective.
"I thought offensively they really came out and set the tempo - just a great opening drive. Defensively, they were on their heels early, but as the day went they were very, very strong. Lot of good things. Lot of good individual plays. Got a lot of good youth on this team. The guys you expect to play well for us showed up."
Swinney said that the defense was dominant in the situational parts of the scrimmage, but was quick to praise several of the young offensive players for their performances.
"Short yardage and goal line, our defense dominated, so I'll be anxious to see us do that again on Wednesday to see how the offense responds," Swinney said. "Open field, playing ball, a lot positives. Good to see some of our young guys making plays – Artavis Scott

Artavis Scott
Fr. Wide Receiver
#3 5-11, 190
Oldsmar, FL
View Full Profile , Demarre Kitt

Demarre Kitt
Fr. Wide Receiver
#8 6-1, 183
Tyrone, GA
View Full Profile , Wayne Gallman

Wayne Gallman
RS Fr. Running Back
#9 6-1, 209
Loganville, GA
View Full Profile . C.J. Davidson

C.J. Davidson
RS Jr. Running Back
#32 5-10, 203
Clemson, SC
View Full Profile and D.J. Howard

D.J. Howard
RS Sr. Running Back
#22 6-0, 205
Lincoln, AL
View Full Profile really ran well. Zac [Brooks] had some really nice runs. The tight ends really showed up. [Jay Jay] McCullough probably had his best scrimmage since he's been here. Same thing with Leggett – great touchdown catch by him."
Offensive lineman Isaiah Battle

Isaiah Battle
Jr. Offensive Tackle
#79 6-7, 285
Brooklyn, NY
View Full Profile was held out of practice again with an ankle injury, giving the offensive coaches an opportunity to rotate the linemen at different positions.
"If we were playing a game today, Battle would have played but we held him," Swinney said. "Part of that is a blessing in disguise because we were able to see Joe Gore

Joe Gore
RS Jr. Offensive Tackle
#73 6-5, 283
Lake Waccamaw, NC
View Full Profile play left tackle, see Shaq [Anthony] at left tackle, see Kalon [Davis] at left and right tackle, see Eric [Mac Lain] out there. We got [Jay] Guillermo in there with the ones and [Ryan] Norton in at guard. We just kind of mixed and matched it. Reid Webster

Reid Webster
RS Sr. Offensive Tackle
#77 6-3, 300
Woodstock, GA
View Full Profile got a lot of work with the ones and the twos."
Defensively, Swinney said he could tell when the first team or second team was the game, because of the consistency and talent level of the group.
"As I was telling our defense, I can't really tell the difference between our ones and twos," Swinney said. "That is a really good thing. There are just a bunch of guys over there that can play and that showed."
Swinney was anxious to see the special teams units and they didn't disappoint.
"Ammon was two-for-three on field goals today," Swinney said. "The kickoff coverage was good today. It was good to see guys making plays there. T.J. Green

T.J. Green
So. Safety
#15 6-3, 205
Sylacauga, AL
View Full Profile and C.J. Davidson are really going to be good return men for us. Mackensie [Alexander] had about a 30-yard punt return. Pinion was great with his punting."
Other Notes
Penalties were a problem
"We did have some critical penalties and that was disappointing. We had 12 men on the field twice. It's the first scrimmage and we had a lot of substitutions. Those are things that we control. Offensively, we have a huge play to Demarre Kitt that gets called back because we have five men in the backfield. Those are things that we control. Those are self-inflicted penalties that we have to eliminate."
No turnovers
"Another huge emphasis for us was taking care of the football and we had zero turnovers in however many plays we had. I'm really proud of that. That's a great job by our quarterback taking care of the ball. I thought Cole Stoudt

Cole Stoudt
Sr. Quarterback
#18 6-4, 231
Dublin, OH
View Full Profile was awesome. I thought Deshaun [Watson] really played well. We brought Deshaun in and he finished with the ones on the last few series. It's just a good start."
The competition at running back
"I really like the guys we have. I think right now we're still evaluating that. I'm not ready to come out and say this is the guy. This was probably D.J. Howard's best practice. Zac was excellent. C.J. Davidson is very impressive and then you sit there and look at Wayne Gallman and he just kind of plays in a different gear. Sometimes he's a little too fast. Then you throw the freshmen in there. If we played today, it would be by committee."
Vic Beasley

Vic Beasley
RS Sr. Defensive End
#3 6-2, 236
Adairsville, GA
View Full Profile
Beasley said the defense started slow, but picked up the pace later in the scrimmage.
"We did. We started slow and we looked sluggish, but I think the tempo of the offense had a lot to do with that. I think it took Coach Venables a little bit of time to get back used to calling plays against Coach Morris, but once we got going I thought we did ok. We had a good bit of mistakes but we will take it from the field and learn from it. I need to work on my pre-snap reads but overall I think I had a good day today."
From all accounts, the defense has more than held its own against the offense in goal line and short yardage situations, and Beasley said he is merely an interested spectator when that happens.
"It has been real competitive. I usually sit back and watch when that time comes. Watching them, I am just seeing those guys work hard and going out there and competing. Our mentality as a defense is 'we don't lose' and that's the mentality we've been showing on the goal line the last couple of days."
Chad Morris

Chad Morris
Offensive Coordinator / QBs
View Full Profile
We will have more from Coach Morris later, but here are a few takeaways.
Morris said that he was impressed with quarterback Cole Stoudt.
"I was impressed with Cole. He was very efficient and ran the system and ran hard. We had good energy coming out. Nobody knows these guys' names, and maybe someday somebody will pick their names up, we are challenging them and seeing them play with an edge. But we came out and ran 15 plays and Cole got it in. We have some areas where we have to get better, especially in the short yardage game."
*Morris said there is very little separation with the running backs, and that the coaching staff will likely go with the player who has the hot hand on a given day.
*Demarre Kitt has been a surprise.
"I've been very pleased with Demarre Kitt. He has been good – not great because he's a long way from being great – but he's doing some good things and he's very coachable. Kyrin Priester

Kyrin Priester
Fr. Wide Receiver
#17 6-1, 186
Lilburn, GA
View Full Profile had a couple of good catches today, and Germone Hopper

Germone Hopper
RS So. Wide Receiver
#5 6-0, 175
Charlotte, NC
View Full Profile is being seen right now. Artavis Scott has had a good camp. Some of these young guys are hitting the wall right now but we are pushing them through it."
Morris said that Joe Gore has earned the right to play once the games start.
"As of today, yes. He is a guy that we can win with."
Brent Venables

Brent Venables
Def. Coordinator / Linebackers
View Full Profile
"We made some mistakes today that we can teach from. But in physical situations our guys really responded and I was as pleased with that as much as anything. Our competition is great in the secondary at all positions and I think we have a solid two-deep right now."
*Venables said some nice things about senior safety Robert Smith

Robert Smith
Sr. Safety
#27 5-11, 211
St. George, SC
View Full Profile .
"Robert Smith is in his own league right now. I think he is playing really, really consistent. But there are a bunch of them that are playing really well and they are competing and making each other better."
*He said linebacker Tony Steward

Tony Steward
Sr. Linebacker
#7 6-1, 236
Hastings, FL
View Full Profile has also had a good camp.
"Tony Steward has had a really consistent fall camp. He looked good today. You are looking for leverage and pressure and push, and he has had a really good fall camp so far."
*On what he is looking for out of his defense.
"We have to continue to improve over the next few weeks. We have to fight to get better. They have to be great at the details at their position. We have to keep them hungry and improving."