| | |
| --- | --- |
| Yeargin ready to "jump off a mountain and land feet first in Death Valley" | |
---
| | |
| --- | --- |
| Wednesday, February 5, 2014 10:38 AM | |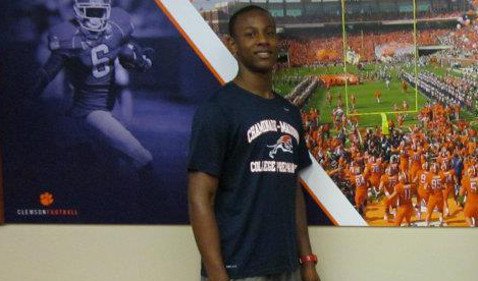 How happy was Richard Yeargin

Richard Yeargin
Outside Linebacker
6-4, 225
Fort Lauderdale, FL
ESPN:


View Full Profile III this morning?
"I am so happy right now and so relieved, I feel like I could jump off of a mountain and land feet first in Death Valley," Yeargin told TigerNet in an exclusive interview Wednesday morning.
As expected, the 4-star (ESPN) linebacker/defensive end Richard Yeargin III signed with Clemson early Wednesday morning at his school, and the Fort Lauderdale (FL) University School product told TigerNet shortly after the announcement that he was happy to be a Tiger.
"I am happy to say I am committed to Clemson University. I love my university and I will live and die by it," Yeargin said by phone. "I am 100 percent committed to Clemson University." I've been knowing for two weeks now that I would go to Clemson. Really, I guess I've known for three months. I am so excited I don't know what to say. I am happy to be a Tiger, happy to be a part of the Clemson family and I am glad the process is over."
Yeargin had offers from many of the major programs, including Florida St., Auburn. Texas. Southern Cal, Notre Dame and Stanford. Yeargin originally committed to Notre Dame in August, but a November visit to Clemson eventually led to him reneging on his Notre Dame commitment in late January.
Yeargin said that while that visit made an impact, Clemson had been on his mind during the entire recruiting process.
"Clemson has been on my mind the entire time," he said. "They were my first offer two years ago and they were my first summer visit two years ago. You know that recruiting has so many twists and turns and it takes a toll on you, but Clemson was a school that was always there for me. Coach (Brent) Venables and Coach (Dabo) Swinney stuck by me through it all.
"They didn't promise me anything on the football field. They promised me that I would be a better man when I walked out of there after four years, and that I would have the best time of my life. That is what I wanted to hear. They didn't have to sell me on the fact that I will be coached by the best coaches, or that I would get the best education. I knew that already. They ensured me I would walk out of there a better man with a grasp on life."
Yeargin, who was surrounded by friends and family at the announcement, thanked them before giving a special message to Clemson fans.
"I want to thank God and everybody that was here," Yeargin said. "My family and I are very proud to be a part of Clemson University. I also want to give a shout out to everybody in Tigertown."
Richard Yeargin, Jr., the recruit's older brother, told TigerNet that the family was now ready to see what Yeargin can accomplish in a Clemson uniform.
"Now he needs to get in the weight room and the playbook and see what he is all about," Yeargin, Jr., said. "We are ready for that first game versus Georgia. Hopefully Richard can make an immediate impact. I believe they are going to put him at strongside linebacker, but he will also get to put his hand in the dirt at rush end. They also want to see how good he can cover, because he is a converted safety. Wherever they put him that he can make an immediate impact, we are okay with that."
I am officially committed to "The Clemson University" s/o to Coach Swinney -"Clemson will embrace you like no other place!" #ClemsonFamily??

— Richard Yeargin III (@ryearginIII) February 5, 2014