| | |
| --- | --- |
| Yeargin: No commitment but Clemson leads for 4-star defender | |
---
| | |
| --- | --- |
| Saturday, January 25, 2014 5:53 PM | |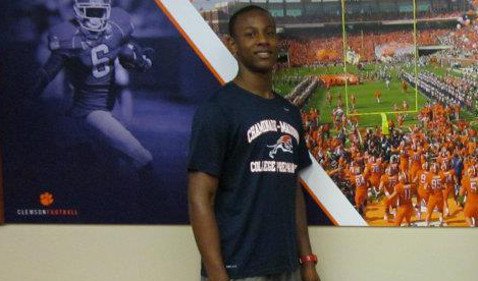 Richard Yeargin

Richard Yeargin
Outside Linebacker
6-4, 225
Fort Lauderdale, FL
ESPN:


View Full Profile III is officially a "free agent" and Clemson leads for his services but as of Saturday afternoon, the 4-star prospect has not committed to a school.
Several reports surfaced Saturday afternoon that the Fort Lauderdale (FL) University School outside linebacker/defensive end had committed to Clemson, less than 24 hours after decommitting from Notre Dame.
However, Yeargin's older brother, Richard Yeargin, Jr. told TigerNet that his brother will take his time before making his final commitment
"Right now he's going to have a week where he's a free agent and just gather his thoughts moving forward," Yeargin Jr. told TigerNet Saturday evening. "We know it's a blessing to be recruited and we don't take that for granted."
Yeargin Jr. said that his brother and his family take the recruiting process very seriously and that they aren't looking to make splash on National Signing Day, they just want to make the best decision possible.
"I don't know what he's going to. We aren't playing the hat game, that much I know," Yeargin Jr. said. "We take this seriously and we will try to let everyone know before National Signing Day. We don't play the social media game. We don't want to disrespect any program or play with anyone's emotions. We know this is a serious matter at hand. We have been completely quiet on social media – Twitter, Facebook, Instagram – since he decommitted."
With the Yeargin family so quiet in the media, Yeargin Jr. said he's not quiet sure where the reports of his brother's commitment to Clemson came from.
"The quietness, everybody wants to report something," Yeargin Jr said. "Everybody wants to think, 'Oh the only other place he has visited is Clemson so, he's going to Clemson.' We haven't done anything but decommit from Notre Dame."
The Yeargin family has ties to South Carolina and has maintained a close relationship with Clemson defensive coordinator Brent Venables

Brent Venables
Defensive Coordinator / Linebackers
View Full Profile throughout the entire recruiting process, even after Yeargin III made his commitment to Notre Dame in August of 2013.
Yeargin Jr. said that the Clemson coaches have been by recently to discuss the program, and that as it stands now Clemson would be the top choice for his brother.
"As of now we've removed ourselves from the Notre Dame offer," Yeargin Jr. said. "Clemson is the direction we are headed in but we haven't confirmed anything yet. They came in and told us all about the program and had a chance to meet and greet with the family. At this time they would be the first choice on top of some other schools he would take a second chance at since he's opened up again. We have the utmost respect for Clemson head coach Dabo Swinney

Dabo Swinney
Head Coach
View Full Profile and defensive coordinator Brent Venables. Right now there is no pressure on us to decide, but when the time comes we will make the right decision."
Yeargin Jr. simply wants what's best for his brother.
"We have no ill will against them (Notre Dame)," Yeargin Jr. said. "We're just trying to do what's best for him. He has to be happy on the field, off the field and with his teammates."
Yeargin Jr. said they won't take any more visits but may entertain another coach or two this week.
As a senior, Yeargin III had 75 tackles and 15 sacks.