| | |
| --- | --- |
| Yeah, baby!!! Elliotts dealing with pregnancy and ticket requests | |
---
| | |
| --- | --- |
| Monday, September 28, 2015 9:30 PM | |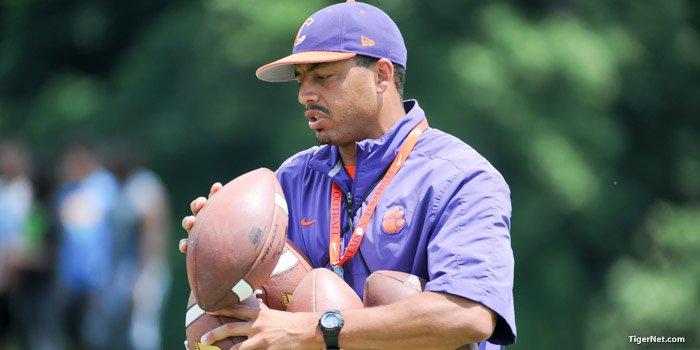 CLEMSON – Tony Elliott

Tony Elliott
Co-OC / Running Backs
View Full Profile has a lot on his plate right now, especially with sixth-ranked Notre Dame coming to town this weekend. There are ticket requests from friends and high school coaches. There is a game plan to develop and practice to be held.
And then there is the baby.
But don't think Elliott is letting all of the excitement let his focus waver. Instead, Clemson's co-offensive coordinator already has a plan in place and is putting all of his efforts into beating the Fighting Irish Saturday.
Elliott's wife Tamika is expecting the couple's second child in mid-October – their second son – joining fellow offensive coordinator Jeff Scott

Jeff Scott
Co-Offensive Coordinator / WR
View Full Profile and his wife Sara in having newborns early in the season. Sara Scott went into labor last week (early) and gave birth on Thursday to a daughter, Savannah Jennings Scott (7 pounds, 9 ounces).
Next up is Tamika, but Elliott told TigerNet Monday in the WestZone that he hopes his new son adheres to the plan set in place, a plan that works around the Tigers' football games.
"She's not due till the 15th. So that is not till Boston College Thursday. That's the plan," Elliott said Monday. "I was keeping my fingers crossed because everyone was saying the blood moon, full moon was going to make it this weekend so we thought there was a chance. I was just waiting for her to wake me up in the middle of the night last night saying we have to go to the hospital. But the plan is the 15th. The original due date is the 19th but just looking at the schedule the 15th will probably be the best day for us."
Elliott said he isn't having the crushing anxiety normally associated with the birth of a newborn and that Tamika has also taken much of the pressure off of his shoulders.
"With this being the second one, not so much. This sense of urgency is not quite as great in terms of we understand you got a little bit of time to get to the hospital," he said. "It's not like if the water breaks the baby is coming immediately. But in the back of my mind I am kind of wondering when it is going to happen, but she has been great about it. She's taken all the pressure off of me. She understands the situation. She understands the business side of it, and she wants me to be in position to help these young men. She says yes I've got to be there, but ultimately she is good with the whole situation."
The fact that the two wives were pregnant at the same time meant that they could help each other, and that help extended to his fellow coach.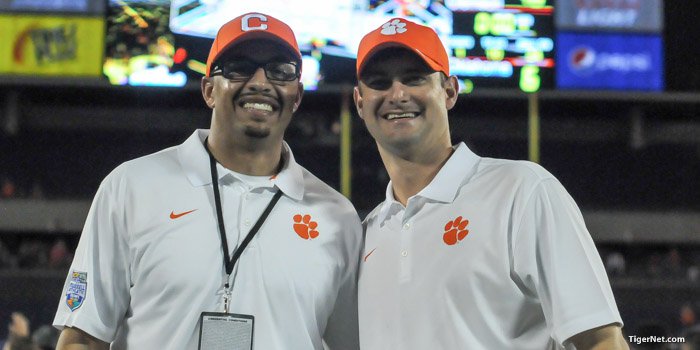 "I think my wife was able to help Sara probably more than I could help Jeff," he said with a smile. "As a man, you are told all the time it is like getting married. Oh man, this is what you need to expect, but until you go through it, there is nothing that can prepare you for it. I didn't want to spoil it for him. I didn't want to tell him that after your baby girl is born you whole outlook on life is going to change immediately. I didn't want to spoil that for him. That was probably the only thing I could help him with because he has got tremendous support. They have been working for this for a while. I know Coach Brad Scott
Brad Scott
Assistant Athletic Director
View Full Profile and Daryle, they are extremely excited. So it was just a good weekend for them."
Sticking to his plan, Elliott said he is letting Tamika focus on the distractions while he focuses on the Irish. Why? It's the way she wants it, and it lets him focus on beating Notre Dame.
"It's hectic. I'm just trying to focus on the things I can control. The ticket requests and all that stuff, that's just noise that I don't need to focus on," Elliott said. "The baby obviously is very, very important, but learning with the first one she doesn't want me to do anything till about six months anyway, so I'm letting her deal with a lot of the preparation there. But this is a great program, a lot of history. A lot of talent on the field. We've got a young team. It is going to come down to the competitive match-ups. Who can execute the best and who can win the one on one matchups."