| | |
| --- | --- |
| Wounded Warriors visit Clemson | |
---
| | |
| --- | --- |
| Friday, June 27, 2014 10:50 AM | |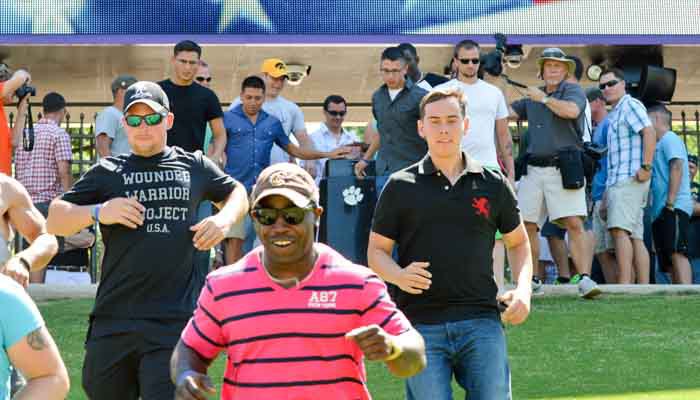 CLEMSON – Standing in front of an assembled group of "Wounded Warrior" Marines and his voice choked with emotion, Colonel Sandy Edge gestured to the Scroll of Honor behind him, and said, "This is truly sacred ground and a blessed place for us at Clemson."
A retired Air Force colonel and 1972 Clemson alumnus, Edge currently is the director of the College of Business and Behavioral Science Academic Advising Center. He is also the former commander of Clemson's Air Force ROTC unit, and is involved in the university as a volunteer, serving as a former chairman of the Clemson Corps.
Members of the Wounded Warrior Project – all United States Marines – made a stop in Clemson early this afternoon, and Edge spent time describing the Scroll of Honor and Clemson's rich military history.
Once that part of the tour was over, the Wounded Warriors made their way over to Clemson Memorial Stadium, where they watched the Hill entrance video shot by ABC before last year's home opener against Georgia. Then, with their names flashing across the scoreboards inside the stadium, the group was allowed to touch Howard's Rock and run down the hill.
Current Greenville resident Jeremiah Grotler grew up in Michigan before enlisted in the Corps. He was medically retired last year after serving in both Iraq and Afghanistan, and he told TigerNet it was good to see Clemson open its arm for the Wounded Warriors.
"Honestly, I've seen both sides of the spectrum," Grotler said. "I've had milkshakes thrown at me in Washington, D.C., and now to come here and see this is far beyond my expectations. It's beyond anything I ever expected."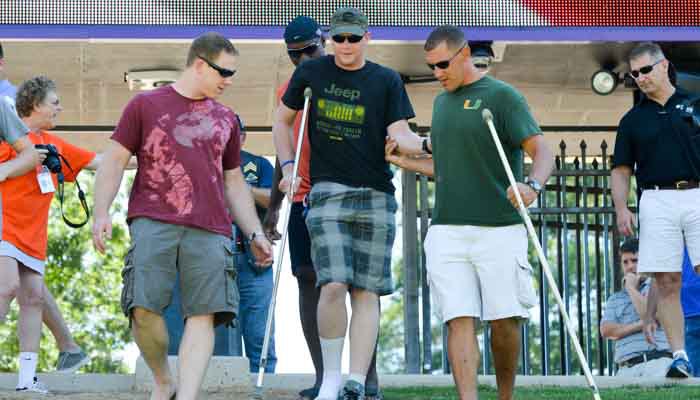 Grotler said he has plans on enrolling at Clemson, perhaps as early as next year, and he said that while he has attended a few Clemson games in the past he didn't know about the Scroll of Honor or Clemson's military history.
"I had no clue. I didn't know about the memorial or that it was even there," he said. "That was pretty cool, seeing all of the names and hearing all of the history. I like seeing the names of all of the guys that went before."
As the former Marines filtered in and out of the weight room and locker rooms, Edge said that talking to the group is something he is honored to do.
"It means a lot, especially when you can talk to a group like the one today who have actually served in that way and have walked it and by the grace of God can talk about it with them," Edge said. "You can look in their eyes and you know they know what you are talking about. It is an important subject, and it's an important subject for Clemson for those students who will never wear uniforms or serve in the military. The key is to serve. To have these heroes here, people who have served on the line and are committed and know what they would give their lives for, it is an honor to show off our sacred Scroll of Honor."