| | |
| --- | --- |
| Winston's suspension: What does it mean for Clemson Saturday? | |
---
| | |
| --- | --- |
| Wednesday, September 17, 2014 2:27 PM | |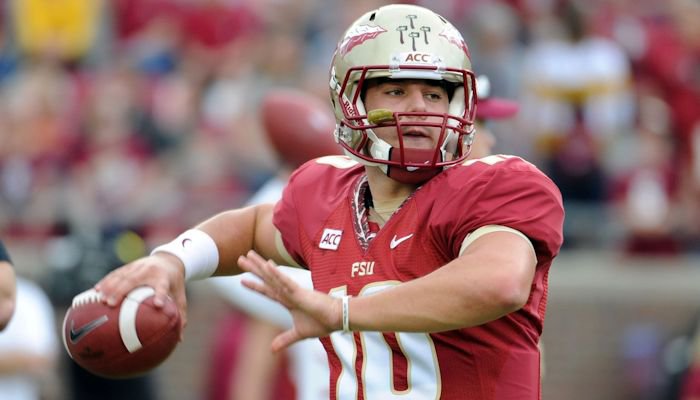 Well, that escalated quickly.
We learned early Wednesday afternoon that Florida St. quarterback and reigning Heisman Trophy winner Jameis Winston would be suspended for the first half of Saturday's primetime matchup against No. 22 Clemson.
In case you missed it, the mercurial Seminole signal caller caused an uproar on Tuesday. Florida State students began flooding Twitter as several witnessed Winston allegedly stand on a table in or in the immediate vicinity of the student union and yell obscenities, mimicking a popular internet video. The phrase is of a sexual nature.
The university released the following statement Wednesday:
As the university's most visible ambassadors, student-athletes at Florida State are expected to uphold at all times high standards of integrity and behavior that reflect well upon themselves, their families, coaches, teammates, the Department of Athletics and Florida State University," interim president Garnett Stokes and athletics director Stan Wilcox said in a statement. "Student-athletes are expected to act in a way that reflects dignity and respect for others.
"As a result of his comments yesterday, which were offensive and vulgar, Jameis Winston will undergo internal discipline and will be withheld from competition for the first half of the Clemson game."
Now the question becomes: What does it mean for Clemson?
Good question.
The backup is redshirt sophomore Sean Maguire, a dropback passer who has completed 3-of-5 passes for 28 yards and no touchdowns this season. The former 4-star prospect appeared in nine games and threw a pass in three of those games, completing 13-of-21 passes for 116 yards and two touchdowns for a passer rating of 120.69. He moved into the backup role following season-ending injury to Jacob Coker against Wake Forest in ninth game of the season.
The Orlando Sentinel did a fantastic piece on Maguire a few weeks ago, and came up with the hypotheses that while Maguire is a more than capable backup, he isn't Jameis Winston. Not many players are. You can read their article here. And another piece on him here.
The Sentinel said that Maguire (6-3, 220) does not have the arm talent to rival Winston, but he's a confident player capable of making the right reads and delivering the ball to the open receiver. Fisher said that even when he misses throws in practice, he's not putting the ball up for grabs. Because of that, there's a general feeling that FSU could stay afloat for a game or two if Maguire had to be inserted into the lineup this season. A lot of that depends on what time of year that hypothetical scenario happened. If Maguire took over for the three-game stretch when FSU played NC State, Wake Forest and Syracuse, the Seminoles could conceivably go undefeated because of the sizable advantage they'd have at most other positions. But if Maguire were called on for the following two games against Notre Dame and at Louisville? Well, it's tough to envision FSU running the table without its best player at the most important position.
However, Maguire has plenty of weapons to choose from.
FSU has one of the top offensive lines in the country and improved depth at the position, which would be a huge confidence boost for a quarterback making his first start. The Seminoles also return one of the most productive receivers – Rashad Greene, ranked as the No. 4 receiver nationally by Phil Steele – and tight ends – Nick O'Leary), ranked No. 1 by Phil Steele – in the country. Yes, there is uncertainty about who will produce opposite of Greene, but there are enough safety nets surrounding Maguire to keep the offense afloat.
So how will Maguire do in a half of work? That remains to be seen. Seeing action at the end of a blowout win over Idaho is one thing, facing Vic Beasley

Vic Beasley
RS Sr. Defensive End
#3 6-2, 236
Adairsville, GA
View Full Profile and Clemson's defense on national television is another. As the article stated, Maguire has plenty of weapons at his disposal, and a rock-solid offensive line that is perhaps the best in the country. There aren't many backup quarterbacks across the country that could step into a better situation – talent all around you, a huge offensive line to protect you and a head coach in Jimbo Fisher who has been known to mold good quarterbacks.
How will Brent Venables

Brent Venables
Def. Coordinator / Linebackers
View Full Profile attack Maguire? Different looks, perhaps some different blitz packages designed to get Beasley free off the edge. If Clemson is to have a shot in this game, the Tigers have to throw the house at Maguire – and really the Seminoles as a whole – in that first half.
Florida St.'s crowd and team will get a lift from Winston's return in the second half, and even if Clemson manages to quiet the Tomahawk choppers to some degree in the first half, they will explode in the second half. Clemson head coach Dabo Swinney

Dabo Swinney
Head Coach
View Full Profile and offensive coordinator Chad Morris

Chad Morris
Offensive Coordinator / QBs
View Full Profile have to realize the chance that's been presented, and go out with a full arsenal. That doesn't necessarily mean trick plays – that means going out and utilizing both quarterbacks in different packages, that means getting the young playmakers on the field and devising a game plan designed to keep Florida St. guessing.
The only bad news – if there is bad news in this – is that if Clemson pulls off the shocker and wins, it will be seen as a result of the Winston suspension and the resulting distractions. If Clemson loses, it will lend credence to how much better Florida St. is than Clemson.
However, all the Tigers can worry about at this point is attacking Florida St., much like the Seminoles attacked the Tigers in Death Valley a year ago. Attack. Attack. Attack. Offense and defense and special teams. And then see what happens in the second half. And, if I'm Clemson and win the toss then I defer to the second half and make Winston wait even longer for his chance. It's also one less possession.
Yep, that escalated quickly.