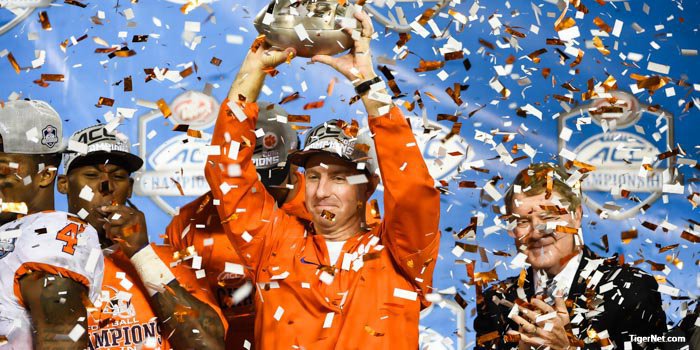 | | |
| --- | --- |
| Winning never gets old, the celebrations only get better | |
---
| | | |
| --- | --- | --- |
| Tuesday, December 6, 2016, 7:46 AM | | |
Winning never gets old.
I've heard that phrase a multitude of times in my life, but it really hit home to me in the early hours of Sunday morning, following Clemson's thrilling 42-35 victory over Virginia Tech in the ACC Championship.
Covering football games is far different from the days when all we carried was a pad and a pen or some outdated laptop that weight 12 pounds. In those days – when I worked for the Greenville News and various publications – deadlines were for later in the day and people read their news over a morning breakfast or brunch. Things didn't have to be written immediately.
In this new world order, I try and have a game story written so we can publish it within a few minutes of the game's end. At most college football games, writers are allowed to exit the press box and spend the last five minutes of the game on the sidelines. That's a luxury I can't afford these days – I am trying to manipulate photos and box scores and the story, and only when I'm done can I exit the box for the field or for postgame interviews.
Saturday's game was no different, but I also knew that a postgame celebration on the field was a certainty if Clemson won, and one of the perks of the job is being able to be in the middle of it all, whether it's taking photos or just cataloging what goes on. With that in mind, I sent Nikki down early to help get photos and videos, I wrapped up the game story and headed down just a few minutes after the final gun, hoping that I wouldn't be too late.
My first such celebration? That happened back during the 90's when I was doing a lot of stuff with the Braves. My first celebration with Clemson followed the 2011 ACC Championship Game – also over Virginia Tech – and I happily shot photos and videos as oranges were thrown from the crowd and the same oranges were playfully tossed back by players and coaches who were realizing a dream come true.
There have been others – the aftermath of the win over LSU was a thing to behold, the BCS Orange Bowl win over Ohio St. was memorable in that I took photos of Clemson great Jeff Davis smoking a victory cigar in the middle of the melee, and saw him offer one to quarterback Cole Stoudt. There was the ACC Championship win over North Carolina last season, and the celebration at the end of the Orange Bowl is something I will never forget.
As a media member, I can't celebrate with them, and wouldn't feel right in doing so even if I could. It's not my accomplishment. It belongs to those players and coaches and their families and the fans that were along for the ride. But I can certainly stand to the side and record it for them, in both words and pictures, so that everyone can see it and feel it again. I can also appreciate that people that I know and work around have reached a pinnacle of their craft. To see people that I've known for years celebrate with abandon brings a smile to my heart and lips.
I left the press box and hurried to one of the elevators, but it was delayed as giddy fans came out of suites and one older woman vied for a kiss from ESPN analyst Kirk Herbstreit. I impatiently waited for them to finally all file on, and when I got to the field they were beginning the trophy presentation. The bright confetti fluttered down, stuck in my eyes and hair, and I watched as dirty, sweaty and bloody offensive linemen hugged each other in exaltation.
Center Jay Guillermo grabbed his guys – his linemen – for a group picture, and he smiled like a proud papa as his boys surrounded him. Running back Wayne Gallman said he had two more games in him. Mike Williams threw up a number one sign to anyone that wanted to take a picture. Artavis Scott – who will always look like a mischievous three-year old to me because of the way he smiles – acted like the kid who had just opened the Christmas present he had been begging for.
Coaches donned championship hats and shirts and then looked for their wives and children, joyous hugs were exchanged and the smiles were so bright it almost seemed as if they reflected on the shiny side of the confetti.
Talented freshman Dexter Lawrence and senior Carlos Watkins – two mainstays in the middle of the line – mugged for photos with Bill Spiers' daughter Ashley. Freshman right tackle Sean Pollard battled a senior defensive end all night and won most of those battles by playing with a mean streak and a hard edge. But seeing Lawrence and Watkins playfully pose for cellphone photos and seeing Pollard standing in awe and taking in the entire scene reminded me once again that these are kids that people put so much hope and pressure upon. Just kids in big bodies who love to have fun.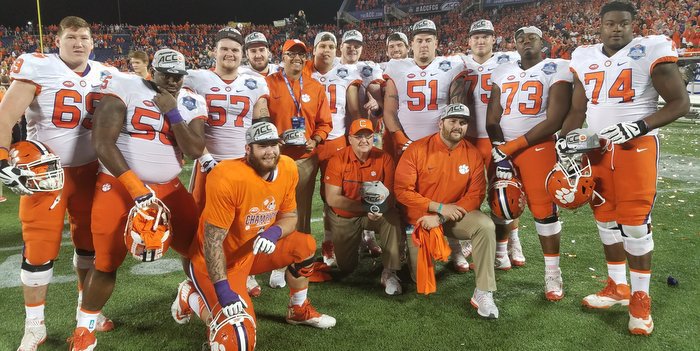 I exited the field, my clothes and hair covered in the bright gold confetti, and reminded myself that the last celebration I saw like that was Alabama's party after the win over Clemson last January. Instead of confetti, I was on the other side of that game, watching players cry silently in their lockers. That thought must have also been in the head of one linebacker, who marched through the detritus of the celebration reminding everyone that the journey wasn't over, it was just beginning.
While we waited on head coach Dabo Swinney to give the postgame interviews, his mother walked over to me and smiled and said, "Wasn't that fun?" If you've never met her, she's diminutive and sweet and loves to laugh, but there is steel in her eyes, a trait she passed down to her son. I smiled and told her the fun was in the winning, and she smiled while waiting to congratulate her son.
Swinney walked into the press conference, and then reminded anyone that would listen that the Tigers were just four quarters away from playing for a national championship. Ben Boulware echoed those comments in his postgame interview.
There are maybe two more confetti showers left, and if we have to live through two more celebrations like that, it's ok with me. I will gladly go along for the ride and tell you what I see and maybe, just maybe, the outcome this season will be different.
Because winning never gets old.

Upgrade Your Account
Unlock premium boards and exclusive features (e.g. ad-free) by upgrading your account today.
Upgrade Now