| | |
| --- | --- |
| Win wasn't pretty, but Swinney says "football isn't a beauty pageant" | |
---
| | |
| --- | --- |
| Sunday, November 15, 2015 9:24 AM | |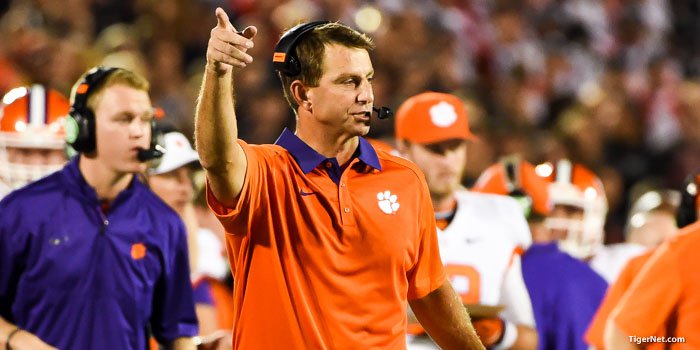 SYRACUSE, NY –Football is different from a beauty pageant, and Clemson head coach Dabo Swinney said that anyone who isn't pleased with the Tigers' win over Syracuse needs to "back off the ledge."
Top-ranked Clemson entered Saturday's game as a 26.5 point favorite and raced out to a 14-0 lead in the game's first two minutes, and anyone who was watching thought the game would turn into an early rout. However, two quick turnovers stripped Clemson of momentum, and the Tigers held on for a scrappy, 37-27 win that might drop them from the top of the College Football Playoff rankings.
Why? Because Clemson didn't pass the eye test, something that Swinney scoffed at in his postgame comments when he was asked if his team wasn't focused on a three-win Syracuse team.
"I don't think you can let one or two guys making mistakes paint a broad picture. Deshaun Watson was 34-of-47 for 360 yards and rushed for over 100 yards," Swinney said. "I don't think anybody is overlooking anybody. I just think it's hard to win. It's not a beauty pageant. If it was a beauty pageant then maybe it was ugly to some people, and we might have gotten voted down. It ain't a beauty pageant. It's a football game. You need one more point than the opponent. Every week it's hard to win. You've got Michigan St. who goes to Nebraska with three wins and gets beat. It ain't easy to win. I know everybody thinks we're supposed to show up and roll out there and kill everybody by 50 points, but that's la la land.
"This is football, and everybody has good players and good coaches. We made some mistakes. Kelly Bryant fumbled. Does that mean he wasn't ready? No. Renfrow fumbled. Does that mean he wasn't ready to play or overlooking somebody? No. He just had a bad play, and their guy knocked it loose. Give them some credit. They did a good job all night stripping balls and ripping. They competed their tails off. Defensively, we didn't play Clemson defense tonight. We made some mistakes that we can't make and I'm disappointed in how we played on that side of the ball, but at the end of the day, we played well enough to win, and we got enough stops when we had to have them. We missed a big interception opportunity. I'm glad to get this one and move on to the next one."
The Tigers allowed Syracuse 242 rushing yards and the defense was gashed time and time again for long runs.
"Every game is a season of its own. You just play the game and try to find a way to win and move on. All I know is that I know who we've got on defense," Swinney said. "I'm going to give Syracuse a lot of credit and we'll go back to work, and we'll get back to being who I know we are. Every week is a battle of its own, and tonight they made a bunch of plays and schemed us up a little bit. We didn't do a good job of adjusting. We've got to do a better job of having our guys ready, but at the same time I don't want to take anything away from Syracuse. They did a heck of a job."
The offense turned the ball over three times and had a few penalties that killed drives, but Swinney said it's the sign of a good team that they can make that many mistakes on the road and still walk away with a double-digit win.
"All I know is when you make the types of mistakes that we made tonight, and you still find a way to win that's a sign of a really good football team," Swinney said. "Especially knowing that everybody we play they know they're playing one of the best teams in the country. Tonight we didn't put all three phases together at the same time, but we still won by 10 and you've only got to win by one, so we're 10-0 for the fifth year in a row, and that's never been done in Clemson history."
The Tigers have already clinched the ACC Atlantic Division title and are undefeated this late in the season for the first time since 1981, something Swinney says everyone should be proud of that and "back off the ledge."
"It's the first time in Clemson history. In 120 years, it's the first time to do that," Swinney said. "It's the first time we've had five 10-plus win seasons - that's hard. Notre Dame has never done that. There are only 15 programs that have done that, but at Clemson it's never happened, and then we've never had six 500-plus yard games in 120 years of football. That tells you how hard that is, so let's keep good perspective here. Let's back off of the ledge and let's celebrate a good, hard-fought win and get ready to see if can go get win number 11."