| | |
| --- | --- |
| Williams headed to Clemson to make an impact | |
---
| | |
| --- | --- |
| Friday, November 1, 2013 5:09 PM | |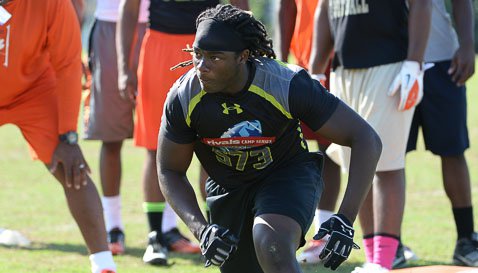 When Jalen Williams

Jalen Williams
Linebacker
6-0, 215
Blythewood, SC
View Full Profile steps foot on the Clemson campus, he doesn't care who is in front of him on the depth chart - he is determined to outwork any and everybody in his way.
The Blythewood (SC) linebacker recently accepted a gray shirt offer to become Clemson's 17th commitment of the 2014 recruiting cycle.
The three-star prospect told TigerNet recently that there is a 90-percent chance that he won't have to gray shirt. He then said that when he gets to Clemson, he wants to make an impact on the field and not stand idly on the sideline.
"I want the team and fans to know that they aren't getting a player that is there to just be on the sidelines and run down the hill," Williams told TigerNet. "They are getting a player that is going to come in as a freshman and work hard to try and take somebody's spot, no matter if they are the star of the defense or who they are. I'm a player that is going to work. I don't stop working. Everybody wants to be great, but most people don't want to put the work in. When you get to the next level, the game changes so much – the speed, the size, the talent. I will put in the most work possible."
Williams first burst on the scene during Dabo Swinney

Dabo Swinney
Head Coach
View Full Profile 's high school camp in June, outworking many of the four and five star athletes on hand, leading defensive coordinator Brent Venables

Brent Venables
Defensive Coordinator / Linebackers
View Full Profile to ask Williams to stick around for all three days.
The interest that Venables took in the 5-11, 200-pound inside linebacker is what ultimately sold Williams on Clemson.
"Clemson just felt right. Clemson was my first love. When I was five or six years old, Clemson was the first football team that I watched," Williams said. "What really stood out to me was how highly Coach Venables thought of me. When I came to camp, he was pretty much finished recruiting the 2014 class and he watched me and asked me to stay a few extra days so Coach Swinney could see me play. He went out of his way to offer me and tell me how he thought I could play. Knowing that Coach V has coached some of the best linebackers to ever come out of college and play in the NFL means a lot to me."
It took several months for Williams to finalize his decision, but he said that if the decision would have been up to his mother and grandfather, he would've committed during his unofficial visit in June.
"Honestly, my mom wanted me to go ahead and do it on my first unofficial," Williams said. "On that trip – it was over the summer – we had our first meeting with Coach V and Coach Swinney and immediately after we got in the car, my mom and my granddad told me that they wanted me to go there and that they liked it."
However, Williams debated a gray shirt offer from Clemson versus full-scholarship offers from programs such as Charleston Southern, Wofford and Appalachian State before finally coming to his decision before the Wake Forest game.
"I already had my mind made up after talking to my mom and I didn't want to stress about it," Williams said. "I had known for about a week and half that Clemson is where I wanted to go. I talked to my coaches to get their advice and my mom and my granddad. The timing was just right. Also, we are right in the middle of the season and now is the time that I have to play my best football and I have the decision off of my chest so I can focus on helping my team get to the state championship."
*Note
Don't let the number or quality of offers scare you or make you skeptical of Williams' ability. I watched Williams during the opening drills of Swinney's camp and it is clear that he can compete with any of Clemson's current linebacker prospects. Williams plays with a chip on his shoulder and brings a toughness that is needed on the Clemson defense. The higher-rated linebacker prospects were simply going through the motions during the camp sessions, but Williams brought intensity to every rep and every drill, out performing the four and five stars. There were times during some of the drills that Williams launched the bigger athletes 5 and 10 yards down field to get to the ball.