| | |
| --- | --- |
| Will Vic Beasley be wearing an NFL helmet next season? | |
---
| | |
| --- | --- |
| Monday, December 16, 2013 1:59 AM | |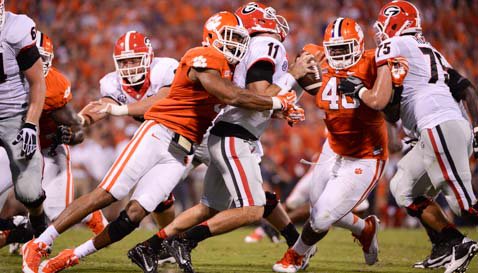 CLEMSON – Prior to the 2012 season, Clemson head coach Dabo Swinney

Dabo Swinney
Head Coach
View Full Profile told Vic Beasley

Vic Beasley
RS Jr. Defensive End
#3 6-3, 225
Adairsville, GA
View Full Profile to give him just one year at defensive end, and if that move didn't work out, Swinney would let the talented Georgia native move back to offense.
One year has turned into two, and two may be all that Clemson fans get to see of Beasley chasing after opposing quarterbacks, and he said this past weekend that he is feeling the pressure of having to decide whether to return for his senior season or declare for the NFL draft.
"It's a tough decision," Beasley said. "I don't really know right now. Just because I've never really had this kind of pressure on me whether to leave or come back to school and finish a degree. It's a lot of pressure. But you can't really get caught up on the draft. You've got to go out with a bang and finish what you came here to do."
Swinney said earlier this season that he thought Beasley would thrive at the defensive end spot, but Beasley needed convincing.
"I kept seeing in Vic Beasley that we don't have a better athlete on the team," Swinney said. "His length, quickness, suddenness. I called him in [in spring 2012] and said, 'Think about defensive end.' He wasn't ready to be a defensive end, but I said if you buy into this, you've really got a chance to be special.
"He's such a good kid and said, 'I'll do it,' but he didn't have his heart in it, wasn't passionate about it. He was still hoping to be on offense."
Swinney then called in Beasley just before the start of the 2012 season and made a compromise.
"Just commit this fall," Swinney said. "If you don't have a good year, don't feel like there's a role for you, we'll move you back to running back."
Beasley began to turn heads last season, finishing fourth in the ACC with eight sacks despite not starting and playing limited snaps. This season, he finished third in the nation with 12 sacks, and his effort has led many NFL draft pundits to forecast a first round grade for Beasley.
His stats tailed off at the end of the season, but Beasley said he only has to look at former Clemson receiver Nuk Hopkins to see what a strong combine can accomplish - Hopkins wasn't forecast as a first-round pick but ended up going with the 27th pick to the Houston Texans after a strong showing in Indianapolis.
"You've still got the combine," Beasley said. "You've still got plenty of ways to show you're a first-rounder. Nuk set an example for a lot of guys who were projected in the second or third round. In my eyes he was the best receiver in the country. He just made plays here, and he showed out in the combine and they saw his hand skills and he set an example and got to go in the first round."
Swinney has said that he believes the only junior ready for the next level is wide receiver Sammy Watkins

Sammy Watkins
Jr. Wide Receiver
#2 6-1, 205
Fort Myers, FL
View Full Profile , and that one more year in school can only enhance Beasley's value.
"Yeah, I've heard that plenty of times," Beasley said. "But that's obvious, man. If I'm projected as a first-rounder this year, the only thing that can happen is improvement with another year. So I hear those things."
Beasley said he wants to get through the Orange Bowl, and then he will sit down with his family and make the best decision he can make after hearing back from the NFL about a possible draft position.
"It's definitely a decision I have to make with my family, but it's going to be my ultimate decision on my own," he said. "I'm focused on the grade a little bit. I know it'll probably be first or second round. But it's really a decision I have to make for myself."