| | |
| --- | --- |
| Will Roderick Byers make an impact on offense? | |
---
| | |
| --- | --- |
| Tuesday, October 21, 2014 7:01 AM | |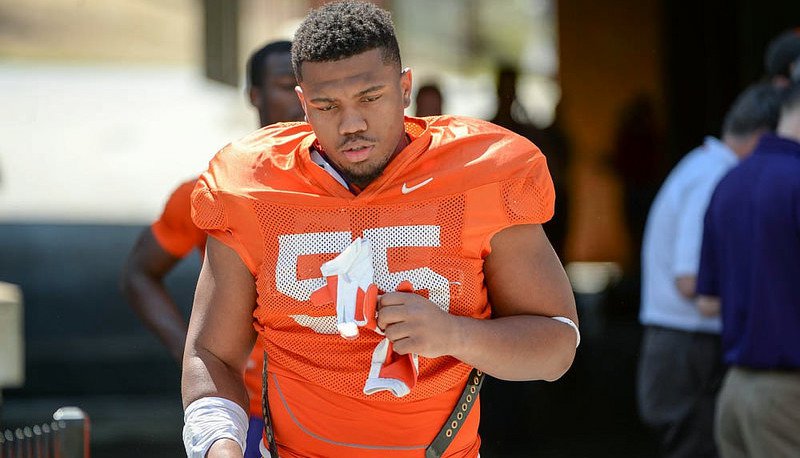 CLEMSON – When Roderick Byers

Roderick Byers
RS Jr. Defensive End
#55 6-3, 284
Rock Hill, SC
View Full Profile made the decision in early February of 2011 to de-commit from Oregon and sign with Clemson he made it clear that he wanted to make an immediate impact with the Tigers on the defensive line.
That impact has been slow to develop, and it just might happen on the offensive side of the ball.
The Northwestern product flipped from Oregon to Clemson on National Signing Day in 2011, and it was hoped that he would make some sort of an impact on Clemson's defensive line sooner rather than later. However, his playing time has been limited and he has just 24 tackles, one tackle for loss and one quarterback pressure in 173 snaps over 11 games in his career.
With Clemson's offensive line facing a severe manpower shortage, head coach Dabo Swinney

Dabo Swinney
Head Coach
View Full Profile asked Byers to consider moving to the offensive line and Byers accepted the challenge. Last weekend at Boston College, Byers sported a new number (40) and played five snaps on the offensive side of the ball.
"It's been a long time coming, really. A lot of people were excited when I decommitted from Oregon and a lot of people have been wondering what's going on with me," Byers told the media Monday. "It's just been a long process. I came in as a freshman thinking that I would play. I had to do a lot more work than I thought I did. I wasn't ready but as of recently I've been working and working and just waiting for my opportunity.
"It didn't come on the defensive line but it came somewhere else and I think my positive attitude and my work ethic allowed me to be able to do that. It hasn't been easy but I do appreciate the opportunity. I'm very thankful for it. It's been fun, actually. Being able to play and getting a couple of key blocks last week, it was pretty good and it was definitely a confidence booster for me."
Byers said Swinney brought up the idea of moving early in October.
"He brought up the idea a couple of times about moving me to the offensive line because he felt like I could help the team," Byers said. "It's something that I felt like I could do. I think when Jay Guillermo

Jay Guillermo
RS So. Center
#57 6-3, 314
Maryville, TN
View Full Profile got hurt in the game, he came to me and said, 'We're going to need you to move to offense and help us out.' At first, it was kind of tough for me but I had to keep a positive attitude about it. Who knows? It could've been a decision that needed to be made that can help me out further in my career. I'm always willing to help the team with anything that I can do. It's a possibility that I might move back to the defensive line. It doesn't matter. I just want to help the team in any way that I can."
Byers was asked if his new number implies he will be used as more of a blocking tight end for the time being, he said he didn't know but wants to make an impact whenever he gets on the field.
"To be honest, I really don't know. I'm just doing whatever they ask me to do," he said. "I feel like I can do pretty much anything they ask me to do as long as my mind is right and my attitude is right. If they need me to play tight end and not guard or tackle, then I'll do it. Whatever the team needs me to do, I'll do it and I want to be the best at it. I don't want to go over there and just take up space and not get anything out of it. I want to perfect my craft so I've been doing a lot of studying, studying film, picking up the plays. It hasn't been easy but it's been fun."
His first appearance on the offensive side of the ball occurred during the third quarter of Saturday's win at Boston College and it came with the Tigers backed up against their own endzone.
"I think I wanted to be nervous more than I was. I wasn't really nervous," Byers said. "I had been preparing for it. I've just been wanting to play and help the team because I felt like I have a lot that I can do. During the first half I didn't play and then we got backed up and we needed a spark so Coach Morris said, 'Byers, get ready to go in,' and I'm like, 'oh man, it's time for me to go.' I went in and went through my reads and did what I was supposed to do and was able to help the team. I was pretty excited. It was a lot of fun. It was a long time coming. It was fun to finally be able to do something on the field."
Now, he just wants to earn the trust of his coaches.
"I think a big part of it is getting that trust. I was a guy who didn't really play a whole lot. I contributed when I was asked to on defense last year," he said. "I don't think the trust was all the way there yet. The more I play, the better I'll get and the more confident that I'll be."
If he needs motivation, all he has to do is look at current defensive end Vic Beasley

Vic Beasley
RS Sr. Defensive End
#3 6-2, 236
Adairsville, GA
View Full Profile – who tried out at tight end and linebacker before finding a home – and former offensive lineman Tyler Shatley

Tyler Shatley
Offensive Guard (2009 - 2013)
#62 6-3, 295
Icard, NC
View Full Profile , who started out as a defensive tackle.
"That's something that I could do because Shatley made a living out of it. I looked at that and I looked at Vic Beasley when he had to change positions," Byers said. "Coming in as a defensive end and moving to defensive tackle and then they tell you to play guard, it can be tough if you let it be tough but it can also be a good thing for you if you have the right mindset and attitude. Throughout this whole process, I'm really proud of myself for being able to handle it and to be mature enough to go through it. It has paid off for me."