| | |
| --- | --- |
| Will Bryant or Israel redshirt? Too early to tell say the coaches | |
---
| | |
| --- | --- |
| Saturday, April 18, 2015 3:11 PM | |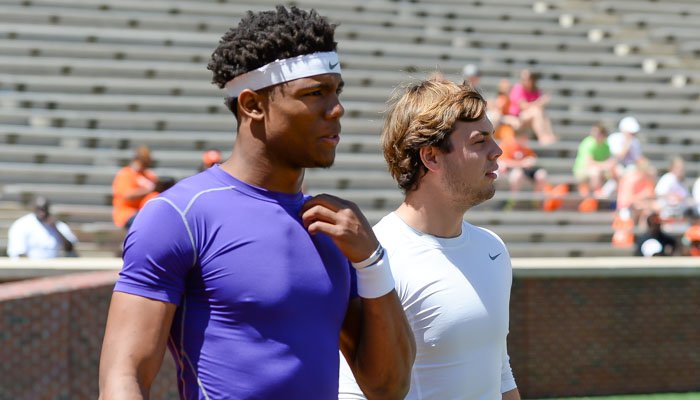 CLMESON – The biggest storyline for the Clemson offense during the spring centered on the quarterback spot and whether veteran Nick Schuessler

Nick Schuessler
RS Jr. Quarterback
#12 6-3, 195
Grayson, GA
View Full Profile could hold off talented freshmen Tucker Israel

Tucker Israel
Fr. Quarterback
#10 5-11, 190
Orlando, FL
View Full Profile and Kelly Bryant

Kelly Bryant
Fr. Quarterback
#2 6-4, 205
Calhoun Falls, SC
View Full Profile .
Following spring practice and last Saturday's Orange & White Game Schuessler has a firm hold on the backup spot behind Deshaun Watson

Deshaun Watson
So. Quarterback
#4 6-2, 205
Gainesville, GA
View Full Profile , and the decision on whether one of the two freshmen will redshirt will have to wait until fall camp.
Schuessler played for both teams, going 11-for-16 for 201 yards and two scoring tosses in holding on to his spot.
"He better be ready to start. He's definitely the backup coming out of spring ball. He's had a very consistent spring," Swinney said of Schuessler. "He has to prepare himself to be the starter and if he's not then he's cheating himself and our team. The same thing with those two young guys. They have to prepare to be the starter. Nick had a solid spring. The two young guys got better all spring and that's what the goal was - get them exposed, teach them the installation, put them in as many situations as we could. I thought they responded well but both of them have a lot of work to do this summer. Deshaun will be ready to go, so don't worry about that."
Swinney then said it was too early to tell if the freshmen would redshirt.
"I don't know that we can redshirt anybody because we've got so far to go until we get to September," he said. "All four of those guys need go into the summer thinking that they're the starter and they need to prepare like that. The national champion was on their third team quarterback. We've got to have everybody ready to go and develop the experience"
Co-offensive coordinator Tony Elliott

Tony Elliott
Co-OC / Running Backs
View Full Profile agreed with Swinney and said that Schuessler did what he needed to do this spring before reminding Watson that he still has to compete.
"He has had a really, really good spring. I thought he had a good day and he had a good spring I am really pleased with his progress," Elliott said. "Again, Deshaun is going to have to come back and compete. But he made some strides and he is probably the guy behind Deshaun. We know that Deshaun is Deshaun, and as long as he comes back from his injury then he will get back in there and take over the reins. But it's very good that Nick had this opportunity because it prepares him. Throughout the course of the season you never know what can happen and you have to have those guys ready to play."
Elliott also agreed that the two youngsters will have a chance to compete for playing time once camp begins in August, saying the coaches need to see both Bryant and Israel face a live rush.
"I don't think we are really close on that," Elliott said of the redshirt situation. "I think we have to give those guys an opportunity to take the purple (non-contact) jerseys off and see how they react with some live bullets coming at them, We won't be able to do that until we get back for fall camp. So that won't be determined until the end of fall camp."