| | |
| --- | --- |
| Why does Jeff Scott want Clemson football to resemble Kentucky basketball? | |
---
| | |
| --- | --- |
| Monday, April 13, 2015 3:09 PM | |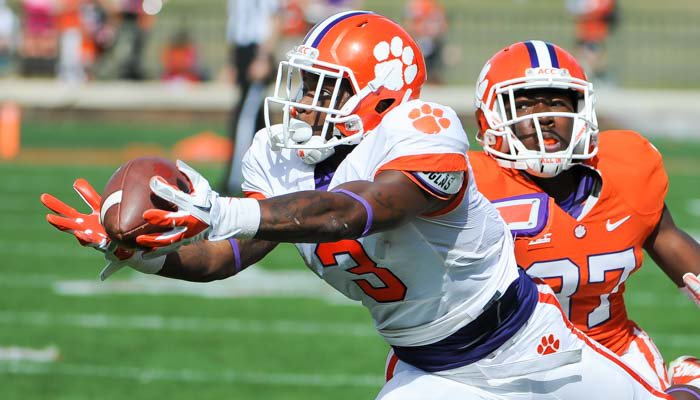 CLEMSON – On the surface, University of Kentucky basketball and Clemson football don't have a lot in common, but Clemson offensive coordinator Jeff Scott

Jeff Scott
Co-Offensive Coordinator / WR
View Full Profile saw the Wildcats play in mid-January and came away impressed with the depth that Kentucky head coach John Calipari has on his team.
Following Saturday's Orange & White Game in Death Valley, Scott said that he was in Louisville in January for the American Football Coaches Association annual meetings and found out that Kentucky would be playing at home against Missouri while he was in town. Scott made the 80-mile drive to Lexington and watched the Wildcats trounce Missouri 86-37 in a game that saw 11 different Wildcats score and 10 different players earn double-digit minutes.
That's the kind of depth that Scott wants for a Clemson receiving group that just might be the best in the country.
"They were killing them the entire game," Scott said of Kentucky. "The entire game Coach Cal (John Calipari), he had one signal for substitution. He just took one hand and went that way (waving his hand forward). Five guys got up and went in the game and the other five guys sat down. I was pretty impressed. About eight minutes later, five guys get up and the next five go in. I don't keep up with basketball a lot, but I was having trouble trying to figure out which five was the starting five. And, I was telling one of the coaches I was with, 'That's how I want to get our room. I want to be able to be on the sidelines, give that signal and the next three guys go in and there not be a drop off.'
"And I think that with the guys here and with a few of the guys coming in August we are kind of building to that. And the guys like it. That's one thing that I'm proud of in our room there is not a lot of selfishness. We've had a lot of talented guys. I think today fourteen different players had a catch. That's what we want to do. Want to be able to spread the ball, want to have a lot of depth. So that if you do have one injury it doesn't change the entire game. I'm very pleased with all of the guys. They compete really hard. They help each other and it's not a situation where the starters are trying to keep the other guy from doing well. They like to see each other do well."
Scott has the luxury of a talented starting three that includes Charone Peake

Charone Peake
Gr. Wide Receiver
#19 6-2, 205
Moore, SC
View Full Profile , Artavis Scott

Artavis Scott
So. Wide Receiver
#3 5-10, 190
Oldsmar, FL
View Full Profile and Mike Williams

Mike Williams
Jr. Wide Receiver
#7 6-4, 210
Vance, SC
View Full Profile . Headlining the reserves are veteran Germone Hopper

Germone Hopper
RS Jr. Wide Receiver
#5 5-11, 175
Charlotte, NC
View Full Profile and freshmen Trevion Thompson

Trevion Thompson
RS Fr. Wide Receiver
#1 6-2, 195
Durham, NC
View Full Profile , Shadell Bell

Shadell Bell
Fr. Wide Receiver
#11 6-3, 190
Decatur, GA
View Full Profile and Hunter Renfrow

Hunter Renfrow
RS Fr. Wide Receiver
#35 5-10, 170
Myrtle Beach, SC
View Full Profile . Add in 5-star Deon Cain

Deon Cain
Fr. Wide Receiver
# 6-1, 190
Tampa, FL
View Full Profile – who will arrive in August – and the Tigers are loaded at that spot.
The best news of the spring has been the re-emergence of Peake, who has battled injuries during his Clemson career.
"Charone had by far his best spring. He has been a guy that has a lot of ability, but unfair to him he has had a lot of injuries," Scott said. "That happens in this game. But it was great to see him go and make some of those plays, and I think it's a sign of things to come next year. It has been a long time coming and I know there is nobody more excited about next year than Charone. I know he is going to continue to work really hard this summer and have a chance to have a really big year next year."
Another exciting development in the spring – a crucial development if Scott wants depth – has been the maturity shown by Hopper.
"He has grown up. I am very pleased with him," Scott said. "He has been a guy that has had talent, but it's been putting it all together and the consistency of play on the field and practice. And then it's consistency off the field with everything. He has had his most consistent semester and it's shown on the practice field. He has made plays all spring long. Today it was really fitting for him to make a touchdown catch right there at the end. It's just going to add to the depth we have at the receiver position and make it a lot of fun for Deshaun next fall."
Scott has two premier playmakers in Artavis Scott and Williams, but said that Scott has to learn to be a complete player before he can be considered elite. That includes making plays down the field.
"That was one of the big focus areas that Artavis had this spring. Last year he showed what he can do when he gets the ball in his hands, and we wanted to challenge him to be a complete receiver," Scott said. "Don't just be known as a guy that can catch a quick screen or a speed sweep and take it the distance. But can you develop and be a down the field receiver, down the field threat. That is something we have had in that position with a guy like Sammy Watkins

Sammy Watkins
Wide Receiver (2011 - 2013)
#2 6-1, 205
Fort Myers, FL
View Full Profile . He could obviously do really well with the quick screens, but if they wanted to come up and get in his face then you could go over the top with the deep balls. That is something Artavis has really had to develop and work on. He has stayed after practice working on that and I was really proud of him."
Scott calls Williams the "quiet assassin" and thinks the junior can make the kind of progress that former first round pick Nuk Hopkins made from his sophomore to junior seasons.
"Mike is a guy that is a kind of quiet assassin," Scott said. "He just does his job over there and all of a sudden just pops up and makes a big play. I've been very pleased with him. We've been working on him becoming a very physical player in the boundary role and the one on one match ups that he gets. He's got a big body, he's a strong guy. I really want to see him take that next step, much like DeAndre Hopkins

DeAndre Hopkins
Wide Receiver (2010 - 2012)
#6 6-2, 205
Central, SC
View Full Profile did in the spring going into his junior year. Really getting strong in the weight room came out and had a great junior season. That's really the track that Mike is on."