---
| | |
| --- | --- |
| Tuesday, January 28, 2014 5:06 PM | |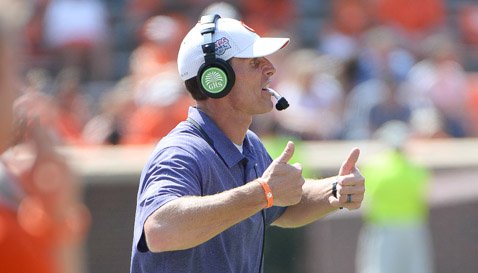 Why not Brent Venables

Brent Venables
Defensive Coordinator / Linebackers
View Full Profile ?
Each year, the college football coaching "silly season" begins in the late fall as programs reach the realization that the status quo won't do, and job openings begin to litter the landscape with hirings and firings that last well into January.
Barring some sort of last-minute deals or miraculous occurrence, the Clemson coaching staff won't have any turnover this off-season. That's right, the same coaches you saw on the field last spring will all be back this spring, an uncommon occurrence with college football's current mindset of "win now" and "what have you done for me lately."
That's good news for Clemson fans – continuity breeds success on the recruiting trail and in the development of young players. That in turn leads to success on the field, something that Clemson has seen over the last three seasons.
That success also means that other programs cast a covetous eye towards the Clemson coaching staff, and no coach has been hotter over the past few silly seasons than offensive coordinator Chad Morris

Chad Morris
Offensive Coordinator / QBs
View Full Profile . Morris, just a few years removed from coaching high school football at Lake Travis, has been mentioned for head coaching jobs at more than one school over the last few years, and the assumption is that it's just a matter of time before he is hiring his own assistants.
That's great. The man is a very good coach, and he deserves the chance to be the top dog somewhere, and it will happen sooner rather than later. But this isn't about Morris, this is about Brent Venables.
DISCLAIMER: I don't want Brent Venables to leave Clemson. Heck, I've seen up close and personal the changes he has made with the Clemson defense, and he has a home here as long as he wants to stay. Also, I don't think anything written on TigerNet will land him a job elsewhere. But this man deserves some respect for what he has accomplished here.
However, I wonder if anyone out there has paid attention to what Brent Venables has done at Clemson.
Let me take you back to 2011, a season that saw Clemson give up 410 points. That works out to a whopping 29.3 points per game and the Tigers wound up 81st nationally in scoring defense. Clemson finished 71st nationally in total defense, giving up just under 400 yards of total offense per game. Clemson was 83rd in rushing defense and 50th in pass defense, and probably led the nation in missed tackles and bad angles. The Tigers had 71 tackles for loss in 14 games, which placed them 65th nationally.
That season mercifully ended after the embarrassing loss to West Virginia in the Orange Bowl, and when head coach Dabo Swinney

Dabo Swinney
Head Coach
View Full Profile looked for a replacement for defensive coordinator Kevin Steele

Kevin Steele
Defensive Coordinator/Linebackers
View Full Profile , he found his man in Venables, who had been a part of the staff at Oklahoma.
This past season, Clemson finished 24th in scoring defense (22.2 ppg), 24th in total defense (356.3 ypg), led the nation in tackles for loss with 123 and was fifth nationally in opponent's third down conversions (65-of-211, 30.81 percent). The Tigers also excelled in forcing three-and-outs. Clemson forced 6.2 three-and-outs per game this year. The Tigers forced a three-and-out on 74 of 175 defensive possessions
The previous Tiger record for tackles for loss in a season was 119, set by the 1991 Clemson squad that were led by Rob Bodine, Levon Kirkland

Levon Kirkland
Linebacker
# 0, 0
,
View Full Profile , Ed McDaniel, and the late Chester McGlockton.
In short, Venables has changed Clemson's defense for the better. They hit. They tackle. They make plays. Is there room for improvement? Absolutely. The secondary has to get better, and big plays were a factor again this year. However, the Tigers should be better across the board next season, with all four starters returning up front and the return of leading tackler Stephone Anthony

Stephone Anthony
Jr. Linebacker
#42 6-2, 235
Polkton, NC
View Full Profile .
Venables has been a winner wherever he has been, and the Tigers' win over Ohio St. in the Orange Bowl meant that Venables has been associated with teams that have won at least 11 games in 13 of his 18 seasons. In 14 of his 18 seasons, his teams have reached double-digit wins.
Take a step back from the statistics, and you find a man who is also a great recruiter. His peers respect him. His players love playing for him. He's passionate about winning.
If one thing hurts him, it might be that he doesn't care about making a scene in front of the cameras. He doesn't care about sounding good in front of the cameras or making SportsCenter. During the season, we get him on Tuesday of each week, and he sits patiently and answers our questions with short but glib answers, and sometimes it's hard to get a read on exactly what he is thinking, unlike Swinney or Morris. It's apparent that he just wants to get the interviews over and get back to film work, and there have been times when he's chased his defensive players away from the interview area and told them to "go watch film."
But, you don't have to be a media superstar to be a good head coach, do you Bill Belicheck?
Venables just wants to beat you, and he'll do whatever it takes to get that job done, whether he gets the praise or not. For me, that's enough, and if programs around the country don't see that, then we'll keep him around for a while longer.