| | |
| --- | --- |
| Who will be the next face of the franchise? | |
---
| | |
| --- | --- |
| Saturday, December 28, 2013 2:42 AM | |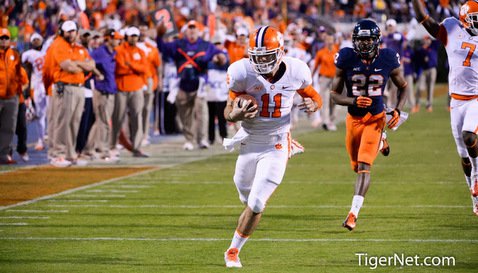 CLEMSON – As soon as the final seconds tick off the clock next Friday night and the 2013 season has been laid to rest, the question will be asked: Who will be Clemson's quarterback in the 2014 season opener against Georgia?
Will it be rising senior Cole Stoudt

Cole Stoudt
Jr. Quarterback
#18 6-4, 205
Dublin, OH
View Full Profile , the steady hand who knows the system inside and out? Will it be Chad Kelly

Chad Kelly
RS Fr. Quarterback
#11 6-2, 210
Buffalo, NY
View Full Profile , the mercurial New York native who brings a certain swagger to the position? Or will freshman Deshaun Watson arrive on campus in January and take the position away from the veterans?
Those questions are a long way from being answered, even though Clemson head coach Dabo Swinney

Dabo Swinney
Head Coach
View Full Profile said Friday afternoon that he will look to Stoudt to be one of the leaders next season, perhaps giving a small glimpse into what the coaches are thinking.
However, outgoing starter Tajh Boyd

Tajh Boyd
RS Sr. Quarterback
#10 6-1, 225
Hampton, VA
View Full Profile said he thinks the program will be successful no matter which player wins the job.
"We've set a foundation here to the point where we're going to be successful as a program regardless of who takes the reins," Boyd said following Friday's practice. "Hopefully I put my stamp on those guys, and they learned a lot, good and bad. We're a pretty tight-knit group. I'm excited. It's going to be an intriguing quarterback battle. Whoever is in that starting role is going to be the best player for this team."
Stoudt has played in 22 games during the first three years of his Clemson career, logging almost 300 snaps (287). This season, Stoudt played 116 snaps and was an amazing 47-for-59 for 415 yards and five touchdowns.
Kelly red-shirted last season, but played 55 snaps this season, completing 10-of-17 passes for 58 yards. He also carried the ball 16 times for 117 yards.
"It's going to be a lot of fun to see them compete," Swinney said. "I'm sad because Tajh has to move on, but I'm excited about the guys that we have to work with. Because this is a very talented group of guys that are on our roster at that position. It's a good problem to have."
Swinney then said that whichever quarterback takes Boyd's spot, he will have to be more than just a contributor on the field.
"It's not all about (football); it's about how he has represented this program," Swinney said. "How he has embraced being the face and voice of this program, and taken pride in that. If you're going to be the quarterback at Clemson, everything counts. Everything counts. Tajh Boyd has done a tremendous job. I know he's very confident in the guys that are going to be here in this program when he's gone."
Boyd said he took the job of being the face of the Clemson franchise seriously, and he hopes that the quarterbacks who follow in his footsteps will follow the same path.
"It's more than just football. One of the things I tried to place myself is the outside aspect of not just football. You've got to be able to communicate," Boyd said. "It's not just representation for this football team, but for this program, for this state. Obviously we're not politicians, but playing at this institution, essentially this is the NFL team of the state. There's no pro teams. You're looked at in that light, so you've got to be prepared for every moment. I talk to the guys all the time, and whoever takes over, I'm pretty confident he'll be well and ready for it."