| | |
| --- | --- |
| What makes Mackensie go? Getting out of the tomato fields | |
---
| | |
| --- | --- |
| Thursday, August 13, 2015 8:06 AM | |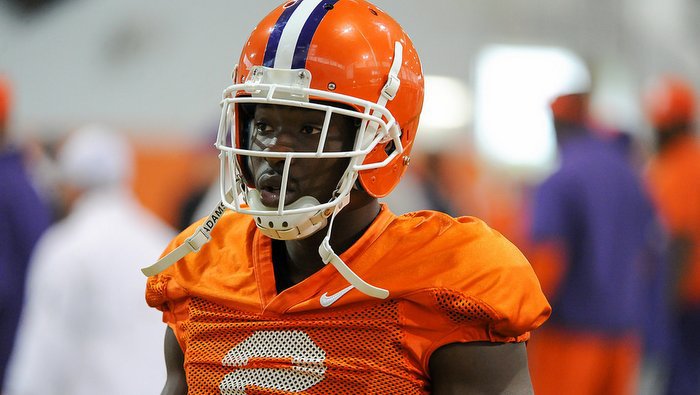 CLEMSON – Mackensie Alexander

Mackensie Alexander
RS So. Cornerback
#2 5-10, 190
Immokalee, FL
View Full Profile grew up in Immokalee, Florida, watching his parents go to work in the region's tomato fields every morning. It's back-breaking work, and his dad still gets up every morning to head into the fields to make sure the family makes a living.
It's the reason Alexander doesn't mind playing the game he loves. It's why he doesn't mind watching film late into the night, or taking notes on everything he sees. Alexander wants his family out of those fields.
Immokalee is the center of the region's agriculture industry, and the area is home to many immigrant and migrant families who work the fields. About 90% of the nation's tomatoes that are harvested during the winter months come out of that area.
Growing up in that kind of setting is what makes Alexander tick.
"My preparation is what pushes me. What's mine is mine, and I am not going to let anybody take what's mine," Alexander said after Wednesday's practice. "I thrive in competing and competition. I like the one-on-one matchups. I am a competitor. And my parents really tell me to be me. I watch my mom and dad do it all day, picking tomatoes in the hot sun. And then I come out here and do what I do, and I'm not going to say it's easy because I make it look easy. It looks easy because I work hard. I am putting in more hours and more time now on everything. I am trying to be a better man now, too. It's a routine every day."
His motivation is just a phone call away.
"My dad still does it. It's good for me when I hear that," Alexander said. "We talk on the phone every two days. It motivates me. It pushes me. We are a blue collar family that doesn't have much, and to see my dad keep doing those things makes coming out here pretty easy. That is where my motivation comes from."
Other notes from Alexander
On the talent in the secondary
"Oh man, we're so talented in the secondary. We're so talented, it's not even funny. Now it's about being smarter than opponents. Our guys in the secondary - T.J. Green

T.J. Green
Jr. Safety
#15 6-3, 205
Sylacauga, AL
View Full Profile , Jayron Kearse

Jayron Kearse
Jr. Safety
#1 6-4, 210
Fort Myers, FL
View Full Profile , Cordrea Tankersley

Cordrea Tankersley
Jr. Defensive Back
#25 6-1, 195
Beech Island, SC
View Full Profile , Adrian Baker

Adrian Baker
RS So. Cornerback
#21 5-11, 180
Hallandale, FL
View Full Profile , Ryan Carter

Ryan Carter
RS So. Cornerback
#31 5-9, 180
Grayson, GA
View Full Profile , Mark Fields

Mark Fields
Fr. Cornerback
#24 5-10, 185
Cornelius, NC
View Full Profile , a bunch of guys who can play back there. Some guys are better in some areas, but now it's about being smarter, understanding down and distance, understanding what they want to do, how you're going to attack them."
On Mark Fields
"He's coming along good. He's just got to keep understanding our defensive coordinator. He's emotionally invested. It's hard for a young guy to come in and understand Coach (Brent) Venables. He's very emotional, and he coaches real hard. I'm with the young guys after practice every day. I'm always getting extra reps every day after practice. I'm always doing extra stuff to get better. They always join me, and they're free to join me whenever. I try to get them out there as much as I can. This was our first scrimmage. He'll get there. Everyone is pushing him. He's working real hard. He's a special talent."
Which receiver is harder to cover, Mike Williams

Mike Williams
Jr. Wide Receiver
#7 6-4, 210
Vance, SC
View Full Profile or Artavis Scott

Artavis Scott
So. Wide Receiver
#3 5-10, 190
Oldsmar, FL
View Full Profile ?
"They're two different players. Artavis is quicker. He's a guy who can touch it and take it 60 yards. Mike is more of a possession guy, big-body guy. He goes up and goes for the ball. Both are challenging. I just like to go out and compete and win matchups. As a corner, you have to know how to play both. You can't play both the same. You have to change your technique if you want to be one of the best corners in the country. And I know how to do it real well."