| | |
| --- | --- |
| What day of the week is it? Clemson recovers from weird stretch | |
---
| | |
| --- | --- |
| Sunday, October 9, 2016, 10:09 AM | |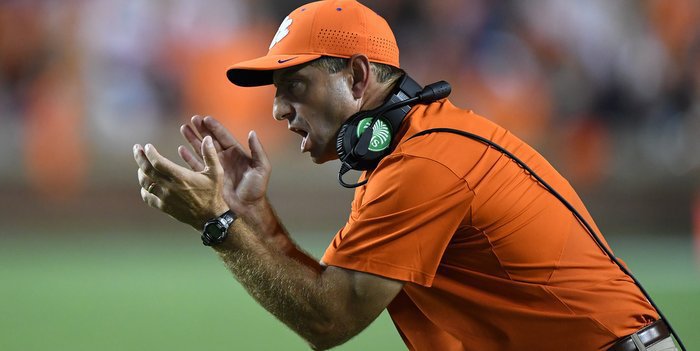 Head coach Dabo Swinney told the media after the game that by Tuesday he was worried how his tired team would respond to yet another short week.
"Tuesday, I was a little worried because bless their hearts, on Sunday and Monday I think we were all running on adrenaline, just the high of the (Louisville) game," Swinney said. "The practice was excellent, but like I said, Tuesday everybody just hit the wall, coaches and players. I told our staff, 'Hey, everybody has to get some rest. Tired work is not good work. So I just cut the practice schedule, cut the periods, just tried to do everything I could to kind of manage the week, because it truly wasn't a normal week for us, and they didn't have a day off."
Freshman defensive tackle Dexter Lawrence said the coaches made it easier to get ready for the Eagles.
"It's definitely been a wear on the body. The coaches know what they are doing and they helped us recover well," Lawrence said. "They get us ready to compete each and every week. He (Swinney) shortened periods this week, which helped us recover well and get our minds right."
Swinney said the message to his team was simple – he would take care of them.
"I just kind of kept telling them, 'Hey let's grind through this and I'm going to take care of you, let's get our work in and get a good plan,'" Swinney said. "We're going to get rested up. So they got a little rest because we came up here early and they got a chance to rest and obviously got a chance to sleep in this morning. But they were ready to go. They really were."