| | |
| --- | --- |
| WestZone Phase 3 put on hold as other facilities take priority | |
---
| | |
| --- | --- |
| Tuesday, July 9, 2013 3:55 PM | |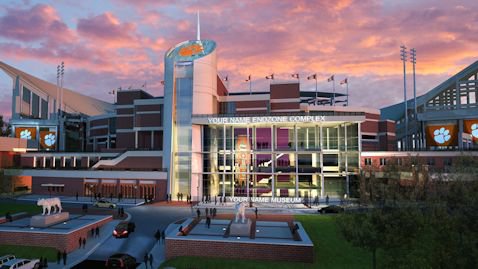 Clemson University Athletic Director Dan Radakovich will meet with the Board of Trustees later this month, a meeting that he hopes will set the stage for the next phase of the athletic department's facilities improvements projects.
On the docket: Whether to renovate Littlejohn Coliseum or build a new arena and what improvements will be made to Clemson Memorial Stadium.
TigerNet spoke with Radakovich earlier this week, and he said he hopes to have some answers by the end of this month.
"We will have a Board of Trustees meeting later on this month," he said. "It is at that meeting that I hope to bring some concepts forward to the board so that they can ask their questions and hopefully from there some kind of timeline will be created."
A little over a year ago, the Board of Trustees approved the latest phase in the expansion process – an addition to Memorial Stadium's WestZone complex. It was scheduled to be the third and likely final major phase of the WestZone complex. The first two phases included club seating, a new football complex, a recruiting facility and plush new team locker rooms, among other amenities. Together, they cost more than $50 million.
The new phase was expected to cost $15 million, financed through private donations, with construction expected to begin in 2013. The phase was set to include the "One Clemson Museum" and a large oculus entrance.
I asked Radakovich if that phase was still on schedule, and he said that other projects had taken priority.
"The WestZone is just one part of it. We have the Littlejohn question and a couple of projects that are a part of the WestZone," he said. "There is one more phase. Those items you are talking about are not being contemplated right now. There are some other pieces associated with Memorial Stadium and the WestZone Project that are being considered at this time."
I asked if he could shed some light on those projects, and he deferred his answer until after he meets with the Board of Trustees but did give a glimpse into what he sees happening.
"I would really rather go to the board first, but they have a lot to do with fan convenience and how it relates to that part of the stadium," he said. "I think a little longer-term project would be some upgrades to our premium seating areas and some basic work associated with general fan comfort associated with the entire stadium."
Another topic that Radakovich will put before the BOT is the question of Littlejohn Coliseum and whether to build a new arena or once again renovate Littlejohn. If a new arena were to be built, the most likely location that I've heard of is at the corner of Highway 93 and Perimeter Road, the wooded area across from the Esso Club, and Radakovich said that he has been speaking to architects as well as people on campus to gauge how they feel about a new arena.
"It really comes down to a question of building new or renovating," he said. "I think we've been doing an awful lot of study about both of those and we will bring to the board what our recommendation is as it relates to that particular project. We will see what kind of reaction that receives."
I asked him if he thought a new arena was a real possibility, and he replied, "I think that is something that will certainly be up for debate."
The baseball field and Doug Kingsmore stadium are also being renovated, with plans to add a player development area and new locker rooms.
"The baseball field right now is being renovated. That project had been in the hopper for quite a while," he said. "There will be a new field and a new drainage system will be there at Doug Kingsmore Stadium. We do have some architects engaged right now so we can move forward with the player development area associated with baseball and hopefully that project will begin a year from now."