| | |
| --- | --- |
| Wednesday update: Fans help with recruiting, SI cover and more | |
---
| | |
| --- | --- |
| Wednesday, November 11, 2015 8:43 PM | |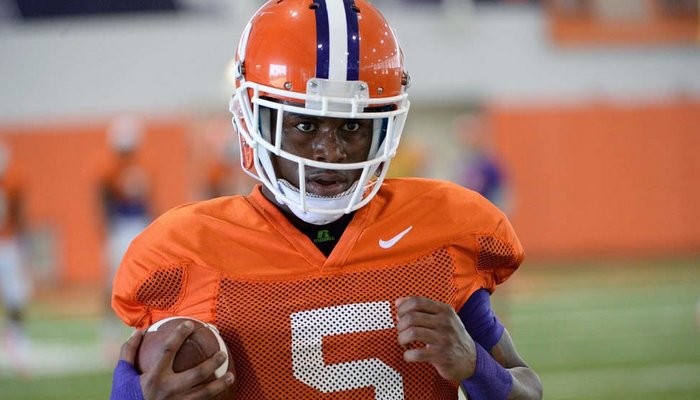 CLEMSON – Clemson fans are passionate about their program, and that passion paid off in a big way last weekend.
The crowd was a major part of the Tigers' 23-13 victory over Florida St., but the crowd also helped make the weekend special for a special list of recruits that were on hand for the win. Head coach Dabo Swinney said the crowd was electric.
"It was an amazing weekend. We had so many guys that we consider the cream of the crop that were here. It was packed," Swinney said after Wednesday's practice. "I just think the biggest thing was the way the crowd was. It was just electric. I don't know another word for the way our crowd was. You could just feel it. I think young people when they're trying to choose a place to go, football is not the only part of the equation or it shouldn't be in my opinion, but the game day atmosphere is one of the things that should matter. Nobody does it better than right here. It's special. It was great. We won the game and that was the main thing. That was the objective - find a way to win the game because when you win most of the time everything else kind of takes care of itself."
Swinney said Clemson's brand is recognized nationally for its excellence.
"I think it's great. It's great that our brand is being recognized as one of the best, if not the best. That's what we've been working toward forever," he said. "A lot of people are just recognizing things that we've known for a long time - this is a special place. It's a great place. It's a wonderful university. There's unbelievable passion here. There are great people in all facets of this university. Great people who love this university and do everything they can to make it better. It takes all of that to build a great program.
"We've been winning for a while. This isn't our first time to win. It's the first time we've been 9-0, only the third time in the history of our school, so that's brought a little extra love from other people. I'm just happy for the Clemson folks. I had a gentleman come to practice today - Mr. Gardner - who came here in 1945. He still had his ring on. He had his orange pants on with the tiger paws. He's been to 70 straight Clemson-South Carolina games. That's just amazing, but that's what Clemson is all about. To see our fans be able to be so excited about a place that they love is to me the coolest thing."
Clemson's brand gained even more recognition this week when quarterback Deshaun Watson was featured on the cover of Sports Illustrated.
"I thought it was pretty cool. Tim (Bourret) sent me a picture of it. It's a pretty neat thing," Swinney said. "It just means you're having a pretty good season. Hopefully, we can be on there a few times. That would be great. Hopefully, we can give them something to want to continue to talk about around here. I'm happy for Deshaun. I guess they've got to put somebody on there, and I think he's playing as well as anybody in the country. He's the best quarterback and might be the best player. It must be a slow news day, I guess. We're working our way up. We'll see if we can keep it going."
Other notes
Syracuse and names
"I did a radio show up there today and they said they have a Mike Williams and Ryan Norton. If they have a Dabo, I'm not going. It's kinda neat."
Replacing Tyrone Crowder and Ray-Ray McCloud.
"Maverick Morris is taking first team reps at right guard. G-Hop (Germone Hopper) plays our two and five positions, so he bounces back and forth between those two. He's played both. He and Artavis (Scott) will be at that spot. Trevion (Thompson) and (Hunter) Renfrow will be at our five man, and Deon (Cain) and Charone (Peake) will be at the nine man."
Playing in the state of New York
" I think when Syracuse came into the league, it was one of the things about them being invited is the footprint that it gave the ACC. The amount of households. I think we've got the most tv households of any conference out there with our footprint. It's a neat trip. I had never been there until two years ago. It's really an excellent venue. It's unique. It's different. That's what's cool about college football. You have a lot of these guys that get an opportunity for the first time in their lives for a lot of them to travel around to places that they've probably never seen. I'm 45 and I had never been to Syracuse. A lot of these guys at 18, 19, 20-years old getting a chance to go see different parts of the country is always a neat thing. This is a place that has a great tradition. They have a big time tradition at Syracuse. The venue is one of the more unique ones in college football. In fact, we'll stop off there on the way to the hotel and we'll check it out because we've got a lot of guys who haven't ever been there. I wasn't going to do that, but I was thinking we've got about 50 guys of the 72 who have never been there. We'll spend about 10 minutes just walking around and then we'll head to the hotel."