| | |
| --- | --- |
| Wednesday update: Dancing for number one, special teams changes | |
---
| | |
| --- | --- |
| Wednesday, November 4, 2015 9:07 PM | |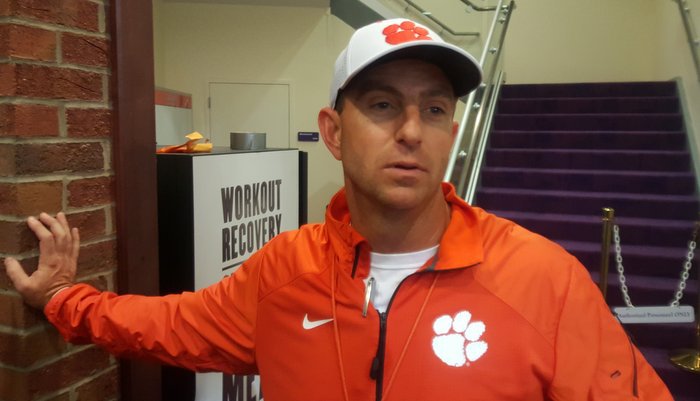 CLEMSON – The Clemson Tigers will make history Saturday afternoon when they take the field inside Death Valley as the nation's top-ranked team, but Dabo Swinney won't be celebrating the significance of the day unless it ends with a victory.
Swinney met with the media inside the indoor practice facility Wednesday evening after another rain-soaked practice, and reiterated his message from Tuesday night when the College Football Playoff ranking were released - Clemson isn't happy with being ranked No. 1 in November; they want more.
"As long as it's for the first time for the No. 1 ranked team to win at home then we'll take pride in that," Swinney said Wednesday evening. "That's when we will take pride in that. If we become the first ever No. 1 ranked team to win at home (at Clemson), then we'll dance and celebrate, but as far as all of that other stuff, it doesn't matter."
Swinney said his team hopes there's a lot more football to be played.
"We didn't wait to talk about it today. I knew coming into this week that we'd be ranked high. I didn't know where we would be, but we talked about it on Monday and we moved on," Swinney said Wednesday night. "We've talked about it lots. We've been up there pretty high. It's not like we just got ranked. We've been ranked all year. What difference does it matter if you're third or one or seven or eight when you've played five, six or seven games? We hope to play 15 games so we're only half way through.
"We're not disappointed that we're getting recognition for our program and the type of team that we have. They have certainly earned that, but it's all about Florida State, just like last week was all about N.C. State. This game isn't any bigger than last week. If we would've lost last week, then it wouldn't be as big. Every week is a huge, huge game for us, and this one has a lot of opportunity at stake for both team and it's important that we stay focused on our preparation and what's made us successful. That's what we're doing. It's back to work. We embrace the opportunity. Whether you're third in the country or first in the country with almost half the season to go, it's totally irrelevant. We talked about that and these guys have a good perspective on that."
However, Swinney said he is happy that Clemson fans are able to enjoy the notoriety their program is receiving.
"I'm happy for our fans. We're not disappointed that our brand is out there and that we're considered one of the best teams in the country, but like I told our team, it's not a shock," Swinney said. "We've been one of the best teams for a long time. We haven't quite been ranked number one at any point, but my goal as a head coach has never been to be ranked number one at some point during the season. That's never been my goal. My goal is to win championships and hopefully we're ranked number one at the end of the season. It's good to see our fans be able to take pride in their program and feel good about these guys and what they've done, and I'm happy in that regard. We've got to keep getting better and we've got to keep moving forward, and that's our focus."
Swinney said the rankings haven't been a distraction and that he has been very pleased with his teams practice and focus this week in preparing for the Seminoles.
"They've had great practices. Great Monday. Great practice yesterday. Great practice today," he said. "This has not been a difficult team to get to practice. Practice is not easy, but these guys have an excellent spirit to them and they have all year. We've only had a small, hand full of practices where I walk off the practice fields and I want to go chew some nails or something. I hadn't had many of those. These guys compete and they take pride in their performance, but more importantly they believe in our preparation process that we have. They know that it's necessary for them to be successful. We've got a lot of buy in in that regard."
Other notes
Home field advantage
"It's always an advantage when we play at home. It doesn't win for us. We played at home two years ago and they (FSU) drug us up and down the field. You've got to play well. It only becomes an advantage if you play well, that's what I tell our team all of the time. It's great to be at home. Our routine is a little different because we don't have to travel and all of that stuff. That's a plus. If you don't give them something to cheer about, it's not going to matter. You've got to play well regardless of where you are. The beautiful thing about being at home is that there is just this energy that's present when you walk out for pregame. When you go on the road, you better pack that up and bring it with you because it's not the same. You've got 72 guys and that's all you've got. When we're at home we've got 100 and something guys on the sideline and this great energy. Nobody does it better than the pageantry of Clemson, so that's some great juice, but if you don't play well then it's not an advantage at all."
Special teams changes
"It was really effort. That's what was disappointing. That particular play was disappointing. I think we had two guys out of 11 get a plus on the play. You've got a few guys that that is their number one job, and to see some guys not give the effort that's something that we can't have. There's no excuse. Everybody has a role and you have to take pride in whatever role you've got. There is no off play. Every play has the potential to be the play that makes the difference in the game. We addressed that. We'll have a few personnel changes, but we're just always trying to get better. Give them credit; they've got good players too. We've got to be all in every play, not some plays. That's part of our job as coaches to always correct and teach and demand that things be done a certain way. Hopefully we'll have that part of corrected this week."