| | |
| --- | --- |
| Wednesday update: Calm Swinney talks chrome helmets, kickoff coverage | |
---
| | |
| --- | --- |
| Wednesday, September 30, 2015 8:16 PM | |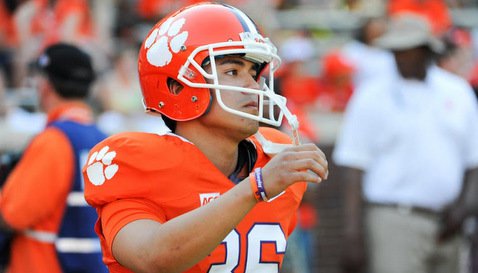 CLEMSON – Head coach Dabo Swinney

Dabo Swinney
Head Coach
View Full Profile has not only been loose this week, he's been downright funny. That trend continued following Wednesday's practice when Swinney drove over to the assembled media in his golf cart, jumped out with a big smile and spread his arms wide and said, "What else is there to say?"
That drew a laugh from the crowd, and one media member said that we could talk about chrome helmets (there has been a rumor floating around) and Swinney laughed and said, "There are no chrome helmets. You all need to quit starting that garbage."
Swinney was finally asked a serious question, and he responded that kicker Ammon Lakip

Ammon Lakip
RS Sr. Punter / Kicker
#36 5-11, 200
Alpharetta, GA
View Full Profile will handle the kickoff duties Saturday night.
"Lakip is going to kickoff. He's done a nice job. He's been dialed in, and it's really good," Swinney said. Greg (Huegel) has earned the trust and has been very consistent. Now, you've got another guy in there who's been there and done that. I'm glad that he's going to do the kickoffs. I think that takes a little bit of pressure off of Greg. Then, as far as the field goals, we'll keep rolling. Hopefully, it will be the Wally Pip story, but who knows. Hopefully, he'll keep performing, but if not we feel good about Ammon and what he's done in practice."
Swinney said Wednesday's practice was more of what he likes to see after a lethargic Tuesday practice.
"Today was very, very good. Yesterday was a little lethargic, especially offensively," he said. " I thought we were kind of sloshing around. A lot of that goes to the scout team as well. Today was a completely different mentality on both sides. We got better today. Practice was really good. It starts with the scouts. Those guys were dialed in, and gave us a good look. I thought they came with the right mentality today."
OTHER NOTES
How do you make sure the team hasn't peaked early this week?
"It's not different than any other game. They're not ready to play because we're not finished with our preparation. If we were finished with our preparation today and we had to sit around and wait til Saturday, that might be difficult. Tomorrow is a big work day for us. Friday is a big work day. Saturday is critical. We have a schedule for night games. We have a schedule for afternoon games. A schedule for morning games as far as how we get them ready. We don't vary from that. It's just business as usual for us. There's nothing wrong with being excited to play. They're excited to play if nothing else than we haven't played in two Saturdays. They're anxious to get back to work and so are we as coaches."
Injury report
"We're going to cut him ( Dane Rogers

Dane Rogers
RS So. Defensive End
#85 6-3, 269
Shelby, NC
View Full Profile ) loose on Monday. We're not going to have him available this weekend. The plan is to put him back at practice at Monday. Ryan Norton

Ryan Norton
RS Sr. Offensive Line
#58 6-3, 284
Simpsonville, SC
View Full Profile is much better. We're encouraged with him. He's responding well. Everybody responds differently to rehab, but Danny (Poole) is very encouraged with what he's seen. He's still not ready to play this week. We'll see where he is next week, but my guess is he's probably not going to be ready next week. I think he's got a pretty good chance for Boston College. Joe Gore and Jake Fruhmorgen have practiced all week."
Update on Mike Williams

Mike Williams
Jr. Wide Receiver
#7 6-4, 213
Vance, SC
View Full Profile ?
"No. It's the same. That's just all on how he heals. He's doing great. I don't have any expectation for Mike Williams. If he's back, that would be gravy."
Changes on kickoff coverage teams?
"Not several. We made a few. We've just got to do some things better. We've got to coach them better and make sure they understand what we're asking them to do. We've got to execute things, too. The kick return we gave up, we had two of the best players on this team that were totally unblocked. Nobody put a hand on them. We couldn't scheme it any better. We were poor fundamentally, so we've gone back and retaught the fundamentals. We did have a young guy that didn't really understand how to squeeze. He didn't quite do his job. That's all of us doing a little bit better job making sure guys know what they're doing. We did tweak two or three guys that weren't quite ready for the show yet, and that's okay. I feel good about the personnel."
Does the weather forecast change the game plan?
"If it's a monsoon, yeah. We've played in a couple of monsoons, but it's the same for them. It's not different. I don't worry about that at all. I don't have any control over that. I don't worry about that at all. I never even ask about the weather because it just doesn't matter. We've got to play the game and they do too. They've got the same weather we've got. I remember like yesterday playing TCU and Boston College in a torrential downpour. You just focus on what you can control, but whether it's raining or not doesn't mean you can't block people. You can still throw and catch. If there's an impact, it's the same for both teams so it doesn't matter."