| | |
| --- | --- |
| Wednesday scrimmage in the Valley: News and Notes | |
---
| | |
| --- | --- |
| Wednesday, August 12, 2015 1:41 PM | |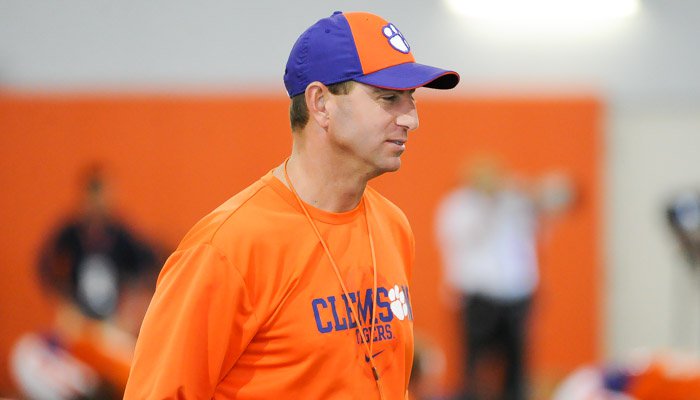 CLEMSON – Head coach Dabo Swinney

Dabo Swinney
Head Coach
View Full Profile was back at practice Wednesday with the voice of his father ringing in his thoughts and memories.
Swinney missed practice the last three days as he attended the funeral of his father, Ervil Swinney, who passed away last week. The Tigers scrimmaged inside Death Valley Wednesday morning, and Swinney was in the middle of it all, but his dad was never far away from his thoughts.
"I am so thankful for the time I had with my dad," Swinney said after the scrimmage. "He had moved up here with us and had been here since May and spent a lot of quality time with us. He had been back home about three weeks and doing what he loved to do. I was telling the team, you go through those things and get mentally exhausted, but my dad would have been yelling at me as soon as they put him in the grave, 'Alright, that is enough. Get your butt back to work we have some football games to win.' That was Big Erv and we will miss him greatly, but I was excited to get back at it today."
The Tigers did situational work during the two-hour scrimmage in the Valley.
"Today was our first real scrimmage situation, and we put them in a lot of situations," Swinney said. "We had a lot of first down emphasis. We did some first down play second down and second down play third down and some things that weren't scripted. We did some end of the game stuff and first-and-goal on the nine and some two-minute situations. We will focus more on the kicking game tonight in our double day.
"We had some uncharacteristic fumbles and then defensively some guys jumping offsides and stuff like that, but there were a lot of good things on both sides that we can build from. These are our preseason games because we have three scrimmages where we can get these guys ready to play. Saturday will be a full-blown scrimmage, and we can just play ball. But I like where our team is and we have some tremendous guys in the locker room. I can't wait to light up the scoreboard with these guys for real."
Injury report
"Looking at the report this morning, we had some guys banged up that were on the report but there was nothing serious. But we had a few guys go down today. Mike Williams

Mike Williams
Jr. Wide Receiver
#7 6-4, 210
Vance, SC
View Full Profile went down early. Haven't really gotten anything definite but it did not seem serious. I don't know the specifics on that. But I am a little concerned about Korrin Wiggins

Korrin Wiggins
Jr. Defensive Back
#12 5-11, 195
Durham, NC
View Full Profile and we need to find out a little bit more about him. And Daniel Stone

Daniel Stone
RS Jr. Offensive Tackle
#65 6-4, 265
Simpsonville, SC
View Full Profile as well. It looked serious, too, but hopefully it's not. That's the way this game is. You can't worry about this stuff. And other guys need to step up. They don't turn the scoreboard off and that's why have spent some much time in camp getting guys experience."
Kicking game
"We are going to focus a lot more on that tonight. We have good competition at kicker. (Andy) Teasdall is solid, and he will do a nice job for us. (Hunter) Renfrow has done a nice job for us, too. He is capable. As far as field goals, it's a daily production chart. Alex (Spence) was up front and then (Greg) Huegel was up front as of today. So we have three guys competing hard. But Greg has really brought a little spark in here, and he has been the surprise."
Other notes
*Linebacker Dorian O'Daniel had two tackles for loss and forced a fumble that he recovered. He said the starting spot at Nickel/SAM is still up for grabs, and he is fighting for that spot.
"There isn't a pecking order," he told TigerNet. "I am just going out there and doing everything I can to make the coaches notice me."
*Swinney said there hasn't been any competition on kickoffs because they have been focusing on field goals. The team will work on kickoffs tonight.
"That is the next step for us," he said. "We have worked on some of the kickoff techniques, but we will work on the actual kickoffs from here on out."
*Center Ryan Norton

Ryan Norton
RS Sr. Offensive Line
#58 6-3, 285
Simpsonville, SC
View Full Profile (concussion) didn't participate in the scrimmage.
*Left guard Eric Mac Lain

Eric Mac Lain
RS Sr. Offensive Tackle
#78 6-4, 305
Hope Mills, NC
View Full Profile said that freshman left tackle Mitch Hyatt

Mitch Hyatt
Fr. Offensive Line
#75 6-6, 270
Sugar Hill, GA
View Full Profile is learning to trust him.
"He is learning that I can help him and he isn't out there by himself," Mac Lain said. "He is just going to get better and better. He is learning that I can slide over and take the inside guy and he can handle the outside guy. It's a process."