| | |
| --- | --- |
| Wednesday practice report: Dabo explains quack like a duck comments | |
---
| | |
| --- | --- |
| Wednesday, September 29, 2010, 9:20 PM | |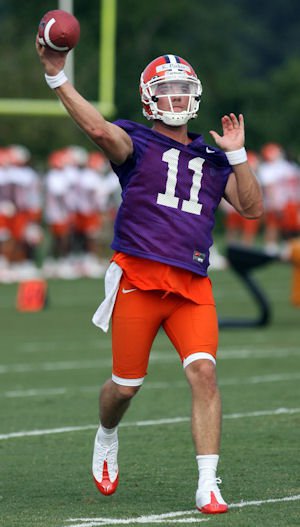 Dabo Swinney after practice audio (MP3 Format)

CLEMSON – Clemson head coach Dabo Swinney challenged Clemson fans on Tuesday to "quit quacking like a bunch of ducks" and rock the valley on Saturday when the Tigers host 16th-ranked Miami.
His challenge was in response to a segment of Clemson fans who were complaining about the noon kickoff, and Swinney said he had received emails and phone calls about the start time.
"There's been a lot of talk about the time of the game," Swinney said. "I've gotten emails or letters. My job is to get the team to play. If it's 9 a.m. or 9 p.m. Let's quit quacking like a bunch of ducks and quit whining and complaining. It doesn't matter. Let's get up and get excited about playing football. Let's get up and let's go play some ball and enjoy the day. TV is TV and they control a lot of things but let's have great fan support. I think there will only be about 1,500 from Miami to come this way.
"Let's get the Valley rocking. Let's make it a great experience. There will be a lot of people watching Clemson for the first time. Let's make them go put coming to Clemson on their bucket list. We had this place rocking to 125 decibels the last time Miami was here. Let's get it to 126. Fans have the huge opportunity to set the tempo. It's always great when this scoreboard lights up out there. Let's play some Clemson football. "
Swinney was informed on Wednesday that there was a Facebook website up shortly after his comments urging Clemson fans to bring duck calls to the game, and many were perplexed about the quacking like a duck reference.
Swinney laughed when was he was informed of that on Wednesday, and said the explanation was simple.
"I read a story to the team in fall camp, and it was a great story about attitude," Swinney told TigerNet in an exclusive. "It is a true story about this guy who is actually a cab driver in New York City. It's a really great story about the power of attitude. Some people sit around and whine and complain, like a bunch of ducks, all quacking at the same time.
"Other people choose to soar like eagles, and rise above their circumstances. You have a choice every day to be an eagle or a duck. I shared that with the team, and I told them I didn't want a bunch of ducks, that I wanted them soaring. I ask them, 'are you quacking or are you soaring today?' They have related really well to that, and that just popped into my head yesterday."
Swinney said he was surprised when he started getting messages about the noon start time.
"I had one person asking if I knew how to boycott ESPN," Swinney said. "I was like, 'I am just trying to beat Miami.' I need to tell my mom she needs to quit writing in like that. But, we can sit around and complain or we can make the best of it. It doesn't always go your way. It's water under the bridge, so let's just go about our business."
The Tigers practiced for two hours on Wednesday, their last day in pads before the game on Saturday, and Swinney said he was pleased with the practice.
"It was a good practice. It was good to get some work in a pretty steady rain that lasted for 30 minutes or so at the end of practice. We're obviously further ahead than we would be on a typical Wednesday—had a good two-minute drill. I tell you, we have several young guys. We always talk about our older guys. There are some younger guys on our scout squads doing a good job. A guy like Demont Buice—it's like the light has come on for him. Vic Beasley and Joe Craig, those guys are doing a good job—same thing over there on the defensive side—Tavaris Barnes. Garry Peters is a guy that caught my eye this week. Had more time to look at more guys than you would normally have. Good day, good practice. We're just kind of working toward Saturday."
*Swinney said Wednesday's practice was the best that quarterback Kyle Parker has looked. Parker hurt his ribs at Auburn, and the staff has been easing the sophomore quarterback back to work slowly.
*Linebacker Spencer Shuey practiced and went through all drills on Wednesday, and Swinney said he feels good about Shuey's chances of playing.
*Swinney said that linebacker Tig Willard has healed nicely and should be full speed.
*On Brandon Ford's move to tight end: "He's getting better. It's been a good open date for him. He's got a lot to digest and learn. He's coming on. I think that he's kind of impressed me a little bit. He's hit the sled a couple of times. He's put his hat on some people. He doesn't have to be a cold-blooded killer. He can be a guy that can understand how to play with leverage. He's just a sophomore. I think he can be a 240-pound guy pretty easily, to be honest with you. He's about 225 and has been trying to be skinny. I think he can be 240 or so and really bring a good dimension to that position, as far as receiver goes. If he can just be adequate like a [Michael] Palmer, Palmer was no knock you off the ball guy. He was a get-it-done guy. I think Brandon can be one of those guys. He's still got a lot to learn."