| | |
| --- | --- |
| Wednesday night update: Swinney talks injuries, Deshaun Watson and BC | |
---
| | |
| --- | --- |
| Wednesday, October 15, 2014 7:54 PM | |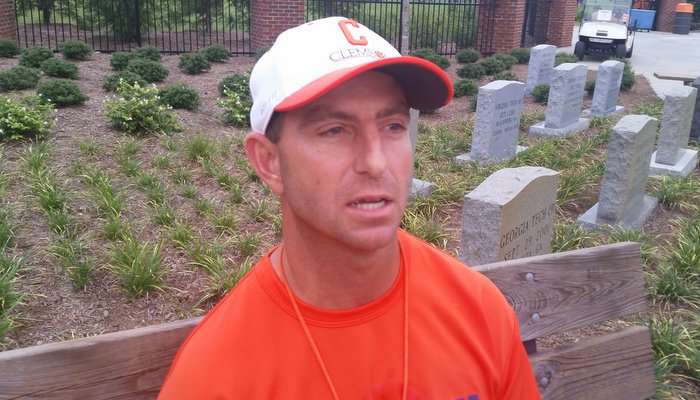 CLEMSON – With the 2014 football season half over, the Clemson Tigers must find a way to win road games.
The Tigers play three of their last six games on the road, beginning Saturday with a 3:30 p.m. tilt at Boston College and head coach Dabo Swinney

Dabo Swinney
Head Coach
View Full Profile is looking for his team to take on a road warrior mentality.
Swinney met with media after Wednesday's practice and said that if his team is to have the type of season they want, they must win road games.
"Just good energy and good tempo. Guys are focused," Swinney said Wednesday evening outside of the indoor practice facility. "They understand that we have to go win a game on the road. That's what we haven't done and we've got to finish the job. They very much understand that there's a whole half of the season left and they're committed to finishing strong. Their practice indicates that."
The trip to Boston College won't be easy as the Tigers are just 2-2 in Chestnut Hill and will be going against an improving Eagles team under head coach Steve Addazio.
"They're a good team and well coached," Swinney said. "They're a tough hard-nosed bunch that you have to beat. They usually don't make a lot of mistakes. We had the big one last year where we caused the turnover and got the score off of it. They're a very sound and fundamental team in what they do. They're big, strong, physical guys. They're going to force the issue running the ball. They've had some guys running wide open kind of like you see in the triple option because they've been so committed to what they do. There's great respect for both programs. For whatever reason, since they came into the league it's become a pretty good rivalry."
However, Clemson will have to do it without it's top offensive weapon Deshaun Watson

Deshaun Watson
Fr. Quarterback
#4 6-3, 204
Gainesville, GA
View Full Profile , who is sidelined with a broken hand. Swinney said that senior Cole Stoudt

Cole Stoudt
Sr. Quarterback
#18 6-4, 231
Dublin, OH
View Full Profile who is recovering from an injured shoulder has taken every snap with the first team this week in practice.
"I'm sure he's still sore but nothing that's going to keep him out of the game," Swinney said of Stoudt. "He's kind of like C.J. Spiller

C.J. Spiller
Pro Running Back
#28 5-11, 195
Lake Butler, FL
View Full Profile . C.J. - he couldn't walk on Sunday. He barely moved on Monday. He'd kind of smile at you on Tuesday. He'd bounce around a little on Wednesday. On Thursday, he'd practice. And we'd give him a shot before the game and sometimes at the half and he'd run for a 100 something yards. It was crazy. That seemed like his whole senior year. He had an injury that he just had to push through with that toe. This is not that severe but it's similar. It's not a high-grade injury but you're always concerned when you have a guy who's been injured and is coming back. He couldn't practice last week but he's taken every snap this week."
Swinney also said that backup quarterback Nick Schuessler

Nick Schuessler
RS So. Quarterback
#12 6-3, 195
Grayson, GA
View Full Profile is ready if needed.
"I don't know that there's anything else that we can do from we've been doing since he's been here," he said. "You get a guy like that as much reps as you can in the spring. In the spring, we rep threes. He got all of those third team reps. He's gotten a lot of scrimmage work in the spring and when we come into fall camp we rep three groups all the way up until about 10 days out when we go game prep for the opponent. He got all of that work. From that standpoint, we've done all we can do. He's in every meeting. We test him just like he's the starter. I don't know that there's anything else we can do other than last week and this week he's taken every second team snap and the urgency is at a much higher level because he hasn't taken second reps.
"He's taken every one last week and this week and you give him every look. I'm proud of him because he's practiced well. Nick's a solid player. He just hasn't had the opportunity to play a whole lot. He's a developmental guy. He's a guy that came here a beanpole with a good skill set. He's probably put on 15 plus pounds since he's been here. He's stronger. He's got some good instincts. He's savvy. He's as prepared as he can be at this point without having a ton of game experience. If he's got to play, we're going to expect him to go in there and perform at a high level just like we do with anybody else."
Injury notes
Charone Peake

Charone Peake
RS Jr. Wide Receiver
#19 6-3, 204
Moore, SC
View Full Profile , Deshaun Watson and Tyshon Dye

Tyshon Dye
RS Fr. Running Back
#23 5-11, 214
Elberton, GA
View Full Profile
"Peake was out there today. His rehab is coming good and I think he's going to get better in a hurry. Tyshon is looking better. He's starting to do more and more in practice. I'm starting to get encouraged and I know he's encouraged. That's a positive. Deshaun is out there mentally practicing every rep. He obviously can't throw the ball but he's mentally very engaged. We're in pretty good shape injury wise right now."
Joe Gore

Joe Gore
RS Jr. Offensive Tackle
#73 6-5, 283
Lake Waccamaw, NC
View Full Profile
"He's practiced good. He's been very much into it. We didn't do any good on good with him. We held him out of that. He just looks like he feels better. I knew something wasn't right because he just wasn't the same guy that I saw in camp. I think his mentality is back to what it was. He's healthy."
Tony Steward

Tony Steward
Sr. Linebacker
#7 6-1, 236
Hastings, FL
View Full Profile
"He looks good. He's back at it. He took most of the reps today. He'll be ready to roll."