| | |
| --- | --- |
| Wednesday Scrimmage: News, nuggets and stats | |
---
| | |
| --- | --- |
| Wednesday, March 25, 2015 7:38 PM | |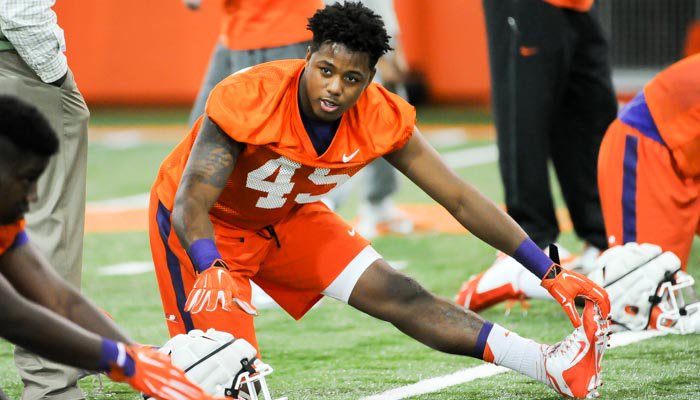 CLEMSON – The Clemson football team held its first full-scale spring scrimmage inside Death Valley Wednesday afternoon, and there are plenty of news and notes to pass along.
Of note was the tight end grouping – the Tigers practiced with just two tight ends in a continuation of a depth issue that reared its ugly head last season. Veteran Jordan Leggett

Jordan Leggett
Jr. Tight End
#16 6-5, 250
Navarre, FL
View Full Profile stepped in and had one of his best days.
"Leggett had a great day today but we are a mess at tight end right now," Clemson head coach Dabo Swinney

Dabo Swinney
Head Coach
View Full Profile said. "It's the dog-gonest thing. We got all kind of tight end depth and we got like two guys practicing - Cannon [Smith] and Jordan [Leggett]. Jordan had a great day. We really need him to show up and take that next step. This is a big year for Leggett. That position has been critical to our overall success, but you got to earn it. You got to earn it. Last year obviously we had all kinds of injuries. Right now we are missing a bunch of guys."
Missing was freshman tight end Milan Richard

Milan Richard
RS Fr. Tight End
#80 6-2, 245
Savannah, GA
View Full Profile , who will miss the spring game.
"Milan got hurt the other day, rolled his ankle and tore a little ligament on his ankle when he got rolled up from behind," Swinney said. "He is probably out for a couple of weeks. He is probably going to miss the spring game. Right after the spring game he should be back kind of doing everything from a training standpoint so he is going to miss the next couple of weeks. We've got Cannon Smith

Cannon Smith
RS Fr. Tight End
#84 6-4, 240
Columbia, SC
View Full Profile and we got Jordan Leggett. Everybody else it is a complete MASH unit at tight end. We will probably take a couple of down the line offensive line guys and take advantage and train them up the next couple of weeks and get them involved so we are not wearing out Cannon and Leggett so much."
Swinney said there was no new news to report on suspended tight end Jay Jay McCullough, saying, "Nothing new. He's not practicing with the team."
Swinney said he was pleased with the scrimmage.
"Good to get our first scrimmage under our belt. Glad we could get in the stadium and the weather held out. A lot of good," he said. "When you're in my role, you're never truly happy. It was a good day. It was competitive. The biggest thing was guys just thinking. When you finally put the ball down and everything is not scripted and take away all of the external factors, you find out who's getting it and who's not quite there yet. Saw some good things on both sides. A couple of guys took a step backwards"
Other notes
*Offensive coordinator Tony Elliott

Tony Elliott
Assistant Coach / Running Backs
View Full Profile said he really wanted to watch the film to get a true gauge of exactly what needs to be fixed, but overall seemed pleased with the effort. Elliott said the defense brought multiple looks and pressure from all angles, and while he was happy with the work in the red zone, he still felt like there were a lot of plays that were left out on the field.
*Defensive end Shaq Lawson

Shaq Lawson
So. Defensive End
#90 6-3, 269
Central, SC
View Full Profile was credited with three sacks – he smiled and told us it felt more like five – but was quick to praise freshman tackle Mitch Hyatt

Mitch Hyatt
Fr. Offensive Line
#75 6-6, 270
Sugar Hill, GA
View Full Profile , saying that Hyatt is "going to be really special."
*Safety Jayron Kearse

Jayron Kearse
Jr. Safety
#20 6-4, 210
Fort Myers, FL
View Full Profile said he wasn't pleased with the scrimmage, citing the same red zone plays that had Elliott pleased.
"We definitely didn't do what we're capable of doing," Kearse said. "I know there's work to be done with me, and the rest of the defense. There's a lot of things we have to work on."
*I asked defensive coordinator Brent Venables

Brent Venables
Def. Coordinator / Linebackers
View Full Profile about the cornerback spot opposite Mackensie Alexander

Mackensie Alexander
RS So. Cornerback
#2 5-10, 190
Immokalee, FL
View Full Profile , and he mentioned Cordrea Tankersley

Cordrea Tankersley
Jr. Defensive Back
#25 6-1, 195
Beech Island, SC
View Full Profile and Ryan Carter

Ryan Carter
RS So. Cornerback
#31 5-9, 180
Grayson, GA
View Full Profile . He then smiled when asked about the depth and said, "You only need two."
*Venables said that linebacker Chris Register

Chris Register
RS Fr. Outside Linebacker
#45 6-2, 245
Browns Summit, NC
View Full Profile moved to defensive end Wednesday.
"We just kind of worked it today for the first time," Venables said. "He came to us and asked for an opportunity to help the team that way and felt maybe it fit his skill set a little bit better. So we are excited. Chris is physical. He has good instincts. He is intelligent and he cares so he has a good foundation. He will be just fine. He has a good future."
*Swinney said he was pleased with how kicker Ammon Lakip

Ammon Lakip
RS Sr. Punter / Kicker
#36 5-11, 200
Alpharetta, GA
View Full Profile and punter Andy Teasdall

Andy Teasdall
RS Jr. Punter
#95 5-11, 185
Winston-Salem, NC
View Full Profile were progressing.
"Ammon Lakip had a really, really solid day," Swinney said. "Andy Teasdall is having a really, really good spring. I'm very encouraged with Teasdall. He hasn't missed a beat since the bowl game. He's been incredibly consistent."
*Swinney was also pleased with what he saw out of the quarterbacks, but said veteran Nick Schuessler

Nick Schuessler
RS Jr. Quarterback
#12 6-3, 195
Grayson, GA
View Full Profile can improve even further.
*Nick [Schuessler] has had a great spring and he made some nice plays today but had a couple of game management things today that I wasn't pleased with," Swinney said. "He's been very consistent. It's good to see Kelly [Bryant] and Tucker [Israel] in that environment today for the first time and see some natural instincts kick in. We didn't snap the ball very well today and that was disappointing. It effected the flow for the second group."
*Elliott said that freshmen quarterbacks Tucker Israel

Tucker Israel
Fr. Quarterback
#10 5-11, 190
Orlando, FL
View Full Profile and Kelly Bryant

Kelly Bryant
Fr. Quarterback
#2 6-4, 205
Calhoun Falls, SC
View Full Profile are a work in progress. Elliott said that Israel comes from a system that was pass first and he is having to learn how to make plays with his legs and run the zone-read. On the flip side, Bryant is well-practiced in running with the football and is learning to make plays with his arm.
*Schuessler told us that the one thing he has had to work on this spring is his sense of urgency. "I am really laid back, and the coaches want to see me take a sense of urgency out onto the field and kind of push the other players along," he said. "That is something I have really been working on."
*Swinney also likes what he sees out of the young offensive linemen.
"The young guys were pretty good. We had some snap issues. They did some good things individually," he said. "I tried to put my eyes on a couple of them. They're going to be a really good group. It's going to be a good offensive line. Our first group has come to work every day. Now that we've got Joe [Gore] back, they demonstrated that they are at a different level in every regard."
*The running backs continue to impress.
"I really like our guys at running back. You noticed all of them today," Swinney said. "Gallman ripped off a 25-yard touchdown run. He's at a whole other level right now. We felt like he was going to be a good player. He's faster, stronger, way more confident, 212 pounds."
*From all accounts, wide receiver Charone Peake

Charone Peake
Gr. Wide Receiver
#19 6-2, 205
Moore, SC
View Full Profile is finally showing what he can do when healthy.
"Man, he's been spectacular. He's looked as good this spring as I've ever seen him," Swinney said. "He had a great, great practice on Monday."
Scrimmage numbers
Schuessler completed 11-18 passes for 100 yards and two scores on Wednesday.
Leggett caught a scoring pass from Schuessler and had another 21-yard reception to key a drive. Mike Williams

Mike Williams
Jr. Wide Receiver
#7 6-4, 210
Vance, SC
View Full Profile also caught a touchdown pass, while Wayne Gallman

Wayne Gallman
RS So. Running Back
#9 6-1, 205
Loganville, GA
View Full Profile and C.J. Fuller

C.J. Fuller
RS Fr. Running Back
#27 5-9, 215
Easley, SC
View Full Profile had rushing touchdowns during the scrimmage that was played under threatening clouds. Germone Hopper

Germone Hopper
RS Jr. Wide Receiver
#5 5-11, 175
Charlotte, NC
View Full Profile had the most receptions with five, while Artavis Scott

Artavis Scott
So. Wide Receiver
#3 5-10, 190
Oldsmar, FL
View Full Profile had four. Fuller had 53 rushing yards to lead the ball carriers.
There were many standouts on defense as well. Linebacker Ben Boulware

Ben Boulware
Jr. Outside Linebacker
#10 6-0, 235
Anderson, SC
View Full Profile , the backup to first-team All-ACC linebacker Stephone Anthony

Stephone Anthony
Linebacker (2011 - 2014)
#42 6-3, 245
Polkton, NC
View Full Profile last season, led all defenders with four tackles for loss. Shaq Lawson had three sacks, while Jayron Kearse had the only interception on the day.

Tags:
Charone Peake
,
Stephone Anthony
,
Nick Schuessler
,
Ammon Lakip
,
Germone Hopper
,
Shaq Lawson
,
Cordrea Tankersley
,
Mike Williams
,
Wayne Gallman
,
Ben Boulware
,
Jordan Leggett
,
Mackensie Alexander
,
Jayron Kearse
,
Ryan Carter
,
Andy Teasdall
,
C.J. Fuller
,
Chris Register
,
Cannon Smith
,
Milan Richard
,
Artavis Scott
,
Kelly Bryant
,
Mitch Hyatt
,
Tucker Israel
,
Brent Venables
,
Tony Elliott