---
| | |
| --- | --- |
| Saturday, December 7, 2013 9:20 AM | |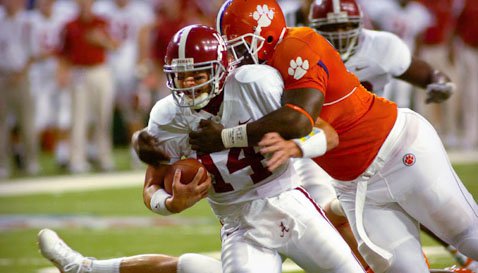 We Want Bama.
College football fans across the country have been holding up those signs for most of the 2013 season, with fans from Ball St. to Northern Illinois to Oregon proclaiming that they want a piece of the Alabama Crimson Tide, the defending national champions.
In a strange twist of fate, Clemson may be the team that gets that chance.
Most of the fans that have held up those signs – We see you Oregon – thought their teams were good enough to advance to the BCS title game where a matchup with the Crimson Tide would certainly await.
In the words of Lee Corso – not so fast, my friend.
Alabama's loss to Auburn last weekend – in miraculous fashion, of course – knocked Alabama out of the SEC Championship Game, and with Florida St. and Ohio St. still undefeated, the Tide's chances of defending their title became slim at best.
Enter the Orange Bowl, which might pick Clemson as its replacement for Florida St. The Orange also gets its first choice of at-large teams, and sitting there at No. 4 in the BCS is Alabama. Clemson vs. Alabama in any kind of bowl game isn't one that anyone could have foreseen just a few weeks ago, and if you can point out any "expert" who had Clemson vs. Alabama in Miami at any point before last Saturday, I will send them next week's paycheck so they can pick my lottery numbers.
Up until Auburn returned that missed field goal for a game-winning touchdown last week, this matchup wasn't on anyone's radar. Now it's front-and-center for a Clemson team that desperately needs a strong finish to the season.
Adding flavor the potential matchup are the storylines, and it all starts with Clemson head coach Dabo Swinney

Dabo Swinney
Head Coach
View Full Profile , who joined the Crimson Tide football program as a walk-on wide receiver in 1989. He earned a scholarship and lettered on three teams (1990–1992), including the Crimson Tide's 1992 National Championship team.
Swinney stayed on at Alabama after graduation, working as a graduate assistant from 1993-95 and coaching wide receivers and tight ends from 1996-2001. His family is from that neck of the woods, and his nephew Taylor Swinney is a student at Alabama.
A recent addition to Swinney's staff is Thad Turnipseed, who is now the director of recruiting operations and external affairs at Clemson. Swinney hired Turnipseed away from Nick Saban and Alabama in an attempt to modernize Clemson's recruiting and communication practices. From what we've heard, Saban apparently thought enough of Turnipseed to offer him a substantial salary increase to stay at Alabama, but Turnipseed turned down that offer so he could join Swinney.
Alabama running backs coach Burton Burns left Clemson after the 2006 season to join Saban. Kevin Steele

Kevin Steele
Defensive Coordinator/Linebackers
View Full Profile was the defensive coordinator under Saban in 2007 and the Associate Head Coach in 2008, but left to take the defensive coordinator's job under Swinney in 2009. He was fired after the 2011 season ended in the Orange Bowl debacle. He is now an administrative assistant under Saban.
Billy Napier had two coaching stints at Clemson that covered eight years, and he was elevated to the offensive coordinator position in 2009. He was let go by Swinney after the 2010 season, and now coaches wide receivers at Alabama.
Chris Rumph coaches the defensive line for the Crimson Tide, and he spent five years at Clemson. We sat in meetings with Steele during his tenure at Clemson, and he often said that Rumph would one day be an excellent defensive coordinator if given the chance. He left Clemson after the 2010 season, and he didn't exactly leave Clemson on the best of terms.
Indeed, there would be storylines galore, but the true storyline would be….Can Clemson hang with Bama?
One side of the argument will say that Alabama will be disinterested in playing Clemson on the same field where they won a national title a year before. They will point to the 2009 Sugar Bowl, where Utah claimed a 31-17 win. The Tide lost to Florida in the SEC Championship Game, knocking them out of the national championship picture.
However, the Tide lost to Cam Newton and Auburn in the Iron Bowl in 2010, sending Auburn on to a national championship. How did the Tide respond that season? They defeated Michigan St. 49-7 in the Capital One Bowl.
My guess is that Nick Saban will point to Clemson's win over LSU last season, and will have his team ready to play in what will be the last collegiate game for quarterback A.J. McCarron. Clemson, with the chance to once again knock off a national power from the nation's best conference, shouldn't have any problem in getting up for this game.
We Want Bama. Who would have thought that a few weeks ago?