| | |
| --- | --- |
| Wayne Gallman: "When I have my opportunity, I am going to take it" | |
---
| | |
| --- | --- |
| Tuesday, September 2, 2014 7:01 AM | |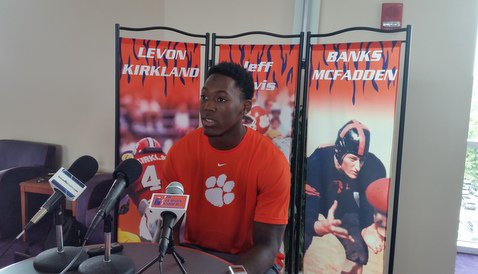 CLEMSON – Wayne Gallman

Wayne Gallman
RS Fr. Running Back
#9 6-1, 209
Loganville, GA
View Full Profile is confident that when he finally gets his chance to show what he can do as a main cog in Clemson's rushing attack, he won't let that opportunity slip away.
The redshirt freshman running back out of Loganville (GA) Grayson fielded questions from the Clemson media Monday afternoon in the WestZone, and he was asked if he thinks that he will get his opportunity to shine in the near future.
His answer was blunt and simple.
"I just know that when I have my opportunity, I am going to take it," Gallman said. "I just try to make myself better every day. I am pretty sure the coaches know what I can do. I think it is just a matter of time before I get my chance."
Gallman got a limited chance to play in Saturday's opener at Georgia, running the ball one time for five yards and catching a 10-yard pass from quarterback Cole Stoudt

Cole Stoudt
Sr. Quarterback
#18 6-4, 231
Dublin, OH
View Full Profile . Gallman said it was good to get into the flow of the game.
"I would say it was a pretty good experience. I got in and I felt the speed of the game, and I will tell you right now I was ready for it," he said. "I felt like I was pretty prepared. It was a good feeling. I didn't have any missed assignments. I just know that when I got in, I was ready."
It had been almost two years since he had played in a game – suiting up for Grayson as a senior in 2012 – and said he savored every second.
"First thing I took from it was just the crowd and the stadium," he said. "I just took it all in, and it was a great experience."
His one regret came on his reception – it was third down and if he hadn't lost his footing on the Sanford Stadium turf he might have gone for a first down and even further.
"I visualized the play right when I got in. I saw the blitz coming - it was third down and I had all of this stuff running through my head," he said. "I wish I could have kept my feet because I would have done something. I still enjoyed it. I got to get in, and do what I could to help out."
Gallman said that while he would have liked to have played more, he understands why the coaches went with older players.
"It is up to the coaches you know. That was the game plan going in," Gallman said. "Of course I might have wished for that, but I am there for my teammates. I will show them something I may have seen when they were out there. I just want to help them out. "
He then reiterated that he thinks he has the tools to be the kind of running back the offense is looking for.
"I just think I am all around," he said. "Whatever they want me to do, I am going to do it to the best of my ability."
The Tigers host South Carolina State Saturday, and Gallman said it's something he has been looking forward to since he arrived in the summer of 2013, followed once again by the statement that when he finally gets his chance, he will take it.
"I am looking forward to it. I have been dreaming about this since I got to college," he said. "I am prepared for anything. As long as practice goes well and I do what I am supposed to do and learn my calls, I think I will get my chance and when I get my chance I will take it."