| | |
| --- | --- |
| Watson's time starts sooner rather than later | |
---
| | |
| --- | --- |
| Monday, April 14, 2014 9:50 PM | |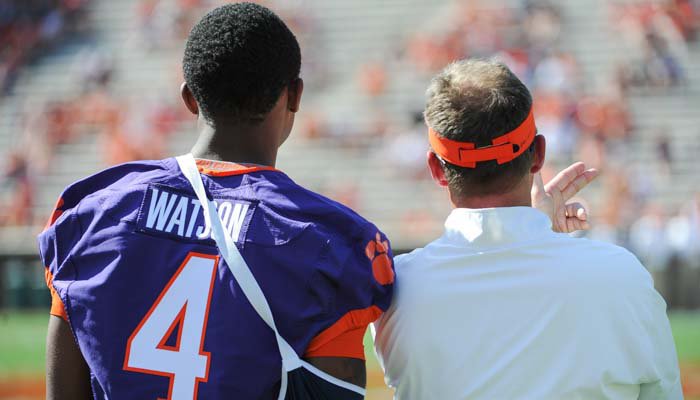 Chad Kelly
Chad Kelly
RS So. Quarterback
#11 6-2, 210
Buffalo, NY
View Full Profile is no longer a part of Clemson's quarterback rotation and somewhere around Clemson, Deshaun Watson

Deshaun Watson
Fr. Quarterback
#4 6-3, 190
Gainesville, GA
View Full Profile is working on rehabilitating his fractured collarbone with a renewed sense of purpose.
Kelly and senior Cole Stoudt

Cole Stoudt
Sr. Quarterback
#18 6-4, 205
Dublin, OH
View Full Profile were locked up in a heated competition for the right to be the starter when Clemson plays at Georgia in late August, while the coaching staff hoped that those two played well enough to hold off the talented Gainesville native long enough for Watson to redshirt, add some muscle and weight and wait his turn.
That process has now been accelerated with the news of Kelly's dismissal, and while it now appears that Stoudt is a lock to be the starter, Watson now has to prepare himself like he's the starter. Why? Despite the presence of Nick Schuessler

Nick Schuessler
RS So. Quarterback
#3 6-3, 185
Grayson, GA
View Full Profile – who did an admirable job Saturday – Watson is like any other backup quarterback and is just one play away from being the starter.
I had already written up some thoughts on Watson and was prepared to post them in another story, but now they seem a little more real and carry a little more weight, and they concerned what I've heard over the past week and what I heard Saturday.
I know, the talented freshman didn't play Saturday. But he was all over the field, chasing Morris from sideline to sideline, and he was very much a part of everything that went on. It would have been easy for him to use the injury as an excuse, but he ran what looked like a couple of miles chasing Morris.
And, I wanted to pass all of this along. I've said from the beginning that I was sure the coaches wanted to redshirt Watson, and that while they said it was a three-way competition, the plan was to redshirt him. However, I had one observer tell me after a recent practice that Watson looked the best of the three during that one practice, and then the high school coach of one of our current players texted me Saturday and said that the current player says Watson is "the truth."
During the game, former quarterback Tajh Boyd

Tajh Boyd
Quarterback (2009 - 2013)
#10 6-1, 225
Hampton, VA
View Full Profile came up to the press box and sat down beside me for a quarter or so, and he told me that Watson is as talented as any quarterback he's ever seen. He then said that he thinks Watson will break all of his records before all is said and done. That's high praise.
Following the game, I asked one player who he thought might be the front-runner heading into the season opener, and he looked around (like he had a secret), put his finger to his lips like he had secret, and whispered Watson's name. Maybe one report like that I can put aside. But when you start hearing how Watson looked as the spring wore on, it makes you think that that just maybe Watson will be as good as advertised.
Now, things have changed, and while Schuessler will get more and more reps, there is no doubt that this will be a two-way competition in the fall. Watson has to prepare like he will be the starter. How much will he play? Can he unseat Stoudt? Would the coaches let Schuessler be the backup and still try and redshirt Watson, hoping beyond hope that Stoudt stays healthy all season?
Those questions won't be answered right now, and we won't really get a chance to talk to any of the coaches until July. That's a long time to wait, a long time to have questions. As of right now, however, we can only speculate that the Deshaun Watson era will begin sooner rather than later.
I had another player tell me that while Watson displayed plenty of moxie during spring practice, he thought a redshirt year would be best for the freshman. Redshirt years worked wonders for Jameis Winston and Johnny Manziel, and no doubt could help Watson. But if he is indeed The Truth, the truth is about to be let out in a big way.