| | |
| --- | --- |
| Watson's sprained LCL - What does it mean? | |
---
| | |
| --- | --- |
| Thursday, November 20, 2014 9:17 AM | |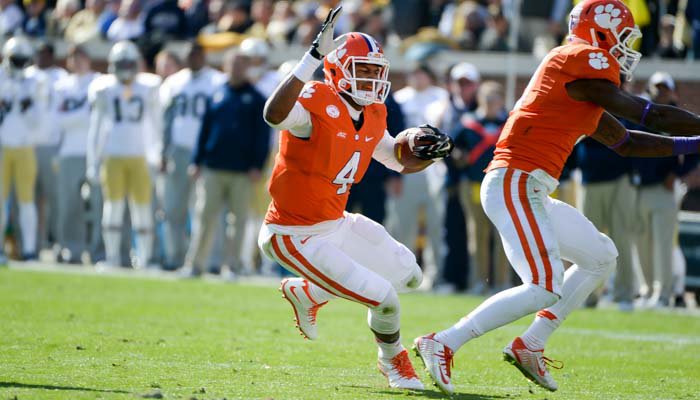 When the news broke late Sunday evening that Clemson Deshaun Watson

Deshaun Watson
Fr. Quarterback
#4 6-3, 204
Gainesville, GA
View Full Profile had a sprained LCL and not a torn ACL, the first thought that crossed my mind was that it was a piece of good news on what had otherwise been a downer of a weekend.
My second thought was…he sprained his what?
Clemson media relations released the news of Watson's injury, and it immediately inspired Google searches of the injury, the recovery time and documented cases. Still, I thought it would be better to talk to someone who deals with these kinds of injuries so I called Dr. Shay Koch of Piedmont Orthopaedics in Greenville.
Koch is not only my doctor, but he served a sports medicine orthopedic internship at the University of Utah, served as one of the team's physicians and currently is one of the team physicians for the Furman Paladins and the CESA soccer club.
Koch obviously hasn't seen Watson's MRI and can't comment on Deshaun Watson's situation, but I asked him some general questions about the injury and recovery time. The first step on our call was him educating me on exactly what the LCL is and how it functions.
"The LCL is on the outside of the knee. It is a structure called the fibular collateral ligament - that is what it is most commonly called," Koch said. "It attaches the fibula to the femur, which is the thigh bone. The fibula is the small bone on the outside of your leg and it provides stability to what is called 'varus stress.' If I hold your ankle with one hand and push with my other hand just below your knee so that it is pushing your knee out, as if it was bowlegged, that is a varus stress. The LCL provides stability to protect the knee from that stress."
Koch said that watching the replay of injury makes it easier to see how the injury might have happened.
"So if you watch the replay you guys had on TigerNet, when he steps with the left leg, his knee is kind of going away from him but his ankle is coming underneath him, and that would have been the moment- I think - when the stretch injury to that ligament might have occurred," Koch said. "It is pretty rare to injure that, especially in isolation. If you were to tear the LCL, you are typically going to also injure other ligaments like the ACL and PCL in the middle of the knee. Strain is a different story, but's it's pretty rare to just have that. If you tear the other two ligaments on the outside of the knee in addition to the LCL, that is called a PLC or posterolateral corner injury. A good reference would be what Marcus Lattimore had with his knee dislocation. I believe he had an ACL, PCL and PLC injury on that one knee."
He then said, "This type of injury happens due to trauma, not overuse. It is usually caused by contact sports, or maybe a car injury or a direct blow or force to the leg when a person is putting weight on it. Even a bad hyper-extension injury can stress the LCL significantly," Koch said.
So, how long would it take to recover from this type of injury? It depends on which "grade" the injury is given or what the exam is like.
"It just really depends, and that's the hard part with the limited information the public is given. There are different ways of classifying sprains - Grade 1 is very minimal, Grade 2 is partial and Grade 3 is complete. Three is surgery," Koch said. "Based on a physical exam where you test the varus stress, if the knee opens up 5mm or less, it is a Grade 1. If it opens 6-10 mm, it's a Grade 2 and greater than 10 mm is a Grade 3. So if it's Grade 1, it is going to be day-to-day. You aren't going to know until you get him out there running and get him on a bike. You want to see that he can do the simple things and do them well, without complaining about any pain or any issues. Some facilities will have anti-gravity treadmills or underwater treadmills to help with this process. The hard part is, we don't know what his MRI looks like. It could be something minor or it could be a little more. We just don't know that."
He said he wouldn't rule out that an elite athlete could return from that type of injury in a small window of time but said the injuries are so rare it's hard to completely give a solid time frame.
"It is very rare, you just don't see an isolated LCL injury often," Koch said. "For a minimal strain, I would not put it out of the realm of possibility for an elite-level athlete who has great doctors and great therapists, like he has, to be able to return from injuries sooner than the average person. Two weeks, I would say that it's possible. It just depends on how much he is affected by it, and what the true injury is."