| | |
| --- | --- |
| Watson's knee surgery is best for all involved | |
---
| | |
| --- | --- |
| Wednesday, December 10, 2014 11:54 AM | |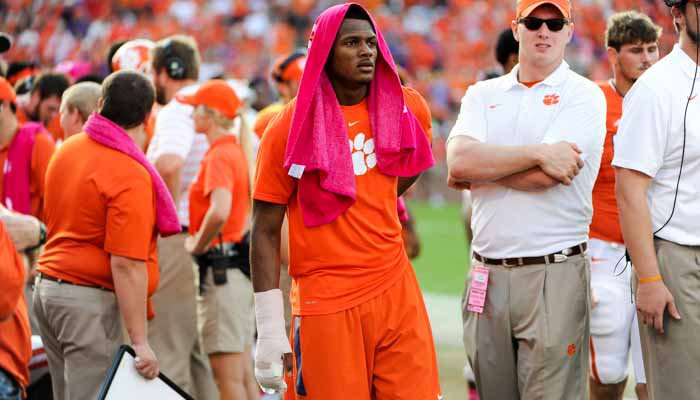 CLEMSON – Deshaun Watson

Deshaun Watson
Fr. Quarterback
#4 6-3, 204
Gainesville, GA
View Full Profile 's surgery is the best news that Clemson fans who care about the long-term future of the program could have received this holiday season.
We posted this on the board late Monday and again Tuesday that Watson will have surgery to repair his torn ACL later this week. TigerNet spoke with a couple of sources close to the situation and we were told that the surgery will happen Friday.
Provided Watson does have his surgery this week, he completes his true freshmen season with a stellar statline in limited duty: 67.9 completion rate for 1,466 yards (10.7 per attempt) and 14 touchdowns against two interceptions. Watson also rushed for five scores.
Clemson head coach Dabo Swinney

Dabo Swinney
Head Coach
View Full Profile hinted to the media during Sunday's conference call with the media that surgery was a possibility.
"Deshaun is available for the bowl game," Swinney said. "We are going to make a decision. We might go ahead and do surgery and try to get a three-week head start on his rehab. He has a good eight months of rehab and we want him available for skills and drills this summer. So we will visit on that, and make a decision in the next day or so on that. We will make a decision in the next day or so. I have literally been on the road every day since the South Carolina game, and I haven't had an opportunity to be involved in that. But I am off until Thursday and we will talk about that tonight and tomorrow and make a decision and keep moving forward."
Swinney told the media following Clemson's 35-17 win over South Carolina on November 29th that the Gainesville (GA) native played with the torn ACL, an injury he suffered in a late-week practice just before the penultimate home game against Georgia St.
Watson's availability for the rivalry game was in question, but he played and finished 14-of-19 for 269 yards and two touchdowns. He also had five carries for 13 yards and two scores, but left the game twice when the tight brace he was wearing caused discomfort in his calf.
Swinney also said after the game that Watson would be available for the bowl game, but his response on Sunday seems to indicate that the coaching staff would rather concentrate on next season and getting Watson healthy than having him play in the bowl game.
Watson has been outstanding during his time on the field this season – a quarterback rating of 188.57 and he has thrown for 1,466 yards and 14 touchdowns with just two interceptions.
And it's because we recognize how special Watson is – and can be – that it's best the team go ahead and perform the surgery, even if it means dampening the Tigers' chances of defeating Oklahoma in the December 29th Russell Athletic Bowl.
Does Watson – even an injured one – give Clemson the best chance to win the bowl game? Absolutely. And there are still things to play for.
A victory against the Sooners would give the program its fourth consecutive 10-win season, which is no small feat. The program has not achieved that feat since a dominating stretch from 1987 to 1990. It would also give the Tigers a third consecutive bowl win over a national power – Clemson defeated LSU two years ago and Ohio St. last season.
And, let's face it, the program would probably sell a lot of more bowl tickets if it announced that Watson would play against the Sooners.
None of that is worth the risk.
Swinney said that Watson played against the Gamecocks because he could not damage the knee further, but Watson had to leave the game twice because the brace used to stabilize his leg caused discomfort in his calf and caused his lower leg to lock up. If that happened during the heat of a play, Watson could take the kind of hit that damages more than just the knee. Fortunately for Clemson and Watson, he was able to make it to the sidelines both times and avoided contact. That doesn't minimize the fact, however, that if his mobility is not what it should be then his safety is compromised.
Most orthopedic surgeons will tell you that recovery time from the surgery is at a minimum six months and can sometimes be as long as nine months. Initiating the process now presumably would allow Watson to participate in the summer skill and drill sessions, and there is no doubt that Watson needs to add strength and weight during this offseason, especially if his running ability is going to be a part of the offense going forward.
Add in the fact that Watson has suffered four significant injuries in the last eight months – a slight collarbone crack he suffered in April, the bone he broke in his throwing hand in October, the LCL injury he suffered at Georgia Tech and now the ACL. Having a healthy Watson complete the summer weight and conditioning programs could help prevent the wear and tear he has suffered since arriving on campus.
None of that takes into account that while a 10-win season would be nice, Clemson has a realistic chance to chase more than that over the next two or three seasons – the Tigers have a bevy of talented playmakers already on campus and more will arrive in the next few months. Add in some new offensive linemen and a defense that appears to be reloading each year and the Tigers could be chasing another ACC Atlantic Division title, a berth in the ACC Championship Game and could be positioned for a legitimate run at the College Football Playoff.
And finally, we need to take into account Watson himself. I've written before that one NFL executive raved to me about Watson's future and said that he could be the best player in college football in two years and would definitely be one of the top five next season. He also has a future in the NFL if he continues to progress. None of that needs to be jeopardized in a bowl game.
Get better Deshaun, this program needs you for more than just the bowl game.