| | |
| --- | --- |
| Watson's goal line statement: This is what champions are made of | |
---
| | |
| --- | --- |
| Saturday, November 7, 2015 9:17 PM | |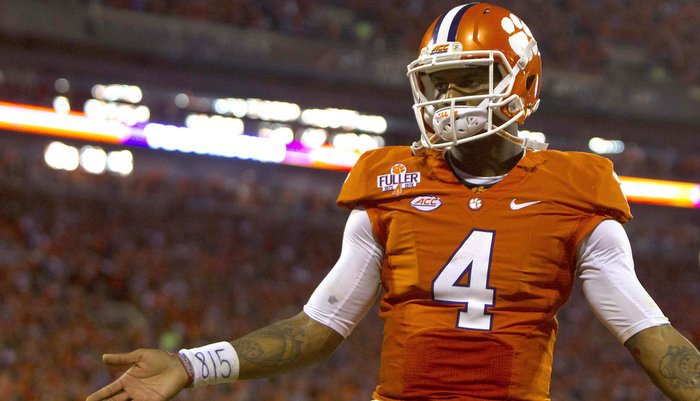 CLEMSON –This is what champions are made of.
Clemson's thrilling 23-13 victory over Florida St. Saturday afternoon a win set up by a conversation on the goal line, a conversation that reminded everyone that a championship was on the line.
It was a relieved and happy bunch of players and coaches that met with the media outside of Clemson's locker room following the top-ranked Tigers' 23-13 victory over Florida St. Saturday evening, the thumping of the bass and the loud music were evident to anyone close to the locker room as recruits, parents, coaches and players alike celebrated the ACC Atlantic-clinching win.
The win was set up, however, by a tenacious defense and a conversation that quarterback Deshaun Watson had with his offensive line early in the fourth quarter.
NFL lore says that quarterback Joe Montana had such a conversation in 1989 in the Super Bowl against Cincinnati. Facing a long field and trailing by three with 3:20 left to play, Montana spotted actor John Candy in the stands. He then led the 49ers 92 yards, throwing for the winning touchdown with 34 seconds left, his unflappable nature setting his teammates at ease.
With the score tied at 13-13 and 11:59 remaining in the game, the Seminoles punted and pinned the Tigers at their own eight-yard line. With their backs against the wall and the Seminole band blaring the Tomahawk Chop in their ears, Clemson's offensive line turned to its leader, who had a simple message.
"He was just smiling at us," center Jay Guillermo told TigerNet after the game. "We were all smiling. He told us this is what we had worked for all during the summer. He then told us to just go out there and have fun and take over. That's what we did. We were saying we had to go get it. Whenever I say Deshaun is calm, cool and collected people don't believe me. But we were out there laughing and joking. Don't get me wrong - we were focused and we were trying to win the game. But we knew we couldn't let the situation get the best of us to where we mess up. If you're calm and cool you are going to play to your potential."
The drive lasted 11 plays and ended with a Greg Huegel field goal with just over seven minutes to play, breaking the tie and giving the Tigers their second lead of the game at 16-13. Florida St.'s ensuing drive was snuffed on fourth down, and Wayne Gallman inserted the dagger with a 25-yard touchdown run with just over two minutes to play. The final 11 minutes of offense were set up by that conversation.
"I just told them this is what we came here for," Watson said after the game. "We were all smiling, and we knew that it was time for us to take over. We knew they weren't going to just come up here and give us the game. We knew we had to work for it. I couldn't let myself get down and the other guys kept pushing me."
Watson said his message to his offensive line and receivers was simple – have fun.
"We just had to get back to having fun again," Watson said. "We were down there and I told them I loved them. But I told them this is what we came here to do, is win championships. Let's make a play and do what we do. That's what we did there in the fourth quarter, and that's what we did."
Senior left guard Eric Mac Lain said none of the offensive players were rattled by the situation.
"It was just an awesome moment," Mac Lain said. "We all just started laughing and he looked at us and just smiled. He said, 'This is what we work for all summer. This is what championships are made of. This is what championship teams are made of.' We were just excited because it was all on us. We knew we just needed some first downs and it would be game over. It was exciting."