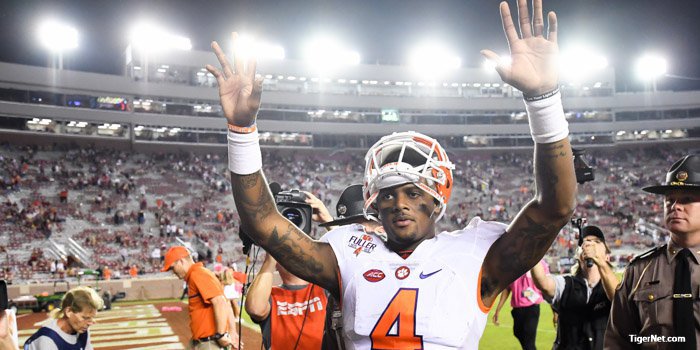 | | |
| --- | --- |
| Watson's Heisman-like fourth quarter sends Clemson to victory | |
---
TALLAHASSEE, FL – Early in the fourth quarter Saturday night in Tallahassee, the Florida St. crowd was rocking, Dalvin Cook was rolling and Deshaun Watson and Clemson's offense was eerily quiet.
Watson and Clemson were the ones still standing at the final call, long after midnight.
Florida St. scored on Cook's 70-yard touchdown run late in the third quarter for a 28-20 lead, and as the third quarter transitioned into the fourth quarter Cook was cementing his place in New York for the Heisman ceremonies while Watson and the Tigers were thinking more about a long trip back home rather than thoughts of New York.
Then a funny thing happened along the way. Deshaun Watson, who had earlier thrown two critical interceptions that turned into 14 Seminole points, turned into the Deshaun Watson we've been expecting to see, leading three late scoring drives and helping the third-ranked Tigers escape Doak Campbell with a thrilling 37-34 victory.
Following Cook's long touchdown – and all in the decisive fourth quarter - Watson was 7-for-11 for 134 yards and a touchdown. He tied his season-high with 378 yards on 27-of-43 passing to help the Tigers win at FSU for the first time since 2006 and extend their 14-game winning streak against ACC teams.
Watson's message to running back Wayne Gallman and the entire offense was simple.
"Drive. Just drive," Gallman said of Watson's only words in the fourth quarter. "We've been in this situation so many times, so we never panicked. Deshaun was just calm in the pocket, and we take our cue from him. We really didn't panic. We knew we were going to win."
Tight end Jordan Leggett said Watson was his typical quiet self, and simply led the Tigers down the field by example.
"He really couldn't say too much, because Coach Swinney was doing so much talking," Leggett said with a smile. "But, we knew we were going to win. Deshaun and this team, we've been in this situation so many times before. He's so calm back there, and the rest of the offense sees that. There was never a thought we were going to lose."
Head coach Dabo Swinney says it doesn't matter what anybody else thinks, Watson is a winner.
"I think he's the best player in the country. I'm not really worried about the Heisman stuff," Swinney said. "You can't be better than 8-0. He's pretty special. He answers the bell. He's not perfect. He's not a robot but I don't know any other player out there who is. I really don't. He's a winner. He's 26-2 as a starter. Just a special, special player. The other people can decide all of that. I know if I'm starting a team, I'm picking Deshaun Watson right now, no question about it. I know I'm biased, but I'm into winning and that's what he's into. All of that other stuff, other people can figure that out."
Co-offensive coordinator Tony Elliott said Watson will be critical of his performance, Elliott used a baseball analogy to say that Watson never quits.
"The film will tell but he's going to be his own worst critic. He'll focus on the two interceptions but I think he threw for over 370 yards and ran for over 50 yards and managed the system well," Swinney said. "Obviously, he got sacked four times and that's something we have to clean up but I thought he played well. He's got the heart of a champion. The thing I love about Deshaun is he doesn't crumble and he doesn't break when he has a mistake. He understands and he's down on himself a little bit but he just keeps on playing, keeps on swinging and that's why you see great things happen for him."
Elliott didn't mince words when he said what he thinks of Watson.
"I feel blessed to have the best quarterback in the country. Obviously, a million other people are going to say different things but I believe he's the best player in the country," Elliott said. "He's got unbelievable poise, unbelievable knowledge. He prepares well. He's not perfect and he's going to make a mistake or two. They're all young people who are going to make mistakes, just like myself. There are a couple of calls I wish I had back tonight. He keeps on fighting and when you know you've got him out there it allows me to stay calm and allows me to stay with the gameplan and not abandon what we're doing. These guys know how to win."

Upgrade Your Account
Unlock premium boards and exclusive features (e.g. ad-free) by upgrading your account today.
Upgrade Now