| | |
| --- | --- |
| Watson speaks out on his injury, coaching rumors and his goals | |
---
| | |
| --- | --- |
| Friday, December 20, 2013 3:11 PM | |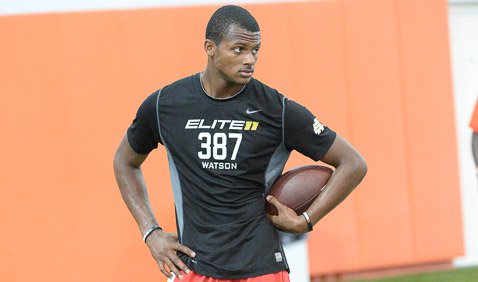 CLEMSON – Deshaun Watson and Chad Morris walked out of Clemson's indoor practice facility late Thursday afternoon, the two sharing a laugh while talking about football and Clemson's upcoming bowl trip, a scene that should be repeated often over the next several months.
Watson will enroll in Clemson in January, and he told TigerNet after the visit that he simply wanted to come up and enjoy a Clemson practice for the last time as a recruit – the next time he attends a Clemson practice he will be in a Clemson uniform.
"I just wanted to come out here and hang out with the team before they head down to Miami," Watson said. "I also wanted to see the coaches one last time before I come back up here and become an official part of the time. I called Coach Morris and told him I was coming up, and he said they were excited and fired up to get me up here and on campus."
Watson walked without a limp, a good sign for the Gainesville star after a knee injury late last month threatened to put his spring practice plans on hold.
The Red Elephants were taking on No. 1 seed Tucker in the Class AAAAA state semifinals at Hallford Stadium in Clarkston, and Tucker had just taken a 20-14 lead with just over two minutes remaining when Watson, in an effort to try and rally his team, took the hit. It was later feared that he might have torn ligaments in his knee, but an MRI last weekend showed an MCL sprain, and he should be able to resume football activities in six weeks or so.
"It was great to get the news and know that I didn't have to have surgery, and that my treatment and rehab would be easier than if I had to have had surgery and start all over again, so that was good," Watson said. "At first, I thought it was a little stinger – I have had those before – and I played through it. Then they told me that it might be an MCL, so that scared me a little bit. But they tell me this is the best knee injury you can have, so I am happy with that."
Watson will enroll in Clemson in January, and I asked him if seeing his future coaches' names linked to other jobs bothered him or made him reconsider his college choice, and he said no, that he will enroll regardless of who will be his coach.
"It doesn't bother me at all. I really didn't choose a place because of the head coach. I am the type of person that I know I will have to be here for the next four years," he said. "I chose Clemson because I love Clemson and this is where I want to be. But I trust the coaches, and I know they are going to be honest and up front with me. If they are interested in or talking to other schools, I know they are going to talk to me first. I know that beforehand and that just makes it easier."
Watson's arrival on campus will mark the beginning of a three-way quarterback battle in the spring, a battle that will feature veteran Cole Stoudt, the talented Chad Kelly and Watson. It's a battle that Watson thinks he can win.
"I think I can. I am always ready to compete. The coach says it is an open job, and that is my mentality coming in," he said. "I want to come in and win it, do my best and be myself. I think I am ready and prepared, but I guess we will just have to wait and see. But coming in early will give me a head start on things, and I feel like I will be able to catch up on stuff."
Clemson was Watson's first offer, and Morris has watched as Watson set record after record at Gainesville - he set the state record for passing yards (13,077) and accounted for over 16,000 total yards with 218 touchdowns.
"What he's done in Georgia and the records he's broken have been pretty remarkable in just three years essentially," Morris said earlier this week. "Led his team to a state championship and got beat one game shy of it this year. Very talented, very athletic. He's a playmaker – there's no question about that."
Morris said that if Watson wants to step in and play, he has a long ways to go before he can replace someone like Tajh Boyd.
"He's got huge shoes to fill," Morris said. "Not just his play on the field, but how he handles it off the field. To me, that's the sign of what Tajh has meant to this university and program. He truly has been the face of this university."
Watson thinks he is up to that task, and said that he dreams of taking the Clemson program to even greater heights than Boyd, and when he looks at young quarterbacks like Johnny Manziel and Jameis Winston having early success, he believes he can accomplish those goals.
"I would love to lead this team to a championship every year. I want to win two national championships, a Heisman, all of the big goals. Those are my goals," he said. "I always look at those players and it doesn't matter what grade you are in or how old you are. You just have to come in and be ready to play. If you do that, the rest will take care of itself."