| | |
| --- | --- |
| Watson shines as Clemson outlasts North Carolina 50-35 | |
---
| | |
| --- | --- |
| Saturday, September 27, 2014 10:52 PM | |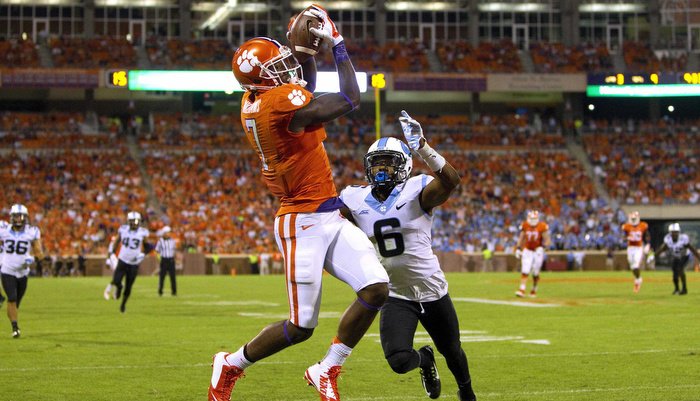 CLEMSON – It's really elementary my dear Watson.
It doesn't take a person with the investigative skills of the iconic Sherlock Holmes to understand that freshman quarterback Deshaun Watson

Deshaun Watson
Fr. Quarterback
#4 6-3, 204
Gainesville, GA
View Full Profile is going to be special. Watson completed 27-of-36 for 435 yards and six touchdowns as Clemson defeated North Carolina 50-35 in Death Valley Saturday night.
Watson's six touchdowns are a Clemson program record and an ACC record for a freshman, and the 435 yards were just 20 yards shy of Tajh Boyd

Tajh Boyd
Quarterback (2009 - 2013)
#10 6-1, 225
Hampton, VA
View Full Profile 's program record 455 yards set at Syracuse last season. And Watson did all of his damage in just his first career start.
Clemson's defense was dominant for much of the first half, but gave up four touchdowns and wound up giving up 478 total yards to the Heels. The outcome wasn't decided until Robert Smith

Robert Smith
Sr. Safety
#27 5-11, 211
St. George, SC
View Full Profile 's interception in the end zone late in the game stalled a North Carolina drive.
The night belonged to Watson, however; It didn't take the Tigers long to get on the scoreboard – Watson hit a wide-open Germone Hopper

Germone Hopper
RS So. Wide Receiver
#5 6-0, 175
Charlotte, NC
View Full Profile on Clemson's second play from scrimmage for a 74-yard touchdown, Clemson's longest offensive play of the year.
The teams traded punts, and the Tigers ended the first quarter by getting a 27-yard field goal from Ammon Lakip

Ammon Lakip
RS Jr. Kicker
#36 5-10, 200
Alpharetta, GA
View Full Profile for a 10-0 lead.
It didn't take long for the Tigers to increase the lead, and this time Watson brought the crowd to its feet from the flat of his back. With the ball spotted at midfield, Watson lofted a pass down the left sideline and Hopper ran under the pass in stride for the 50-yard touchdown. Watson was hit on the play, and from his back pointed both arms skyward in celebration as the Tigers took a 17-0 lead just two minutes into the second quarter.
Cole Stoudt

Cole Stoudt
Sr. Quarterback
#18 6-4, 231
Dublin, OH
View Full Profile replaced Watson on Clemson's next possession and led the Tigers to a score, Lakip hitting a 45-yarder for a 20-0 Clemson lead with 9:47 remaining in the half. The final points of the half were scored when Clemson's defense forced a safety. UNC quarterback Marquise Williams – throwing from the end zone – threw a pass towards the sideline and was called for intentional grounding. Shaq Lawson

Shaq Lawson
So. Defensive End
#90 6-3, 269
Central, SC
View Full Profile was credited with a 12-yard sack and the safety was called as the Tigers led 22-7 at intermission.
Watson proved he was human, throwing an interception on the first series of the second half, and the Heels made the Tigers pay. UNC took over at their own 44 yard line, and five plays later Williams hit T.J. Thorpe on a quick slant that Thorpe turned into a 41-yard touchdown and the lead was just 22-14.
Clemson's offense finally got back on track on the ensuing possession, and it was Watson and receiver Mike Williams

Mike Williams
So. Wide Receiver
#7 6-5, 208
Vance, SC
View Full Profile that made it happen. Facing a 3rd-and-4 at their own 44, Watson rolled out of the pocket and hit Williams for a 31-yard gain to the UNC 25, and three plays later Watson hit Williams in the corner of the end zone for a 24-yard score and a 29-14 lead.
Clemson's defense forced a punt, and it Watson to Williams again for the score. Williams broke open over the middle and danced into the end zone to complete the 31-yard play for a 36-14 Clemson lead with just over eight minutes remaining in the third quarter.
The Heels responded in quick fashion, however, and Williams hit Quinshad Davis on a two-yard pass on fourth down that trimmed Clemson's advantage to just 36-21.
Watson continued to set Clemson program and freshman records, hitting Artavis Scott

Artavis Scott
Fr. Wide Receiver
#3 5-11, 190
Oldsmar, FL
View Full Profile over the middle on the second play of the fourth quarter for a 33-yard touchdown. Scott caught the ball around the seven yard line, bullied his way to the two and then continued fighting to get into the endzone for the 43-21 lead.
It took UNC exactly one play to answer – Williams hit Switzer on a quick slant and Switzer out-raced all Clemson defenders into the end zone to complete the 75-yard touchdown, and it was 43-28 with 14:30 remaining in the game.
Watson then set Clemson and ACC records on his next drive – Watson hit Jordan Leggett

Jordan Leggett
So. Tight End
#16 6-5, 251
Navarre, FL
View Full Profile in the corner of the end zone to complete a five-yard scoring toss, and with the 50-28 lead Watson set a Clemson record with his sixth touchdown pass. It also broke the ACC record for a freshman – five by Chris Rix of FSU and Phillip Rivers of N.C. State – with the sixth toss.
The Heels got a nine-yard run from Elijah Hood on North Carolina's next drive that made it 50-35, and Clemson's coaches put in senior Cole Stoudt on the next drive. That drive turned into a quick three-and-out, and following a Clemson punt North Carolina drove back down the field.
However, senior safety Robert Smith iced the win and killed the drive by intercepting Williams in the end zone with 2:25 remaining, and the Tigers took over at their own 20-yard line.

Score by Quarters     1  2  3  4   Score

-----------------    -- -- -- --   -----

North Carolina......  0  7 14 14  - 35       Record: (2-2,0-1)

Clemson............. 10 12 14 14  - 50       Record: (2-2,1-1)

Scoring Summary:

1st 12:34 CU - Germone Hopper 74 yd pass from Deshaun Watson (Ammon Lakip kick), 2-72 0:35, NC 0 - CU 7

    00:42 CU - Ammon Lakip 27 yd field goal, 8-34 3:06, NC 0 - CU 10

2nd 12:53 CU - Germone Hopper 50 yd pass from Deshaun Watson (Ammon Lakip kick), 6-62 1:56, NC 0 - CU 17

    09:47 CU - Ammon Lakip 45 yd field goal, 4-15 1:26, NC 0 - CU 20

    06:45 NC - Mack Hollins 17 yd pass from Marquise Williams (Nick Weiler kick), 10-75 3:02, NC 7 - CU 20

    03:13 CU - Shaq Lawson safety, , NC 7 - CU 22

3rd 12:17 NC - T.J. Thorpe 41 yd pass from Marquise Williams (Nick Weiler kick), 5-56 1:34, NC 14 - CU 22

    09:30 CU - Mike Williams 24 yd pass from Deshaun Watson (Ammon Lakip kick), 8-75 2:47, NC 14 - CU 29

    06:21 CU - Mike Williams 33 yd pass from Deshaun Watson (Ammon Lakip kick), 4-64 1:18, NC 14 - CU 36

    03:51 NC - Quinshad Davis 2 yd pass from Marquise Williams (Nick Weiler kick), 7-80 2:24, NC 21 - CU 36

4th 14:44 CU - Artavis Scott 33 yd pass from Deshaun Watson (Ammon Lakip kick), 11-75 4:07, NC 21 - CU 43

    14:30 NC - Ryan Switzer 75 yd pass from Marquise Williams (Nick Weiler kick), 1-75 0:14, NC 28 - CU 43

    05:56 CU - Jordan Leggett 5 yd pass from Deshaun Watson (Ammon Lakip kick), 12-84 4:58, NC 28 - CU 50

    05:08 NC - Elijah Hood 9 yd run (Nick Weiler kick), 4-58 0:43, NC 35 - CU 50

                                     NC       CU

FIRST DOWNS...................       22       27

RUSHES-YARDS (NET)............    30-84    44-92

PASSING YDS (NET).............      394      436

Passes Att-Comp-Int...........  49-30-1  39-28-1

TOTAL OFFENSE PLAYS-YARDS.....   79-478   83-528

Fumble Returns-Yards..........      0-0      0-0

Punt Returns-Yards............     4-22     3-20

Kickoff Returns-Yards.........    5-103     3-52

Interception Returns-Yards....      1-7      1-0

Punts (Number-Avg)............   8-43.1   5-46.6

Fumbles-Lost..................      0-0      1-0

Penalties-Yards...............   15-130     4-19

Possession Time...............    25:52    34:08

Third-Down Conversions........  8 of 18 10 of 18

Fourth-Down Conversions.......   1 of 1   0 of 0

Red-Zone Scores-Chances.......      3-4      2-2

Sacks By: Number-Yards........     3-19     3-31



RUSHING: North Carolina-Elijah Hood 13-71; Mitch Trubisky 3-13; Romar

Morris 5-2; Ryan Switzer 1-1; Khris Francis 1-0; Marquise Williams 7-minus 3.

Clemson-C.J. Davidson 9-32; D.J. Howard 13-31; Deshaun Watson 11-28; Adam Choice

3-5; Wayne Gallman 1-4; Germone Hopper 1-0; Cole Stoudt 2-minus 1; TEAM 3-minus

3; Adam Humphries 1-minus 4.

PASSING: North Carolina-Marquise Williams 24-38-1-345; Mitch Trubisky

6-11-0-49. Clemson-Deshaun Watson 27-36-1-435; Cole Stoudt 1-3-0-1.

RECEIVING: North Carolina-Bug Howard 5-50; Quinshad Davis 4-48; Romar

Morris 4-minus 1; Ryan Switzer 3-87; Mack Hollins 3-35; Jack Tabb 3-31; T.J.

Logan 2-1; Eric Albright 1-67; T.J. Thorpe 1-41; Austin Proehl 1-20; Kendrick

Singleton 1-11; Khris Francis 1-7; Elijah Hood 1-minus 3. Clemson-Artavis Scott

8-66; Mike Williams 6-122; Adam Humphries 4-26; Germone Hopper 3-139; C.J.

Davidson 2-12; Stanton Seckinger 1-27; Demarre Kitt 1-27; D.J. Howard 1-8;

Jordan Leggett 1-5; Wayne Gallman 1-4.

INTERCEPTIONS: North Carolina-Sam Smiley 1-7. Clemson-Robert Smith 1-0.

FUMBLES: North Carolina-None. Clemson-Adam Humphries 1-0.

Stadium: Memorial Stadium      Attendance: 79155

Kickoff time: 7:07 PM   End of Game: 10:41 PM  Total elapsed time: 3:34

Officials: Referee: Dennis Hannigan; Umpire: Troy Riley; Linesman: John Hoffmann;

Line judge: Rick Page; Back judge: Gary Dancewicz; Field judge: Billy Beckett;

Side judge: Watts Key;

Temperature: 75 deg    Wind: Calm      Weather: Partly cloudy