| | |
| --- | --- |
| Watson says adversity won't change the way he plays | |
---
| | |
| --- | --- |
| Thursday, September 24, 2015 11:02 AM | |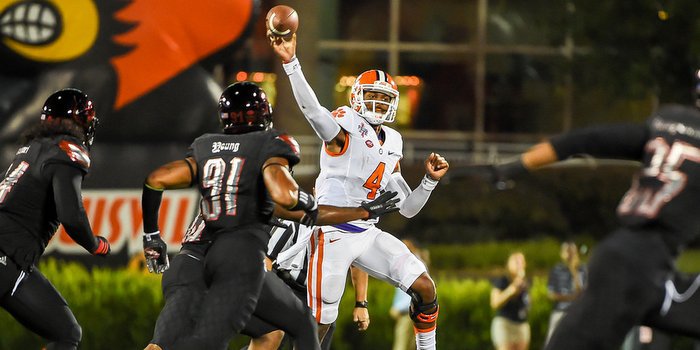 LOUISVILLE, KY – Following Clemson's 20-17 win over Louisville last Thursday, quarterback Deshaun Watson

Deshaun Watson
So. Quarterback
#4 6-2, 207
Gainesville, GA
View Full Profile was the subject of speculation with Clemson who wondered: Is something wrong with the sophomore signal caller? The answer is no.
Watson was 21-for-30 for 199 yards with two touchdowns and two interceptions. Watson also carried the ball 12 times for 54 yards, and the Gainesville native was good enough for the Tigers to pull out a tough road win.
Head coach Dabo Swinney

Dabo Swinney
Head Coach
View Full Profile says that Watson will be one of the ones disappointed in the performance, especially after missing a couple of throws that might have changed the outcome.
"He played pretty good. He was 21 of 30 and had two big touchdown strikes. Big ones - ran the ball well, made some big plays," Swinney said. "What he's going to tell you is he's going to be real disappointed with two missed throws. The one to (Jordan) Leggett he either scores or its bout 40-yards. Because we had the right call, against the right blitz, and they turned him loose. And he just kind of got a little antsy and he just kind of threw it off the wrong foot and just kind of threw it in the ground."
Swinney then reminded the media that Watson won't be perfect every time he takes the field.
"Hey, I mean he ain't perfect. He's going to make some mistakes. What a leader, what toughness he showed out there tonight," Swinney said. "Did a great job of getting us into the right place. He made a couple of checks that led to big plays for us so I just thought he managed the game well and he's going to be sick with a couple of plays but (others) are going to be sick too. We ran the angle route that probably scores or gets inside the 10 and we drop it on third down. I think we were 5 of 14 on third down. We missed a couple of them so we should have been right around 50 percent which would have been a huge, huge accomplishment for us. So we'll get better. We'll get better. He hasn't had any adversity either. You got to understand this kid, it's been a lot of success for him, coming out of the gate here, so it's good to see him respond here."
Watson admitted that he was a little amped up for the road start.
"I guess you could say that. I was prepared and ready to play," Watson said. "I've been waiting for this moment my whole career, so it was a blessing to be out here in this environment, so it was great."
Watson said his missed throw to Leggett was because he thought he had a big play and rushed his throw.
"I tried to hit him with something, you know, I usually never do," he said. "I usually always sit back and be calm, and it was one of those things that I kinda tried and rush it and try to hurry up and get it there. My foot got caught in the turf. But it's one of those things I can correct."
Watson was at his best, but said he won't let the interceptions change how he plays the game.
"I wasn't the sharpest. But it doesn't really matter how I play as long as we get the W," he said. "Those guys made some good plays, and interceptions are going to happen. It's part of the game. People are going to make plays on us and we are going to make plays on them. The interceptions don't discourage me. I am just going to learn from it."
Swinney said Wednesday night that he doesn't understand some of the talk that Watson has been off.
"Overall on the season after three games, he's done exactly what we've asked him to do. He's taken what's been there, he's made some big throws when he's needed to, and he's extended plays. He's run the ball effectively. He's made some great checks. He's gotten us into some right protections. He's not made a whole lot of mistakes. In fact, Louisville was his best game of the three. It was his highest grade of the three games. I just kind of laugh when I hear some of the rhetoric that he had an off night. I'm not quite sure what an on night is if that is an off night. I'll take that every night. He played a great game. Technique wise, grade wise, effort wise it was his best performance of the year."