| | |
| --- | --- |
| Watson on Notre Dame: "Who wouldn't want to come to that game?" | |
---
| | |
| --- | --- |
| Saturday, September 26, 2015 9:42 PM | |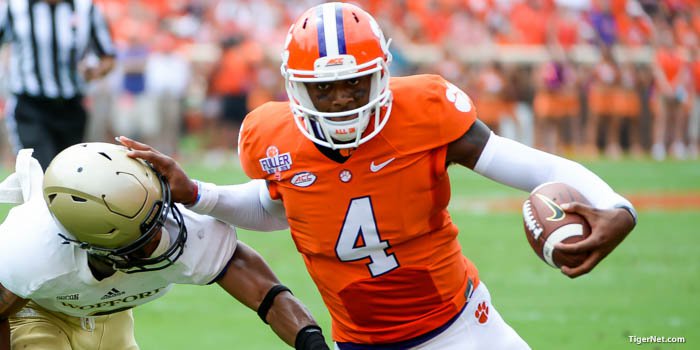 CLEMSON – Clemson versus Notre Dame under the lights in a sold-out and electric Death Valley. What could be better?
The Atlantic Coast Conference announced early Monday that the No. 11 Tigers (3-0) and No. 6 Fighting Irish would square at 8 p.m. on ABC on October 3rd, a primetime slot for a primetime matchup between two schools that are eyeing the College Football Playoff this season.
The Irish are led by quarterback Deshone Kizer who destroyed UMass 62-27 on Saturday. The Tigers are off this week and will use the time to prepare for Notre Dame in what head coach Dabo Swinney

Dabo Swinney
Head Coach
View Full Profile said should be a great matchup.
"I'm looking forward to moving forward and enjoying this open date and getting a head start on Notre Dame," Swinney said. "Our mentality is the same, the biggest game of the year is now Notre Dame. An opportunity to play a great team. It should be a great matchup and a great night in the Valley."
The most famous meeting between the two schools in any sport took place on November 12, 1977, when a pair of top 15 football teams met in Clemson's Death Valley. A fifth-ranked Notre Dame football team led by Joe Montana defeated a 15th-ranked Clemson team led by Steve Fuller, 21-17. Notre Dame went on to win the National Championship. Thirty-six players in that game went on to play in the NFL.
Clemson came back to win at Notre Dame two years later, 16-10. It was just the second time in the last 40 years (1940-79) that Notre Dame's seniors lost their last home game. Billy Lott scored a touchdown late in the game to give Clemson the win and overcome a 10-0 deficit.
Clemson quarterback Deshaun Watson

Deshaun Watson
So. Quarterback
#4 6-2, 207
Gainesville, GA
View Full Profile said Monday that he knows what the game means to both programs.
"Hearing it from fans, students, and different coaching staffs, I know this game is going to mean a lot, especially to the alumni," Watson said. "Wherever Notre Dame goes, they're going to travel well. They're going to bring fans, and people are going to want to watch them so two great teams, going head-to-head on primetime is going to be very exciting. Who wouldn't want to come to that game? It's going to be a fun night."
Watson said he watched Notre Dame's win over Georgia Tech last Saturday and came away impressed with Notre Dame's defense.
"They are very smart, very disciplined and very well-coached," he said. "It's different watching it on TV than watching it in the film room and seeing the tendencies. But they have a lot of great athletes on that team. Whenever you hear Notre Dame or watch them play, you know they are going to bring everything they've got, and they are going to be a great team."
However, the Tigers will treat it like any other game and not put too much importance on the Irish.
"Whenever that time comes it will be very exciting," Watson said. "That is what people dream about is to be playing in those types of games. But every game we play is the biggest game of the year, and we are going to treat it like a regular game and be ready to play."