| | |
| --- | --- |
| Watson not feeling pressure as season approaches | |
---
| | |
| --- | --- |
| Saturday, August 22, 2015 11:45 AM | |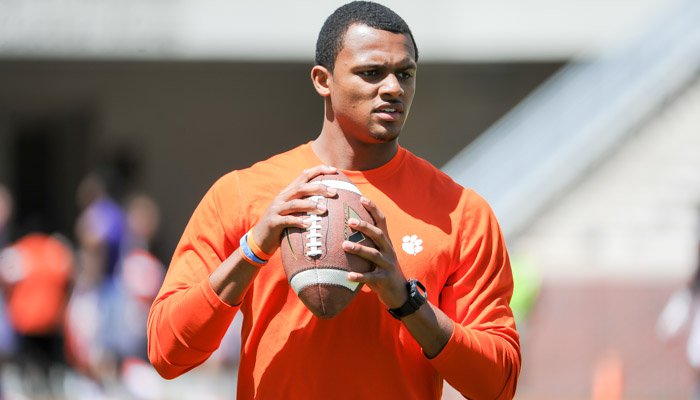 Last year, Clemson had a battle between quarterbacks. As the opener of 2015 approaches there are still plenty of battles for positions, but Deshaun Watson

Deshaun Watson
So. Quarterback
#4 6-2, 205
Gainesville, GA
View Full Profile has settled into his role as the offensive leader.
He's said neither the coaches nor his teammates put pressure on him – it's all up to the team as a whole to do their job. No one takes the game lightly.
"I don't put pressure on me, and the coaches my teammates don't put pressure on me. I just do my job and everyone else does their job. We just do what we love to do," Watson explained.
Watson and head coach Dabo Swinney have a contagious positive outlook for the team. But can Clemson excel past the successes of recent years?
Sounding as grounded as ever, Watson said, "We have the potential, we just have to go prove it, you know? All 12 games are versus Clemson."
Watson feels confident that the Tigers have a wealth of talent to accompany him on offense to keep the latest College Football Playoff dream alive. What many current and former players, coaches and fans have dubbed as "Wide Receiver U" has an enrollment stronger than ever.
"All the young guys are being coached up by the older guys," Watson said, who is lucky enough to have a whole lineup of "favorite targets."
"It's very special to have a depth of about 10 receivers who can go out and play. All of them. The way our offense is, we don't have first, second group," he said. "Everyone has to be ready to play, and the best guy has to go out first."
Since fall camp, Watson has acknowledged that he could get hurt again – but he's not the guy on the field that's concerned about that risk. Leave that to his coach, who you may hear gasping in the background of some camp videos.
Watson said, "It's part of the game, and I try not to focus on my knee or any injury kind of I've had before. I just go out there and play ball, and if it happens again then so be it, it's part of the game. You can't play this game with fear, so I just put everything in God's hands and go forward."
Watson still sports the #4 jersey, a number belonging to Clemson Hall of Famer Steve Fuller. Watson said the opportunity to wear that jersey represents more than just his number on the field.
"Every time I put it on it's an honor to have this number. This opportunity I had to come play football here is very big, and the position I'm in I don't take lightly."
Watson said he and Fuller don't keep in touch regularly, as they're both, "very busy men," but Fuller has passed down some words of wisdom over the years. Fuller gave the permission for Watson to wear his retired #4 jersey over a game of golf with Swinney prior to Watson's first start as a Tiger. Eventually, Fuller and Watson spoke, and Fuller "couldn't have been happier" about the way things turned out.
Now, will Clemson fans be seeing Watson strutting around Clemson's campus with an entourage?
Watson said no. In fact, he's been so busy on the practice field he hasn't seen many people since move-in day.
And those polls that everyone has been seeing? Is Clemson a powerhouse this year or a flop? Depends on what you've been reading, but Watson showed grace again.
"We thank them for the honor and the recognition, but we have to go prove the rankings don't really mean anything 'til the end of the year. We just go out there and play whoever's on the schedule."