| | |
| --- | --- |
| Watson mulls future but says Tigers have to start over in order to finish | |
---
| | |
| --- | --- |
| Thursday, January 28, 2016 9:26 AM | |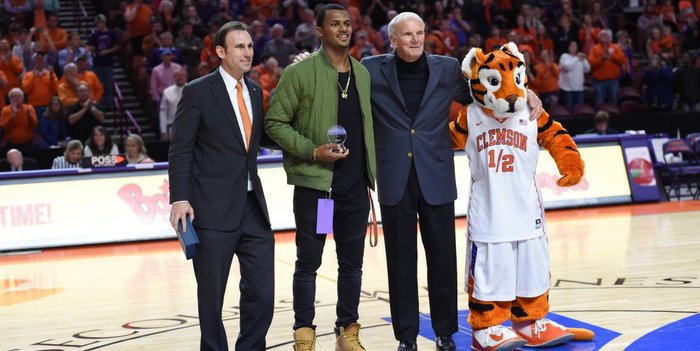 GREENVILLE – Clemson has reached the pinnacle of college football world, but came up just short of winning it all. To finish what they started in 2015 - the Tigers fell one game short – they have to start over.
To finish the drill and win the national championship, the Tigers will have start from scratch – a new team, a seven-month offseason and a 0-0 record. With all of that ahead in 2016, Deshaun Watson thinks his offense can be the best ever and take the team to Tampa, Florida – the site of the 2017 College Football Playoff National Championship.
Watson met with media after being named the South Carolina College Football Hall of Fame's Collegiate Player of the Year Wednesday night at the Bon Secours Wellness Arena and said he and his teammates know what it takes to play 15 games, but to win the last one, they'll have to work twice as hard.
Starting over begins now.
"It's great. We all know where we've been and where we really want to go," Watson said Wednesday night. "Now we have to finish. For us to finish, we have to start all the way over. Start from scratch and grind even harder. What we did last year isn't going to win the games this year, so we have to go two times harder than what we did last year and have that right mindset. We have to take it one day at a time and whenever the season rolls around take it one game at a time and finish the drill."
Clemson loses eight starters off the defense and Watson was asked if that puts more pressure on him to perform at a higher level. His answer couldn't have been simpler.
"I'm still going to be me. I'm still going to be Deshaun Watson. We're still going to be the Clemson Tigers," Watson said. "It's the next man up. That's always been the motto with Coach Swinney. When someone goes down like Shaq (Lawson) did in the Orange Bowl, Austin Bryant - a true freshman - came in and played his butt off. That's what it's all about, and that's why we recruit the guys that we recruit - guys that are ready for the moment and prepared."
The defense will be young, but Watson said he and the coaching staff will have them ready when the Tigers kick it off on September 3rd at Auburn.
"They'll be ready. (Strength) Coach (Joey) Batson is going to do a great job in the offseason getting those guys prepared mentally and physically," he said. "We'll go through mat drills and the coaches will get them ready during spring ball. We have seven months before the first game. We have a lot of work to do, even the guys coming back on the offensive side. We'll just have to see in those seven months."
Watson made himself a household name in 2015 with a superlative season that included a third-place finish in the Heisman Trophy balloting. He said he understands he will no longer be a regular 20-year old, but he's taken the time to relax in the wake of the loss to Alabama in the title game.
"We had two weeks off before workouts started back yesterday, so I got my rest in. I just really sat back and got back situated with school work and tried to reflect on the 2015 season," he said. "It was a special year, but outside of going out in public has been kind of crazy but it will probably be like that the rest of my life. I've gotten used to it. I've been sitting around thinking about what we accomplished and how special this year has been and how 2016 can be an even better year."
The conclusion of the 2016 season will also see the end of Watson's third year at Clemson, and he said he will move on to the NFL if the opportunity is there.
"It's a thought. It's a dream, but I have multiple goals," he said. "One of my goals before I even came to this school was to have my degree in three years, and I'm on track to do that. I'm graduating in December, so if I have the opportunity to go to the NFL, then I'm going to take it. I'll just have to see how everything plays out, but I still have the extra year and will have the opportunity to come back. Who knows what's going to happen. I'll let God control that and really just control what I can control."
Watson will have plenty of targets next season, and if it's his last at Clemson, he could helm one of the nation's most prolific offenses.
"The sky is the limit. We can be the best ever in college football," Watson said. "That's one thing going into spring ball that the offensive coaches are going to talk about - being the best ever. To do that, we have to start from scratch and everyone has to be on the same page. You have to get down in the film room and look at every little detail and just play with a lot of confidence and play as one unit. I think we're capable of doing that, but it's going to take time. We'll have the next seven months to work on it."