| | |
| --- | --- |
| Watson just a regular New York tourist as Heisman ceremony approaches | |
---
| | |
| --- | --- |
| Friday, December 11, 2015 4:43 PM | |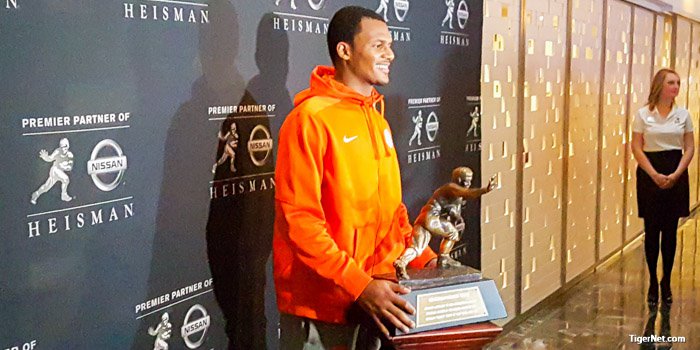 NEW YORK, NY – Deshaun Watson is mature beyond his years on and off the football field, but Friday in New York he was just a regular 20-year old seeing the sights of New York with his family.
Clemson's sophomore quarterback is in the Big Apple for the Heisman Trophy ceremonies, and his aunt (Sonia Watson) and mother (Deann Watson) are along for the ride. The trio has already discovered Junior's Cheesecake across from the hotel and took in the sights and sounds of New York on the bus ride from the airport.
"It's great. The bus ride in, we had a little traffic so my mom got to see the big buildings and everything like that," Watson said. "It's my first time, too, so we're just soaking in the moment and just really enjoying it. We're having fun and taking pictures. We're acting like some little kids and really enjoying the ride. I just want to act like a regular tourist and hopefully, get some cheesecake.
"I've seen videos and pictures and stuff like that, but it's kind of overwhelming seeing all of the, but at the same time it's pretty cool. It's very different. There is nothing like it. The north traffic is way worse than the south. There's a lot more people and a lot more cars and a lot more beeping horns and stuff like that."
The group will do a little sight-seeing Friday evening and early Saturday, and Watson said he just wants to be a regular tourist.
"I just want to eat the pizza and cheesecake and see how it is," he said. "I just want to be a normal adult guy and walk the streets. I think we'll have the opportunity to do that later on tonight, but that's what I really want to do. Just really walk the streets and just be a tourist and see the big buildings and big screens."
Watson is one of three finalists for college football's most prestigious award, and he said that being mentioned in the same breath as the legends of the game is humbling.
"Having an opportunity to meet and hang out with all of the Heisman legends that are here now is pretty special," he said. "To have my name in the conversation is pretty huge and pretty big. It's a pretty cool experience. It's one of the best (awards) and it's probably the best [experience of my career]. To be up here in New York, there are thousands of athletes that would love to be in this seat that I'm in and I'm one of the three. It's a blessing and it's an honor. I'm just going to enjoy it and cherish these moments."
Watson told TigerNet that one winner he really wants to meet is Charlie Ward – because coaches have told him he resembles the former Florida St. standout – but there are a number of players he would like to emulate.
"Just previous guys that I watched - Cam Newton, Johnny Manziel, Marcus Mariota, Jameis Winston and Tim Tebow," Watson said. "Those guys that I was able to watch and see on TV, those are the guys that I try to look up to and model my game after and try to follow their lead and do the same thing they do."
Watson's life has been a whirlwind over the last week – the Tigers won the ACC Championship last Saturday, and Watson was in Atlanta Thursday as the Davey O'Brien winner at the college football awards show.
One thing stands out, however. The ACC Championship.
"It's been crazy, especially this week with all of the things that are going on and all of the traveling. The one thing that I can control. The ACC Championship, I could control that and we got that," Watson said. "For the Heisman, I can't control that. That's for the voters and for the people who choose a winner. Right now, I'm just going to sit back and enjoy the ride. If I win it, then I win it and if I don't then it's not going to make me a bad person or upset. I'm just blessed to be in this position and be in New York. I just want to enjoy this process. We can still control the national championship and that's still ahead of us and that goal is still achievable."
However, Watson hasn't been distracted from his main goal of winning a National Championship, and he has his team-issued IPad in tow so he can watch film of Oklahoma.
"I've already started on Oklahoma last week," he said. "Right now, we're up here and I'm just at the award ceremony, but if I win or lose I'm getting right back to my teammates regardless of the situation and focusing on the game."
There will be plenty of Clemson fans in Miami, and Watson said he's already seen Clemson fans in New York.
"It's great. I think we have the best fan base in the country," he said. "They travel well. They're all over, and wherever there's a Clemson Tiger, they're going to be there regardless. I wasn't expecting that much, but there were a lot of fans. I love the Clemson family and everything they bring to the table."