| | |
| --- | --- |
| Watson: Shock and Awe just part of the game and the person | |
---
| | |
| --- | --- |
| Wednesday, February 25, 2015 7:01 AM | |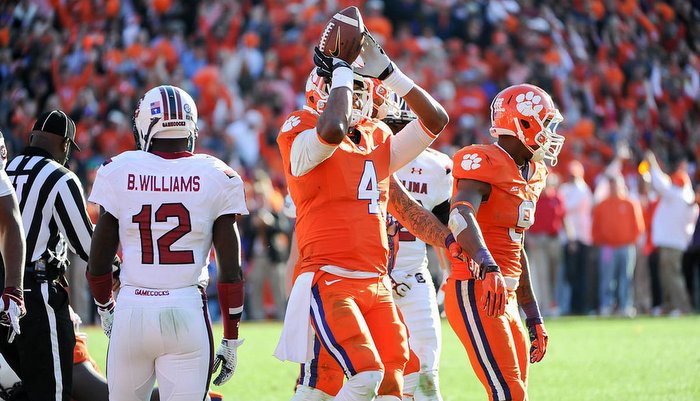 Deshaun Watson

Deshaun Watson
Fr. Quarterback
#4 6-3, 204
Gainesville, GA
View Full Profile has already proven just how special he can be on the football field, and Clemson fans are already anticipating where a healthy Watson can lead the Tigers in 2015.
Watson completed his 2014 season by beating arch-rival South Carolina in late November - a 35-17 victory that was accomplished with a torn ACL. Watson said at the time that the victory was part of a promise to one of high school coaches – Lyn Marsh – that he would end the losing streak to the Gamecocks.
Watson told Aaron Cheslock of FoxCarolina recently that he has had time to reflect on the game and the magnitude of the accomplishment has only recently begun to sink in.
"At the time I didn't (realize how big of a win it was). It was still new to me – how big the game was," Watson told Cheslock. "It didn't feel real to me even the couple of weeks after because I was still finishing school and getting the surgery, but sitting back and thinking about it now it was really huge because we hadn't beaten those guys in five years. Me coming in and helping my team turn that streak around is huge."
Once Watson got over the disappointment of not playing in the bowl game, Watson began to concentrate on his rehab and making sure he would be ready by summer workouts. He also said it gave him a new appreciation for the game.
"Everything is going great. The rehab is going great and every day is just a grind," Watson said. "It was very frustrating from time to time and just sitting there watching my teammates go out there after I put in all of the work. Having that adversity, it kind of put things in a different perspective and I look at the game in a different way – I really respect my time and want to cherish these moments that I have."
It's also evident to anyone who has been in contact with Watson that he is special off the field, and he told Cheslock that he wants to work as a broadcaster once his playing days are over and he is making sure he has the grades to follow up on that dream.
"Just to be able to talk on ESPN or some sports broadcasting show or radio or just being able to talk about sports," he said. "Me playing quarterback and being in front of cameras all of the time is something that I can get used to and being able to talk to people is something that I can do. I've got a 4.0 and made the President's List.
"That was a big accomplishment for me because I've never made a 4.0 until I got here. My mom was proud. That was something that she stressed to me before I came to college – to get that degree and making sure that I have that paper to do whatever I want to do."
Watson was asked to watch the highlights of the win over North Carolina St. – a game in which Watson was outstanding – and talk about his own highlights. Watson attacked the challenge the way he attacks opposing defenses.
He then proceeded to give himself several new nicknames.
"It seems easy but I bet it's not," Watson said with a laugh, then launched into the nickname portion. "Turn down for Watson. Deshaun don't blink Watson. Deshaun Say What Watson. The Super Man. Shock and Awe."
Shock and Awe. The perfect description of his performance against the Gamecocks.