| | |
| --- | --- |
| Watson: "My mentality is still to dominate" | |
---
| | |
| --- | --- |
| Monday, November 10, 2014 3:51 PM | |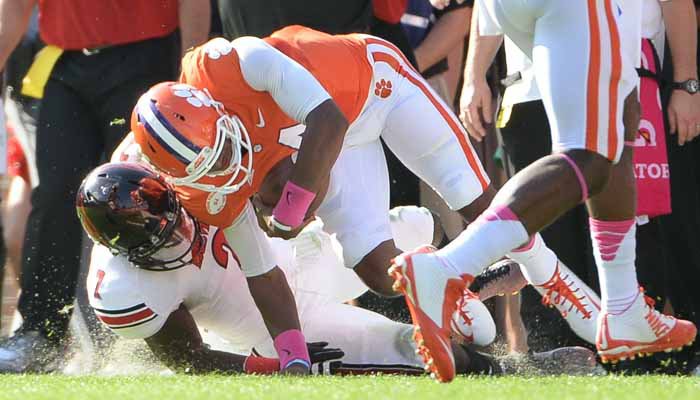 CLEMSON – The play was a simple one, a designed quarterback run in which Deshaun Watson

Deshaun Watson
Fr. Quarterback
#4 6-3, 204
Gainesville, GA
View Full Profile was supposed to make a read and decide whether to cut inside or bounce outside. It was a play that wound up having an effect on Clemson's season.
The play happened early in Clemson's October 11th win over Louisville. Watson jumped up after the play – he was brought down on the sidelines by a Louisville defender – and tried to run a few more plays before heading to the sidelines.
Watson told TigerNet Monday afternoon that he didn't get his finger caught in the defender's facemask.
"It was when I hit the ground. I wasn't sure at the moment, but they said my finger had twisted and the bone had been fractured," Watson said in the WestZone. "There wasn't really a lot of pain, there was just numbness. It felt numb. And I thought it was just something where my feeling had just gone away. And so I tried to run two more plays, and I couldn't grip the ball so that is when I ran to the sidelines and they said it was broken. "
Watson said that once he reached the sidelines, trainer Danny Poole made a quick diagnosis that left him with a sick feeling in his stomach.
"Danny Poole, once he touched it and felt it he kind of knew something was wrong," Watson said. "He thought it was fractured, and we went back into the locker room to get x-rays and it was. Everything was running through my mind. How long will I be out? Will I have to have surgery? I had never had an injury like this one or as bad as this one. Once I found out, I decided I just needed to deal with it, grow up and become a leader. Right after they told me how long I would be out, I decided let's do the surgery and get this process going."
Watson had surgery the following week, and he said that pain hasn't been his biggest issue.
"It was just real weak after surgery, when they put the four screws in," Watson said. "It's a whole new process, re-learning how to grip and throw the ball without any pain."
Watson started out throwing with a NERF football, and has since moved on to rubber balls and rubber bands in an effort to regain his flexibility. With most of his flexibility back to normal, Watson will start this weekend's game at Georgia Tech. Watson was asked if he will be worried about the injury once he takes the field, and he said no.
"If I go in the game worried about re-injuring it or messing it up, then I won't play the best I can," Watson said. "I'll just focus on my tasks and not worry about my hand. My mentality is still to dominate, and best is still the standard. If I have to run, I will run. If I have to slide to protect myself, then I will slide."
Watson's return should open up the Clemson offense, and he said that the goal for himself and the team is to have an undefeated month of November.
"We want to have a fabulous November and go undefeated," he said. "This has been kind of crazy dealing with all of this, but I am just going to learn from it and become the best player I can be and hopefully we can win these next three games."