| | |
| --- | --- |
| Watkins fitting in with Bills | |
---
| | |
| --- | --- |
| Sunday, May 18, 2014 6:17 PM | |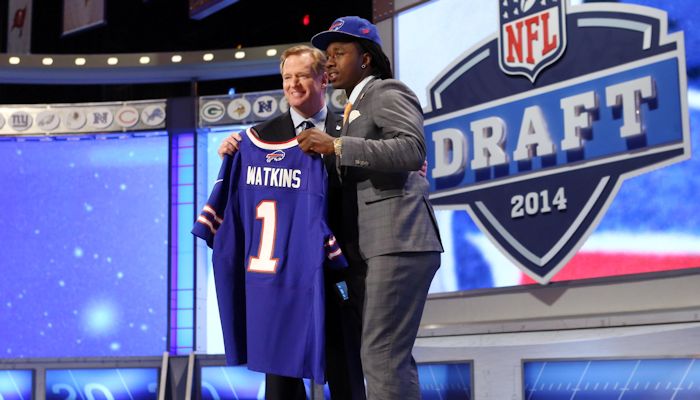 Sammy Watkins

Sammy Watkins
Wide Receiver (2011 - 2013)
#2 6-1, 205
Fort Myers, FL
View Full Profile is officially a Buffalo Bill, and went through his first workout with his new team this past Saturday as part of Buffalo's minicamp. Following his first practice session with his new team, Watkins was allowed to talk to the Buffalo media about the experience, and he said he it was good to get the draft hype over with and get back to what he does best – play football.
Watkins, in an interview with www.buffalobills.com , said it was nice to get back out on the football field.
"First day out, I think it went pretty good overall. I still have a lot of things to work on," Watkins said. "I'm still in shape from two months of doing all the draft stuff and the combine stuff. I just have to keep doing what I'm doing, watching film and being coached up.
"A lot of us guys have been traveling around the world with the combine and stuff like that with the draft. You come out in shape and you need to learn quicker and faster since everything is a job now. You have to come prepared. As an athlete you have to love the grind. You have to love what it takes to be great. This is what it takes, being out there every day and getting coached up and competing with the guys that you're playing with. That's what it is about."
Watkins will not be wearing his familiar No. 2 with the Bills, and instead will wear No. 14.
"It wasn't really a big decision. I just wanted to wear 14 because it's a nice number," he said. "I had to pick between 14 and 16 and I felt like 16 was a quarterback's number. Fourteen fits me really good."
It's also the year he was drafted.
"Of course. That's another great thing and my birthday is on June 14th," Watkins said. "My brother wore this number last year for Florida, so I'm wearing his number now."
Watkins has been busy meeting with the Buffalo media and the fans, but he also took time to meet with former Bill quarterback and Pro Football Hall of Famer Jim Kelly, who is battling cancer.
"Jim is a great guy. It was a great experience. He's a strong guy," he said. "I see a guy that's fighting every day. A guy that's positive, not negative. You hear a lot of things in the media that he's doing bad or he looks bad, but he looks great to me. When I got there he was going to leave the next day to go home. It's going to be a great experience when I go to his football camp to help out. Hopefully he'll be out there ready and prepared. I've got plenty more years to get close to him and his family."
Watkins is a former teammate of Chad Kelly
Chad Kelly
RS So. Quarterback
#11 6-2, 210
Buffalo, NY
View Full Profile , Jim's nephew that was recently dismissed from the Clemson program.
"Me and Chad (Kelly) were very close at Clemson," Watkins said. "We worked out together and bonded together while we were there. As soon as I came here he took me and I stayed a couple times at his house. First thing he was like let's go meet my uncle. I was like that's great. That's the first thing I did when I got here."
Watkins said that through talking to Chad and being in the Buffalo community has allowed him to see how much Jim means to the area and to the franchise.
"He means a lot. I see that he's everywhere around her.," Watkins said. "Everybody represents him and he represents the program well. He's the quarterback of this franchise. He took this team and this franchise to the championship a couple of times. Even though they didn't win it, he took them there and that's the biggest point of being a Buffalo Bill. We haven't been there in (over) a decade, 14 years now. That's what he preached about. I talked to him when I was there and he just gave me a lot of wisdom and encouragement of being a Buffalo (Bill) and all the perks of being a Buffalo Bill and I can't thank him enough."