| | |
| --- | --- |
| Wake Forest to treat Clemson game like a National Championship | |
---
| | |
| --- | --- |
| Wednesday, November 18, 2015 1:46 PM | |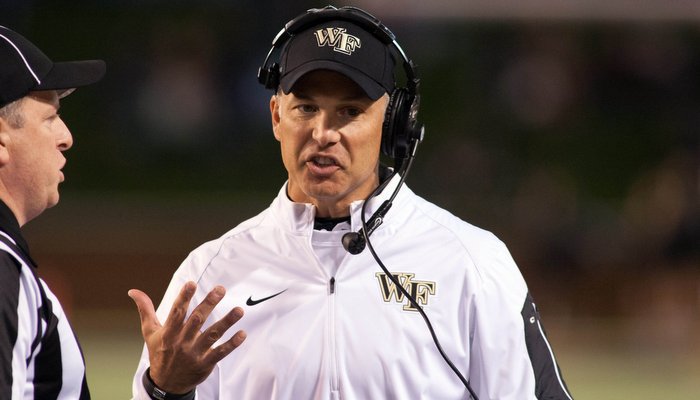 Wake Forest is going from the proverbial frying pan into the fryer, but the players will treat it like it's a National Championship game.
The Demon Deacons (3-7 overall, 1-5 ACC) travel to Clemson this weekend to take on No. 1 Clemson in Death Valley in a 3:30 p.m. kickoff. Wake Forest started out the season 2-1 with wins over Army and Elon, but has won just one game since September 19th – a 3-0 win over Boston College on Oct. 10th.
Last week, the Demon Deacons suffered a 28-7 loss at No. 4 Notre Dame and now must travel to take on the nation's top-ranked team, a daunting task according to head coach Dave Clawson.
"It's Week 11. We go out of the frying pan and into the fire. We go from playing No. 4 to No. 1," Clawson said Tuesday. "Sometimes you play good football teams, and sometimes you play very good football programs. I think that Clemson is an excellent program. On offense, you go from a Tajh Boyd to a Deshaun Watson, who is arguably the best college football player in the country right now. He is playing at such a high level right now. He has become a very, very accomplished passer. He can also beat you with his feet."
Clawson said he is impressed with Clemson's skill players - especially running back Wayne Gallman – and says the Tigers are at a level Wake wants to attain.
"Their offensive skill is excellent. Their running back is probably as physical and as violent a running back as we've seen this year," he said. "He punishes people. His yards after contact is really impressive. Their last six games, they've had over 500 yards. So when you replace as many players as they have and you still have that kind of production, it tells you what great shape they're in. Coach Swinney and his staff have done a great job of recruiting and developing players, and they run schemes on both sides of the ball that fits their personnel.
"They have eight new starters on defense, and they're still one of the best defenses in the country. This is just an excellent, talented, well-coached football team and it's a great challenge, but our guys our looking forward to it. We certainly didn't back down a week ago. I'll be a broken record, but this is obviously the level we aspire to get to, and this will be a great challenge to go down to Death Valley and play the number one team in the country."
Wake Forest quarterback John Wolford said the Clemson defense will present a challenge.
"They're very sound. They give you a lot of different looks," Wolford said. "They're a really good unit. They lost eight starters last year, but that's the way Clemson is: they recruit well, they retool, and they have a really, really good defense this year. They present a tremendous challenge, and they're a really good team, and they can find ways to win games. That's why they're the No. 1 team in the country."
Demon Deacon linebacker Hunter Williams says his teammates are going to treat the game like their own National Championship.
"We're jacked up. Nobody in the country is expecting us to do anything against this team," Williams said. "I was watching something the other day that said we have a 1-percent chance of winning, so for us, (this game) is something we take huge pride in. We're going to be really jacked up for this game, especially us seniors--these are the last two weeks that we're going to play knowing that we're not going to a bowl. I'm excited--in preparation this week, it's going to be like our senior national championship. We're going to put it all on the line and try to go out and do something special."